Professionals say flexibility essential as workplaces shift to keeping employees happier and healthier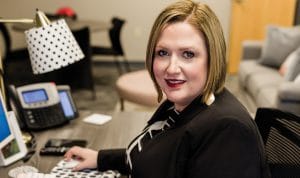 When the world was at the height of the global health crisis, businesses embraced the idea of remote work for many employees. Company leaders discovered productivity mostly was unaffected, and in some instances, improved. They also found allowing workers to do their jobs from home provided a boost to work-life balance and morale.
With the pandemic waning, Region- and Michiana-area business leaders have slowly worked to return to normal operations. But they also recognize a complete return to the office like before spring 2020 is unlikely.
This year's Best of Business Awards winners have dealt with these issues too. Every year Northwest Indiana Business Magazine gives readers the opportunity to acknowledge local businesses who are excelling in their specific sectors. But this year's winners also reflect the companies that adapted to a constantly evolving business environment while continuing to provide good service.
Many, like the CPA firm Kruggel Lawton, found that new ideas emerged, sparking unforeseen growth. Increased use of video conferencing opened doors for Kruggel Lawton CPAs, such as more consulting opportunities, and assisting clients with the Paycheck Protection Program and Employer Retention Credits.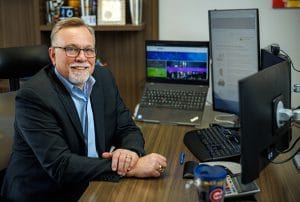 "Our employee benefit audit team, for example, often performs the audit for clients remotely that are not located in our immediate area," said Barry Hall, managing partner for Kruggel Lawton, who is based in the firm's South Bend office. "We opened our Knoxville, Tennessee, office in 2018, and even though we previously used virtual technologies to connect with our clients, the pandemic challenged us to become even better at it."
Other companies have similarly benefited. For Rita Bacevich, president of HDW Interiors in Merrillville, video conversations allowed for quicker response times to clients.
"In the design world, meeting in person is still the best way to assess samples, color and engage the end user," she said. "However, the opportunity to have a team member hop on a video conference is a new way for us to tap into modifying layouts and templates on the spot, which ultimately aids in speeding up the process."


Chad Nally, a partner with the Merrillville law firm Burke, Costanza & Carberry LLP, and Michelle Andres, president of marketing agency Group7even in Valparaiso, agree increased use of video conferencing has made professionals more comfortable with the technology.
"We've always worked with clients all over, but video conferencing has dramatically decreased the amount of time of traveling we need to do, and that helps enhance work-life balance," Andres said.
Nally said less time on the road also has reduced costs.
"(Video conferencing) has allowed us to more affordably represent clients throughout the state as the courts have conducted more hearings by Zoom," he said.
Burke, Costanza & Carberry LLP also used the technology to launch Steadfast Law, which provides clients opportunities to meet with an attorney remotely to receive legal advice at a monthly fixed cost.
Preserving morale
Nally said he and his colleagues learned that they can be productive even when working remotely. That realization cleared any doubt whether work could be completed when away from the office.
"We've built a media room just to conduct video hearings, client meetings and depositions," he said. "I am confident it will continue to see extensive use in a post-pandemic environment."
Nally said the professionals at his firm have preserved high working standards.
"Since the beginning of the pandemic, our staff has done a remarkable job," he said.
Bacevich said she and her team have learned to adapt to a "COVID comfort factor."
"In addition, we consistently query our clients and take their lead in relation to onsite visits and installations," she said.
Andres said her staff has adopted a mentality of wanting to protect each other and the business overall.
"As such, we are quick to have someone who is under the weather work from home," she said. "Everyone is great about getting tested (for COVID) when needed."
She said her staff's morale improves when they recognize their employer cares about them and does whatever possible to protect them without dictating how they address their health.
"By allowing people to work from home when they are sick, you are able to protect the team and allow individuals to address illness the way they see fit," Andres said. "It really takes the debate off the table, and I know our employees appreciate having the protection and the individuality."
Hall said, when it became apparent that remote work was going to become a long-term need, his firm further developed its remote-work policies.
"Utilizing the technology, what we already had in place, allowed for a smooth transition to a temporarily fully remote team," he said. "As we introduced tools like (Microsoft) Teams and Zoom, we were able to stay connected and collaborate effectively regardless of our physical location."
Hybrid workplace
Hall said his office always permitted staff to work remotely if it made sense, though before the pandemic, it was mainly reserved for field work or small tasks.
"As we began to rely more heavily on remote options, our team quickly adapted and became experts in the technology and tools needed to be successful away from the office," he said. "This made it possible for several of our team members to remain remote as we started to return to the office."
Hall said offering remote work options helped Kruggel Lawton expand its reach beyond the communities surrounding its five physical locations and support staff in settings that made them feel most comfortable in the wake of the pandemic.
Andres said her firm provides more flexibility to staff now, too.
"It's still important for everyone to have time together because everyone contributes something different, and it doesn't always come out the same way on a Zoom call," she said. "But we do have people working some level of a hybrid solution and that works great."
Bacevich said in-person meetings with staff have more impact, but her team also is well versed in virtual options.
"We find that the creative brainstorming (and) teamwork collaboration process works best when all hands are on deck," she said.
Nally said his firm adopted remote work strategies when it became a necessity but haven't developed a full hybrid office model.
"The potential for remote work when needed is available," he said. "What we have been able to implement is that, when an employee or family member has someone home sick, they themselves are sick or they have some other obligation, we can give them the opportunity to work from home."
Nally said, in times of severe winter weather, his firm is confident productivity won't suffer when they alert staff to remain home to work.
"This allows us to continue to perform our job while looking out for the health and safety of our employees," he said.
Nally said remote work, at least for his profession, presents some hurdles.
"First, we're a service-based industry," he said. "As such, we have to ensure that we are able to best serve our clients and that typically involves our employees being present in the office."
Nally said day-to-day work needs vary in a law firm.
"Firm culture and collegiality are crucial to what we do, and it suffers when you don't have face-to-face contact with your peers," he said. "Finally, we stress to all of our associate attorneys to just come knock on a partners' door with any questions, which is possible but more difficult in a remote environment, and their development would suffer without those opportunities."
Flexibility essential
Conducting business in recent months has been an adjustment, executives say.
"I think all of us realize that we can be more flexible as needed without negatively impacting the service we provide to our clients," Nally said.
Bacevich said her company has dealt with product shortages, freight problems and price increases, but also learned to seek opportunities.
"Our team has sharpened its skills in assessing probably kinds and potential solutions," she said. "The commercial design/furniture business is often driven by timelines."
Bacevich said, if there is a chance products will not arrive in time, her firm quickly devises "plan B."
"The simple act of communication and being proactive with clients has steadied the course," she said. "People are patient if they are engaged and prepared."
Andres said team members at her agency are invested in its success.
"The Group7even team is a dream team," she said. "They don't need to demand things, because I'm always looking for ways to make their lives easier and to let them know how appreciated they are."
Hall said Kruggel Lawton always has been a "family-first firm."
"I think this mentality is clear in the way that we've navigated the pandemic," he said. "While the health and safety of our team was at the forefront of our decisions, we also had to prioritize the needs of our clients."
Hall said remote work and supporting technology has allowed his company to conduct daily business without sacrificing the physical and mental health of staff.
"While the majority of our team has returned to the office, the benefits of remote work continue to outweigh the alternative of requiring everyone to return full time to the office," he said.
Click here to read more from the April-May 2022 issue of Northwest Indiana Business Magazine.