Alisa Hecimovich learned from family importance of community involvement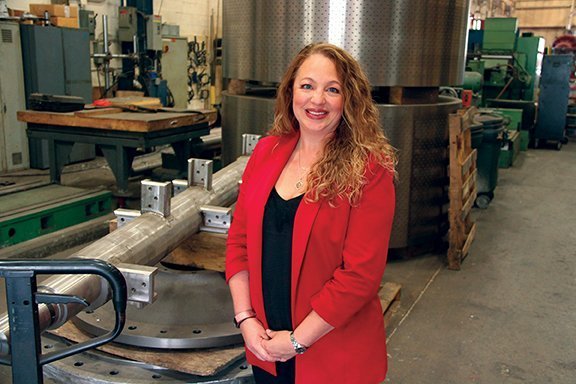 "I always remember how busy my dad was with the family business when I was growing up," said Hecimovich, vice president of American Precision Services Inc. in Gary. "But he always made time to volunteer to help The Salvation Army and other community organizations."
Among her childhood photos are pictures of her dad ringing the bell for The Salvation Army at Christmastime.
Hecimovich said her father, who was 50 when American Precision Services Inc. launched 18 years ago in 2003, remains busy with community involvement while balancing his role as president of the family-owned company.
Hecimovich, who lives in Chesterton, follows her father's lead. In January 2020, she was appointed chair of the advisory board of The Salvation Army of Lake County and leads its programs committee after her previous role on the organization's fundraising committee.
"When I stepped into the (board chair) position for The Salvation Army, I was taking over for Louis Gonzales, chancellor of Ivy Tech Community College's Lake County campuses," Hecimovich said. "It was about this same time when Louis asked me to also serve on the Ivy Tech Foundation Board, and I was happy to lend my talents as another way to give back to our community."
Hecimovich, who has spent much of her career working in human resources, has a degree from Purdue University in organizational leadership and supervision. She has worked 13 years at American Precision Services Inc., a manufacturing firm specializing in mechanical repair, welding and fabrication, among other industry needs. It employs a workforce of about 60.
"Both of my parents are wonderful role models for giving back to the community around them," Hecimovich said. "They also demonstrated strong work ethic."
She said her father's involvement with The Salvation Army started years ago when he was with the Exchange Club of Northwest Indiana. His group would volunteer as bell ringers during the holidays.
Hecimovich said further encouragement for greater involvement with The Salvation Army began five years ago with urging from Cal Bellamy, who serves on the organization's executive committee.
"When Cal (Bellamy) would see me at Lakeshore Chamber luncheons, he would nudge me about taking part in a larger role with The Salvation Army," Hecimovich said.
"Throughout history, The Salvation Army has always been at the front of the line for helping in times of need," she said. "One of the examples I often share is about the events of 9/11 and the great need for support at the site of the twin towers. At the time of the devastation, emergency authorities could not let in other agencies right away, not even the American Red Cross, (but) the chaplains of The Salvation Army were admitted into that area from the start to serve as a support system to everyone."

Capt. Brian Clark, Lake County coordinator for The Salvation Army, said Hecimovich is "a breath of fresh air and exudes enthusiasm" as chair of the 20-member board of directors for the organization.
"In addition to Alisa, her father and their family's company continue to support our mission in every way," Clark said. "The past 18 months have been particularly challenging during the pandemic, (but) Alisa's leadership has guided our organization through our challenges, and we've emerged stronger."
One of the ideas Clark and Hecimovich have collaborated on is resurrecting a junior board for The Salvation Army of Northwest Indiana consisting of members in their 20s and 30s. The chairman for the youth board also will occupy an advisory seat on the senior board of voting members.
"Continuing to draw young new minds, ideas and energy to The Salvation Army and all community organizations is the key to tomorrow's success and advancement," Hecimovich said.
Click here to read more from the August-September 2021 issue of Northwest Indiana Business Magazine.

Latest posts by Philip Potempa
(see all)