Aviation executive pursues diamond dream, with only four national ballparks to go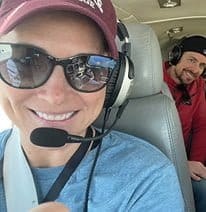 Both in her aviation career and her pursuit of a passion for the great American pastime, Ashley Thorsen is traveling with some elite company.
Thorsen, operations manager at South Bend International Airport, is first class in her field. She was named to the 2022 Airport Business Top 40 Under 40 List and recently was one of 31 women selected by Women in Aviation International to attend "Women in Leadership: A Program for Emerging Leaders" at Harvard University.
Her 13-year career in aviation has included stops at the Federal Aviation Administration, where she was an air traffic control specialist, and Raleigh-Durham International Airport, where she worked as an operations officer, before she landed in South Bend in December 2020.
As her career soars, Thorsen has her sights set on a personal goal. She is pursuing the dream of visiting all 30 Major League Baseball stadiums. So far, she has made it to 26, with only the home parks of the Houston Astros, St. Louis Cardinals, Arizona Diamondbacks and Minnesota Twins remaining on her baseball bucket list.
She will check one off her list in July, when her baseball itinerary leads her to Busch Stadium in St. Louis.
Thorsen traces her passion for baseball to her childhood growing up in the Tidewater region of Virginia where she followed Nolan Ryan and the Texas Rangers.
"I really focused on Nolan Ryan, because he was a pitcher, and I wanted to pitch when I was little," said Thorsen, who pitched softball while in high school.
The arm strength she built up as a pitcher came in handy when she played right field for Roanoke College in Virginia. It was during this time that her stadium quest began.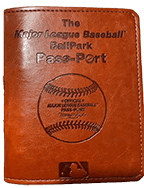 "I had some good success my senior year, and then decided I wanted to start going into some stadiums," she said.
Her college roommate took her to Boston's Fenway Park in 2004 for the American League Championship Series between the Red Sox and the New York Yankees. This was the pivotal series that propelled the Bosox to their first World Series championship since 1918. Thorsen said she was at the game where Big Papi, David Ortiz, hit the home run that helped spark the Red Sox' comeback after the team had dropped the first three games in a best-of-seven set.
"It was just such an electric game," she said. "I said, 'If I feel this cool watching this game with as much excitement and as much history, I want to see another one.'"
She made her ballpark tour with the aid of an MLB Pass-Port book, a leather-quality container with 30 "I sat here" seat location stickers and 30 "stadium visited" map stickers.
"It sounds kind of corny, but it's essentially like a passport to go to different countries," she said. "You get it stamped with different baseball stadiums, and it gives you the history, so I could learn about the stadium."
She also has come to appreciate the nuances of each park, such as the swimming pool in the home stadium of the Miami Marlins, loanDepot park, and the dugout bar at Fenway Park.
"My favorite is PNC Park in Pittsburgh, because of the city in the background, the fireworks and the overall feel when you were there," she said.
Although she started out a Rangers fan, she switched her allegiance to the Detroit Tigers when she was dating her husband, Harper, a huge Tigers fan. The couple attended several games at Comerica Park, including one of the World Series games against the San Francisco Giants.
"I can't take credit for her love of baseball and softball, but I kind of influenced her into being a Detroit fan," Harper said. "She has been fortunate with her past jobs and her current job that she can travel a lot and go see some cool places."
Thorsen's baseball odyssey has become a family affair — she said she took her 6-year-old daughter, Ryan, who was 3 months old at the time, to her first game at Citizens Bank Park in Philadelphia, an experience she counts as her greatest thrill.
"We threw her in a carrier, me and a girlfriend, and we drove up to Philly," she said. Ryan received a Pass-Port as well.
She said everyone asks if she receives free flights to games. But she insists there are no flight benefits. With airline partners, "you have to make sure we're not showing favoritism or anything like that." In fact, she drives on many of her trips.
Her interest in baseball has impressed co-workers such as Samantha Brady, who marvels at Thorsen's talent for making connections, especially around sports and baseball.
"When we're traveling at work conferences or anywhere where we're out places and someone has baseball on, Ashley always knows a fact about it," said Brady, who is a terminal services supervisor at the airport. "I'm not a fanatic like she is, but her knowledge of the history is awesome, and I have learned from it."
As passionate as she is about baseball, Thorsen is just as fervent about aviation. Her interest stemmed from growing up the daughter of a civilian in the Navy. Her father, who worked for the inspector general's office, took the family when he traveled to Naval bases, among them Pearl Harbor, Bermuda and San Diego.
"There were always airplanes," she said.
Her work involves handling the logistics, safety and the regulatory responsibilities at the airport. This includes making sure the runways and taxiways are safe, as well as maintaining good relationships with airport partners and stakeholders.
She said the best part of her job is meeting people and "watching the creative ideas that come from my team and being able to work with people."
Read more stories from the current issue of Northwest Indiana Business Magazine.