Manufacturers turn to experts for advice on finding, financing, implementing new technology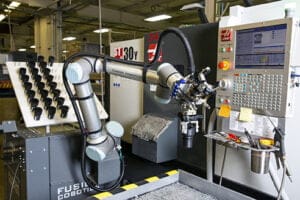 In manufacturing, success doesn't come by just addressing immediate needs. Business leaders should also keep an eye toward the future.
"Every year, it gets a little harder in manufacturing if you just keep trying to do the same thing over and over again," said Mitch Landess, the vice president of innovation and digital transformation at Conexus Indiana.
Manufacturers looking to grow are investing in technology to make headway in Industry 4.0. Many local companies turning toward automation, AI, cloud computing, cobots and other technologies are finding those investments are helping them generate more revenue, among many other benefits.
"The companies that tend to invest in themselves by leveraging technology to become more productive, more competitive, they make better use of their workforce," Landess said. "They're able to upscale the workforce; they're able to pay the workforce better because the workforce is doing higher value-added function in the workflow."
Mont Handley, the entrepreneur in residence and associate director at Purdue University Northwest's Commercialization and Manufacturing Excellence Center, expects more companies will move toward robotics and automation. He noted the new White Castle in Whiting uses a robotic fry cooker.
"I think we're going to see a lot more of that in small businesses," Handley said.
For example
Tim Keller, president of Tri-State Industries in Hammond, said his company has added different technology, including a laser cutting machine about a year ago.
"Done a couple things, looking into a couple more," Keller said.
Tri-State Industries provides a variety of services such as manufacturing, fabrication, robotic welding and automation services. Keller is pleased with the laser cutting technology his company has been using.
"It's one of those things that would've always been nice to have," Keller said.
He said many projects in which it's used don't always require laser precision, but the device has allowed Tri-State to eliminate downstream processes, mainly drilling.
"You could get two, sometimes three processes accomplished in one setting," Keller said.
He said it's always critical for small- and medium-sized manufacturers to consider the future and how to become more efficient to stay competitive.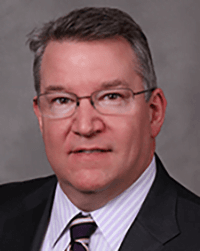 "If we're not doing it, somebody else probably is," Keller said.
While technology can provide numerous benefits in manufacturing, one of the challenges some companies face is finding affordable options.
"For us, it's always about balancing the need of the current time with something else you can do in the future to help cost justify these things because they're expensive for a company our size," Keller said.
Handley said prices have dropped for different automation and technology tools, making them more reasonable for small- and medium-sized businesses.
"It used to be an elite kind of tech that was only for Fortune 500 companies, but it is being democratized, and a lot of that work is being done at universities like ours," he said.
PNW is using manufacturing technology, robotics and cyber-physical systems for Project TRAVERSE, which sets out to develop agTech solutions such as remotely planting and harvesting crops.
"I think this is going to be the future, I really do," Handley said.
Help available
While the price tag for manufacturing technology has dropped, there are also grant opportunities for businesses looking to add new tech in their operations.
Conexus, which works with a variety of entities across the state to help identify challenges and create opportunities in advanced manufacturing and logistics, partners with the state on the Indiana Manufacturing Readiness Grants program. Through that initiative, the state could provide up to $200,000 in 1:1 matching grants to companies completing projects to modernize operations or integrate smart technologies that can improve capacity, speed and quality.
"We're trying to reach as many companies as we can, all around the state," Landess said. "Especially in areas that are manufacturing-intense with a lot of manufacturing operations that maybe have been underrepresented in this program."
Landess said the grants program was announced in May 2020. He said state leaders want to see the economy succeed in Indiana, and that's among the reasons the grant program was developed.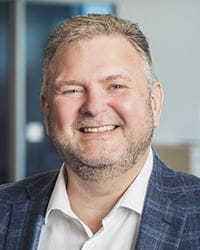 He said Indiana is the most manufacturing-intense state in the country. There are around 9,300 manufacturers in the Hoosier state, and many of them are small to medium sized.
"They might not be as aggressive about adopting these technologies to enhance their productivity, their capability, their capacity," Landess said.
When the program began in 2020, a total of $4 million was available. Project officials anticipated they would likely dole out 20 to 30 awards, and it would take a couple years to do it, Landess said.
"We had, within the first 30 days of the program, 60 applications from manufacturers all over the state," he said.
Because of the success of the Readiness Grants, there was a need to expand the initiative.
"Ultimately more funding was put in, and we've been running the program ever since," Landess said.
Grant recipients
Economy Signs in Hammond was a recipient of a $21,750 grant, and the company used that funding to help purchase a channel letter maker.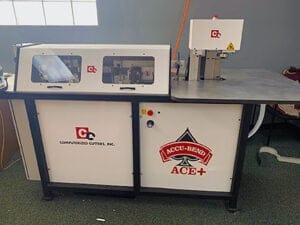 Walter Swets, the owner of Economy Signs, said the company's been using it for about a year.
"It makes aluminum letters, light up letters for storefronts," Swets said. "We were typically doing it by hand, and this made it much better, much faster. The quality is better because the machine does it. So, that helped out."
He said employees are thankful for the equipment, and Economy Signs has grown because of it.
"We've actually gotten busier because we can get more accomplished," Swets said. "We've actually been able to hire another person. It's done a lot."
He said this isn't the first time Economy Signs has turned to technology to enhance operations. The company added an automated router and large format printers before installing the channel letter equipment.
"I don't know what the next piece of equipment will be, but we're always looking for more," Swets said.
Konrady Plastics in Porter County is another area manufacturer. It received a $45,000 award in 2020 from the Readiness Grants program.
Konrady, which produces parts for a variety of purposes such as conveyor belts, food processing equipment and fire hose nozzles, added a cobot to its operations because of the funding.
"We would not have pursued a cobot without this grant, at least not at this time," Leah Konrady, CEO of Konrady Plastics, told Conexus. "With the grant funding, it was a no brainer. We needed to try it."
Landess said cobots can perform repetitive tasks that are often viewed as boring to humans. He said the work that cobots handle takes the place of jobs that can't necessarily pay a high wage, and businesses often have trouble filling those roles. Landess said that doesn't mean cobots are taking jobs away from people.
"If you have a cobot do it, you can have that person tend to five or six cobots instead of working by one machine," he said.
He said that kind of work is more fulfilling than handling repetitive tasks, and tending to cobots provides better pay.
"They're starting to be very easy to program, and so plant operators and technicians can easily set them up to do tasks for a couple hours or days or weeks, and then you can move them to another part of the plant and reprogram them pretty easily," Landess said.
Landess encourages Indiana manufacturers who haven't pursued the state's Manufacturing Readiness Grants to follow the lead of Economy Signs and Konrady Plastics and visit their website to learn how the program can benefit them.
"This is an invitation to get them to think strategically about the long-term future of their business and how they can leverage technology to set themselves up for success, to differentiate themselves, to innovate themselves and not just do more of the same," Landess said.
Streamlining processes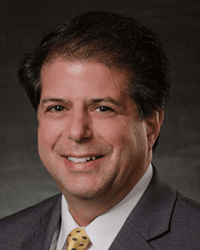 John DeSalle, the executive engineer in residence at iNDustry Labs at the University of Notre Dame, said he's quite familiar with the Readiness Grants program.
He said iNDustry Labs has written more than 35 Readiness Grants applications for its manufacturing partners in St. Joseph, Elkhart and Marshall counties.
"We're pretty successful in winning those awards for those companies," DeSalle said.
For companies that haven't added automation, taking on a project to add new tech can seem like a leap of faith. But if the state comes in with as much as $200,000 toward that project, "it takes the risk off the table," DeSalle said.
He's noticed that once companies complete that first project and see the benefits, they're often more willing to do more technological enhancements in the future.
The grant applications are just a small aspect of what iNDustry Labs does.
It was formed about three and a half years ago with the goal of helping regional manufacturers become more productive, improve their resiliency, and grow and attract talent to the Region.
To help companies make advancements toward automation, iNDustry Labs meets with them to better understand their needs. The organization then writes specs, creates business plans, calculates the ROI and drafts RFQs.
DeSalle said there are occasions in which companies want to implement automation, but they realize they don't have employees who can program and fix new machinery.
Along with partners such as Ivy Tech Community College, the South Bend-Elkhart Regional Partnership and the Northern Indiana Workforce Board, customized apprenticeship programs have been developed to address those issues.
"What we're trying to do is upscale existing employees at those companies so that they can be the programmer for that automation, they can be the repair person, the maintenance guy," DeSalle said.
DeSalle said automation is not there to displace people but to grow the business.
"Let's take people doing jobs that people don't want to do or shouldn't do and use those people in the higher order function, and let's give them skills and training to do it," he said.
Through the data analytics area of iNDustry Labs, the organization collaborates with Notre Dame data scientists to review company data.
DeSalle said all manufacturers collect a ton of information from machines, their operations and their processes, but many times, they're not using data to the full extent.
DeSalle said they're able to create systems, programs and dashboards that can use that data to improve their manufacturing process and assist with decision making.
He recalled one company in which they examined its forecasts and orders to schedule the plant in a more efficient manner.
"We were able to increase their capacity 10% just by streamlining what order products go through the facility, so that data analytics is a big deal," DeSalle said.
To help retain students after they graduate, iNDustry Labs develops student applied projects.
DeSalle said, if a company has a meaningful, compelling, difficult but nonurgent project, iNDustry Labs will make it a class.
He said students and course instructors will meet with company officials once a week as they work toward addressing their project.
The whole process accomplishes several goals. Students help solve the company's issue, and the business gets a low-cost look at talent.
DeSalle said most students in the program have never been in a manufacturing environment and have preconceived notions of what it looks like. It can be interesting to see them go into that environment and realize their notions were completely different from reality.
DeSalle said many companies use the project as a recruitment tool.
"Hopefully, job offers will get extended," he said. "We're beginning to turn the tide on retaining more of these bright young people that we educate, have them stay in the Region and continue to work for our manufacturers."
It's clear there's much to consider when adding new technology in manufacturing, but many resources are available to guide companies along the way. And many experts agree it's a worthy undertaking because technology can help companies become more competitive and win more business.
"It's not just more of the same business, they often are able to expand their capabilities in addition to their capacity," Landess said. "They pick up new customers, they enter new markets, they sometimes launch new products because the automation gives them new capabilities they didn't have before."
Read more stories from the current issue of Northwest Indiana Business Magazine.