Setting special events apart takes time and planning and continual improvement, organizers say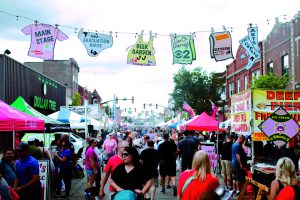 If this year is anything like the past 24, thousands of people will descend on downtown Whiting over three days in late July. They will devour Eastern European food, imbibe some brews or wine, watch a parade and take part in a pierogi-tossing competition.
Yes. That's right—pierogi tossing.
Organizers of the annual Pierogi Fest take pride in incorporating a bit of wacky fun as part of the annual celebration of Eastern European cuisine and culture.
"We wanted to have an ethnic festival that acknowledged customs and took a light-hearted view of those customs," said Thomas Dabertin, chairman of Pierogi Fest and one of its co-founders.
This year the fest is celebrating its 25th year July 26 through 28 in the downtown business district.
While the focus is on fun, organizers take Pierogi Fest seriously. It attracted about 350,000 people last year, and organizers said, throughout its history, it has promoted local businesses and expanded awareness of Whiting.
Making memorable events
Creating a successful event takes a lot of hard work and organization, getting feedback from attendees and local businesses, focusing on what makes the event unique, and keeping it fresh, said Dabertin and other festival and event planners.
Dabertin credited Pierogi Fest with putting Whiting on the map and with enhancing the business district.
"It created an awareness that Whiting even existed," said Dabertin of the festival's success in promoting the city. He said it had a lot more vacancies and less foot traffic in its business district a quarter-century ago.
The effect goes beyond the business district.
"It's helped sell homes and bring in new residents," Dabertin said. "It has had a huge impact."
Every year organizers ponder what elements made their events successful and what needs to be improved.
Planning for next year's Pierogi Fest will begin virtually the day after this year's event concludes. The fest relies on a dozen planning committees and 600 volunteers.
"We're very hard on ourselves," Dabertin said. "We review everything we did. … We tear it apart and see what we can do better."
One element that has changed at Pierogi Fest, based on feedback from businesses and attendees, is signage. Through the years, the organizers received complaints that people could not see directional signs.
In response, organizers tried larger signs, brightly painted signs and sandwich boards, and still the problem persisted. The problem was solved when they hung signs cut in the shapes of clothing on a mock clothesline over the streets.
"We learned that the only way for a sign to be seen in a crowd of 350,000 is to look up," Dabertin said.
Keeping the festival unique is also important to making it great. This year, the event will have more than 90 vendors and 1,200 different food items for sale.
Organizers limit duplications of foods sold so that attendees aren't coming across typical fest fare—elephant ears or funnel cakes—every few feet.
"People know they're going to find great food and great variety," Dabertin said.
What worked, what didn't
The sort of close evaluation that Pierogi Fest undergoes annually is like the analysis done for events planned by Valparaiso Events, a nonprofit that organizes the annual Popcorn Festival. The event will return Sept. 7 for its 41st year. It will feature 250 arts and crafts booths, 35 food booths, kids' games, two live music stages and a Popcorn Parade.
The festival, which pays homage to Orville Redenbacher who built his popcorn empire in Valparaiso, brings about 65,000 attendees to town.
After every festival, the organizers convene a Popcorn Summit. They invite local businesses to give their feedback.
"We go category by category and look at what worked and what didn't," said Jenny Bennett-Beschinski, event coordinator for Valparaiso Events.
She agreed with Dabertin that one element of making an event great is to keep it fresh so that people don't get bored or feel it's too much like any other event they might attend.
"We change it up every year," Bennett-Beschinski said. "It's a balance between keeping what people love, like the parade, and changing up what's tweakable."
This year, for instance, the festival will feature a Friday food truck rally.
Entrance to Popcorn Festival, as well as to all the other 90 events that Valparaiso Events plans, including farmers markets, concerts and movies are free, which Bennett-Beschinski said is a strong part of their appeal.
Kylie Carter, director of marketing and events at Downtown South Bend, agreed that keeping most of their events free and family-focused is a big part of what makes them successful.
"If an event is free, that's something families are always looking for," Carter said.
She also said adding new elements every year attracts new and repeat visitors.
"You have to make it worth it for people to choose to attend your event over all the other things they might do," she said.
About 200 restaurants, shops and attractions call downtown South Bend home. Some sponsor events and others host activities that tie in to an event's theme.
She advises businesses to make sure their events are interactive.
"It should be something that's active not passive," Carter said. "You can just do a coloring page or, a lot of times, a business will have a craft (for kids) in a corner of their business."
Carter said it doesn't have to be costly.
"It's just something to add to the experience," she said.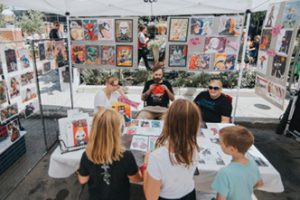 One of Downtown South Bend's biggest events is Art Beat, a one-day arts festival that this year will take place Aug. 17 on Michigan Street.
In its 15th year, Art Beat brings in about 15,000 visitors and 1,000 artists.
To attract a range of artists showing and selling their creations, organizers only charge a $10 application fee.
"It's a way to help artists be a little brave and to show their art," Carter said.
Downtown South Bend organizes about 100 events a year. All of them are geared toward promoting the downtown business district.
"Our No. 1 goal is to change perceptions of Downtown South Bend," Carter said. "For many years, South Bend had a perception of being a dying city."
Carter said every event meshes with that overall goal.
"We'd never have an event that doesn't drive people to our (downtown) businesses in some way," she said.
As with the pierogi and popcorn fests, post-event analysis helps organizers in South Bend better understand what draws people to their events. Carter said her organization measures attendance by going on the top of a parking garage and estimating the number of people in a block and then extrapolating the number from there.
They also talk to businesses, survey visitors and do a staff debriefing.
"It's very important that we learn as much as we can, so we can make events bigger and better every year," Carter said.
Honoring businesses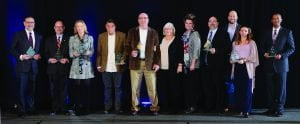 Not all events are geared toward attracting the general public. The Entrepreneurial Excellence Awards Luncheon for example is targeted at a business audience.
The awards, bestowed by the Northwest Indiana Small Business Development Center, have been given every year for the last 25 years. They recognize small businesses and innovative startups within a seven-county area in Northwest Indiana that have at least a three-year track record of growth in sales or employees and strong growth potential.
Attendees enjoy the personal stories about how the honored entrepreneurs started their companies and continue growing them.
"It's really a storytelling event," said Lorri Feldt, regional director of the small business center. "I think that's what people really like."
A committee selects winners in various categories based on nominations.
"If we don't have a (nominee) with a great story, we don't do that category that year," Feldt said.
Pulling off a big event isn't easy. Feldt recommends getting help by making partnerships.
"We've benefited from having a wonderful committee involved in event planning as well as selecting the winners," she said. "We have amazing sponsors—many come back year after year, and some are new each year."
To help tell the stories of local businesses in a compelling way, they rely on local media, including Lakeshore Public Media and VIA Marketing, which produce the videos and provide marketing materials for the program. The focus on storytelling appeals to Jim Jorgensen, a partner in the law firm of Hoeppner Wagner & Evans LLP, which has offices in Merrillville and Valparaiso. He's attended every E-Day luncheon except one.
"The E-Day conference introduces us to a remarkable group of individuals who demonstrate creativity, perseverance and great skills," he said. "They are an inspiration to all."
Planning an event
For businesses and others planning their own events, Rachel Snyder, banquet manager at Horseshoe Casino in Hammond, is ready to help. She works with customers to organize events for as few as 100 people to as many as 700 and more. She plans about 100 events annually, at least 40 of which are business events.
She has advice for those looking to organize a private event at the casino. One tip is to plan ahead, especially if you're hoping to host a gathering on a busy day.
"If you want a Saturday or Sunday, you need to call seven or eight months ahead," she said.
It's also important to know the type of event, the theme, about how many people will attend and about how much you want to spend.
"It makes a difference if it's a high-end cocktail party or if it's a meeting for people after work," Snyder said. A typical per-plate cost at the Horseshoe ranges from $35 to $100, depending on the day of the week and other factors, she said.
At one of its recent events for its top players, Snyder said they brought in aerialists, jugglers and fire breathers. For a customer hosting a Kentucky Derby Party, the casino created three different signature cocktails.
Whether putting together festivals or private parties, the organizers of them said an event is special when it is unique.
For anyone seeking to emulate the success of Pierogi Fest, Dabertin suggested thinking about what will make an event different and to be open to improvements. He even has "secret shoppers" attend Pierogi Fest to give him their feedback.
"I tell them, 'Don't tell me what's good. Tell me what's wrong,'" he said.
Click here to read more from the June-July 2019 issue of Northwest Indiana Business Magazine.