2022 E-Day honorees share ups, downs of turning ideas into successful businesses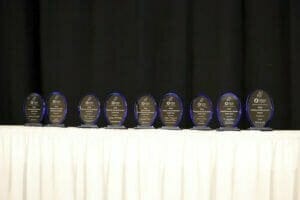 Among the attributes this year's E-Day honorees have in common is a passion for their businesses.
The Northwest Indiana Small Business Development Center annually gives out the awards to recognize entrepreneurial excellence.
A range of entrepreneurs, from a Region business news journalist to a teacher who is inspiring future business owners, were among the 2022 Entrepreneurial Excellence Award winners honored during a luncheon Oct. 26 at Avalon Manor in Hobart. This class features nine honorees.
Lorri Feldt, regional director of the Northwest Indiana Small Business Development Center, expresses great enthusiasm about this year's honorees and the awards program.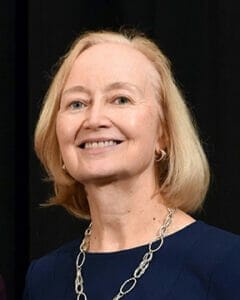 "E-Day is a tradition spanning over 30 years where we have honored small businesses and leaders from Northwest Indiana doing great things, growing their businesses, creating jobs, investing in their communities and giving back," she said. "This year's class is as diverse as ever, from a restaurant owner to a reporter to a teacher, with businesses from 4 years old to 93 years old!"
Stacey Poynter, Indiana district director for the SBA, and Geri Aglipay, regional administrator for the Great Lakes Region of the SBA, addressed attendees at the annual luncheon.
"Owning a business is the second-best way to build personal wealth," Aglipay said. Owning a home is in the top spot.
Small Business Person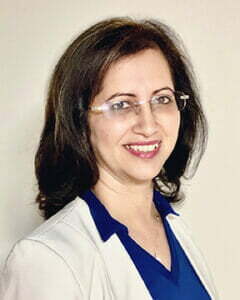 Dr. Rani Saxena, president of Merrillville-based Bionic Prosthetics & Orthotics, oversees a company that supplies custom prosthetic and orthotic devices to patients in 34 locations.
"We are engaged in research, patient care, innovation and education," she said. "We also have outreach programs."
Bionic dates to 2008, when it was formed to serve individuals with injuries or disabilities, including spinal deformities, cerebral palsy, bilateral amputations and more.
In 2019, Bionic acquired a company in Wisconsin and has since purchased additional practices, she said.
"We started with two people, and now we have 140 employees, and we service nine states," Saxena said.
She views what her company provides as a "specialty service."
"We provide orthotic devices as well as prosthetics," Saxena said. "Prosthetics is replacement of the limb."
Research has led to technological innovation, including use of 3D printers, to create test sockets that reduce the time and cost to fit a prosthetic socket for patients.
Giving back mobility to patients is one of her rewards. Saxena had a background in physical therapy before Bionic.
"From the start, I've felt what I do has an impact on people's lives," she said. "That's what keeps motivating me and moving me in this direction."
There are challenges as well as rewards.
"There are a lot of regulations that are changing externally with the insurance companies," she said. Complying with them has been cumbersome.
Saxena said clinicians are experts and know what to do.
"But everything must be documented and explained, requiring the company to employ additional employees to deal with the bureaucracy," she said.
Entrepreneurial Success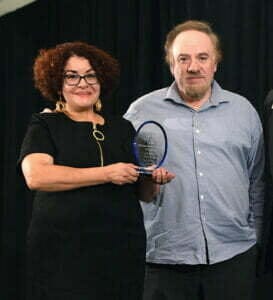 Hector Cornejo, president of Hobart-based Momax Marble & Granite, said he could have added quartz to the name of his business. After all, he added granite to the name when that product was added to his company's offerings.
He founded the company in a garage in 1996, then moved to a location on U.S. 30 in 2001. Seven years later, he outgrew that building and acquired a larger space nearby.
Cornejo chuckles while recounting his start in the business.
"Actually, I fell into it by mistake, and I loved it," he said. His older brother worked for a marble company, and Cornejo learned by osmosis at that company before starting his own one.
In 2017, Momax expanded to Lafayette. The store there is run by his son.
"We grew, but my family helped," he said. His wife, Gloria, joined the business soon after it started.
"My son and daughter (Sal and Stephanie) grew up in the business," he said. "They love it."
A third child, Elizabeth, is working toward a law degree.
They will be the next generation to operate Momax when Cornejo retires.
He gives credit to his employees, too.
"I've gotten lucky that I've had good employees, and they've been with me for a long time," he said.
Marble countertops and other surfaces were popular beginning in the 1980s. Then the trend shifted to granite.
By the early 2000s, quartz became extremely popular, he said. It's superior to laminates and products like Corian.
With quartz, homeowners just need to wipe up spills and not worry about it staining, he said. The quartz doesn't have to be sealed, and it doesn't show scratch marks.
"When I first started, the tools were the challenge," Cornejo said.
His first big investment was a special saw to cut the granite. Now the cutting is robotic to ensure precision.
Supply chain issues have been a problem, but over time, Cornejo has been accumulating material to have it on hand when needed. The warehouse doubles as a showroom, with customers able to pick out a specific slab of marble, quartz or granite to get just the right look.
"Nowadays, we keep a stack of well over 4,000 slabs," Cornejo said.
As the slabs are cut, some of the material is made into other items, including cutting boards or a Lazy Susan, he said. With granite, some of the waste can be used for creating fire pits. Quartz isn't suitable for that purpose, however.
Momax does both commercial and residential work.
"Every project is different," Cornejo said.
He said his profession isn't just a job where everything is the same and where you may eventually become bored. Continual changes keep the work interesting, he said.
"I do love a challenge," Cornejo said.
Cornejo said customers' reaction to the end product is rewarding.
"A lot of people will email me pictures," he said.
Family-Owned Business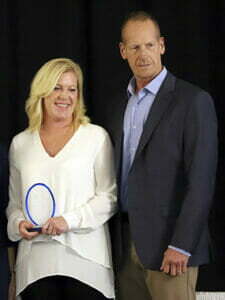 Dave Wilson and his sister, Kelly Tichacek, run Hobart-based Monroe Pest Control, and they're already grooming the next generation to eventually take over the business.
The industry has changed considerably since their grandparents founded Monroe in 1929.
Views on pesticides have changed, Tichacek said.
"It used to be if the customer didn't smell the chemicals on the side of the house, they didn't believe it was applied," Wilson said. He said customers appreciate that chemicals today aren't as harsh.
One thing that hasn't changed over the years is the focus on customer service.
"We've got a great staff that will respond quickly," Wilson said.
He said Monroe promotes itself extensively on social media, which has led to customer referrals.
"There once was a time, when people called here, and we were the salespeople," Tichacek said. "We no longer have to sell pest control so much over the phone."
Now the office staff's main task is to schedule appointments.
It took time for Wilson and Tichacek to adjust to running the business. They took over suddenly when their father had to deal with health issues, and while he has recovered, he retired a short time later.
Now they carry on his traditions, including responding quickly whenever a customer isn't satisfied. Wilson and Tichacek also value their core group of employees.
"We consider them part of the family," Wilson said.
Woman-Owned Business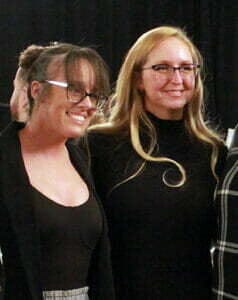 Tabetha Alvarado and Sherry Langdeau are on the phone constantly for Crown Point-based Great Lakes Communications.
Their company is, after all, an answering service for more than 100 businesses in 30 states. The company is open 24/7.
"One of us is always available," Alvarado said. "One of us is always around."
The futon in their office has come in handy more than once. The duo missed a lot of holidays as well as weddings and other life events.
"We've missed a lot of doctor's appointments," Alvarado said.
Soon after they started their business in 2014, Alvarado and Langdeau were sued by a former employer over a noncompete clause.
"We had to end up closing our business down for a year," Langdeau said.
Fortunately, their landlord suspended rent payments for that year and worked out a repayment plan with them. Their banker kept the faith, too.
Their attorney sees the two friends working together so closely that he refers to them as Shabetha, a contraction of Sherry and Tabetha.
Their friendship had an unusual start. Alvarado was hiring people for a former employer and passed over Langdeau. But Langdeau was persistent.
"I called her, we hired her, and I still didn't like her," Alvarado said.
Then Alvarado was upset in the breakroom one day, and Langdeau offered comfort and support.
"We have been best friends ever since," Alvarado said.
When they formed Great Lakes Communications together, they knew it would be difficult.
"We wanted to take it slow and have a good solid foundation," Alvarado said.
Now the answering service is gaining popularity.
"Everybody needs an answering service, but they might not know it," Alvarado said.
"We love all our customers, but we do have a special place in our hearts for the mom-and-pop shop and the one-guy HVAC shop outgoing on calls," Alvarado said.
"They think of us as an extension of their team," she said.
Great Lakes Communications fills the role staff would fill, even scheduling appointments for some of their clients.
The company also handles calls to a rape crisis service and several Alcoholics Anonymous accounts.
"It's important to make them comfortable," Langdeau said, but the callers need to be connected quickly to a trained professional who can do more than listen.
Among the memorable and rewarding calls was one from a young mother with a newborn who didn't know what to do about a temperature in the middle of the night, Langdeau said.
"You're helping somebody," which is a rewarding experience, she said.
Small Business Advocate
Joseph Pete, business reporter for The Times of Northwest Indiana, enjoys writing about small businesses.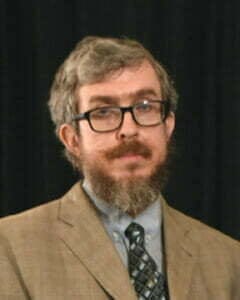 As the only business writer at The Times, he covers all businesses, large and small. But his strongest passion is for locally owned companies.
"What I'm really more passionate about is the small local companies that make up the fabric of Northwest Indiana," Pete said. "When you talk to those people, you can just hear their enthusiasm."
He said it's just obvious from their voices. "It's really energizing," Pete said.
"I work basically to shine the spotlight on local businesses" in his column that reports on businesses opening or closing, he said.
Pete also enjoys writing about trends that affect small companies. "The conditions are constantly changing in the business world," he said.
Besides helping business owners spread the word about their companies and what they're facing, Pete is educating consumers about those changing conditions and what is causing them.
He is the author of three books about Northwest Indiana.
"I never imagined I could be so invested in Northwest Indiana," Pete said.
Minority-Owned Business
J's Breakfast Club owner Joslyn Kelly wants her customers to feel loved from the moment they enter her Gary restaurant.
"When you walk through that door, you feel like you're at your favorite relative's house," she said. Customers are greeted by name if possible.
Kelly's restaurant offers "hearty cooking, good love that makes you feel good," she said.
J's Breakfast Club opened in October 2015 as a to-go place. She enjoyed serving people, food and fun, so it was a logical move.
"We had a huge problem, and that problem was that nobody wanted to leave," Kelly said. "They kept calling, and they kept coming."
One day, a customer brought 36 people in for table service. Kelly took the not-so-subtle hint.
"Things are not free of challenges, but a positive attitude takes you farther," she said. "Be grateful for what you have, and everything's fallen into place."
Kelly said 2014 was a terrible year for her. Her son Jayln D. Jones committed suicide while serving in the U.S. Army, and six months after that, she lost her job.
That prompted her decision to open J's Breakfast Club.
"I truly believe a lot of prayer, a lot of therapy, brought me to this place," she said.
Lately, Kelly has focused on her new location on Broadway north of the Borman Expressway. She acquired 11 city lots.
"We're building a 3,000-square-foot restaurant and dropping a seed into a community that a lot of people would see as blighted or in despair," Kelly said. Included in that project is a Victory Walk, much like the Hollywood Walk of Fame, she added.
"Customers coming back every day is my greatest reward," Kelly said. "The same goes for my staff."
Young Entrepreneur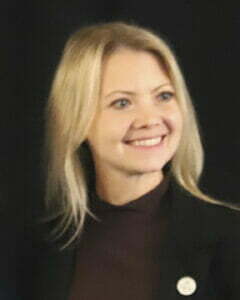 Truly Teas owner Lindsey Liesenfelt is looking for a new space for her Crown Point-based company.
She's currently operating Truly Teas from her spare bedroom. Her dream is to have a bigger space to process the tea blends she creates and to eventually open a tearoom and offer brunch.
For now, she is focusing on special events and online sales. Her idea germinated from an upper-level marketing class at Indiana University Northwest.
Launching her business has been an adventure. "We had no idea we needed a commercial kitchen," she said, but she found one she can use.
"You will not find a tea on my website that is not organic," Lisenfelt said. She also features eco-friendly packaging, and the majority of her teas are from fair-trade sources.
"A lot of these bigger companies have their own farms," which she can't compete with, so she must be certain to serve her niche well.
An early challenge to her company was from Budweiser, which was protecting a copyright for one of its beverages. Liesenfelt solved the problem by changing her product's name, although she founded her company a year before Budweiser launched its new line.
"I love how much I've learned from this," she said.
Liesenfelt works full time as a human resources manager.
"It can be kind of a roller coaster when you own your own business," she said.
She works a total of 50 to 60 hours a week.
"It's like my hobby," she said. "I love it."
Liesenfelt urged would-be entrepreneurs to pursue their dreams.
"If you have the passion for it, go for it," she said.
But if a potential entrepreneur still feels hesitant, Liesenfelt suggests a part-time approach to see if you have a good product that sells.
Over time, Liesenfelt discovered other small business owners have a wealth of knowledge.
"You meet a lot of friends with the same likes and goals," she said.
However, if a business venture doesn't work out, there are other ways to make a living.
"Corporate jobs will always be there," Liesenfelt said.
Advocate for Youth Entrepreneurship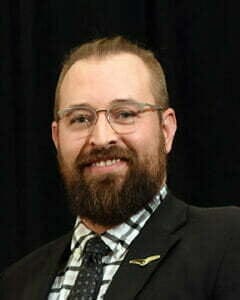 Daniel Schultz teaches engineering and entrepreneurship as part of the Project Lead the Way program at Hobart High School. His students have placed first regionally the past four years in Innovate WithIN, a state-sponsored business pitch competition, and have placed in the top three at state the past three years.
Schultz encourages his students to apply for the state competition. Several of the student teams have patents pending.
He runs a prototype lab, which features 3D printed prototypes for therapeutic gloves for arthritis sufferers, new football helmet interiors, bike safety devices and other inventions created by students.
One of the teams he coached this year partnered with TradeWinds to produce dog toys made of upcycled textiles. That team won $25,000 in the state finals.
The team that designed the Remedy Glove for arthritis patients won the state competition in 2020.
"I got started with the competition five years ago in its early stages," Schultz said. "In our first year, nine of the 10 teams invited to the regional level were from Hobart."
He said stu-
dents he's worked with are very skilled.
"With the right motivation, they are capable of so much more than they get credit for," Schultz said.
Lifetime Achievement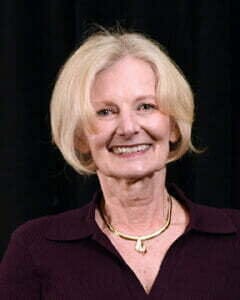 Linda Woloshansky retired as president and CEO of the Center of Workforce Innovations in Valparaiso, but her passion for its mission continues.
"When I started, there were very few women doing this line of work," she said. Back then, some male leaders weren't as accepting of a female CEO as they are now.
She proved her ability to build an organization that serves both employers' and job seekers' needs.
The agency's goal is to make sure both businesses and workers thrive. That involves working to ensure job seekers have the skills employers need.
"It's just kind of amazing all the people that I think the company helped," Woloshansky said. There are employers whose workforce fit the bill and thousands of people who developed new skills, got training and found a new career path.
"We kind of hit a home run on that," she said.
Looking back, she realized she met every Hoosier governor since Robert D. Orr, former vice presidents Mike Pence and Dan Quayle, and even former President George H.W. Bush, during a Rose Garden event.
"I took all of that for granted," she said.
But Woloshansky's intention always was to make those connections to help others.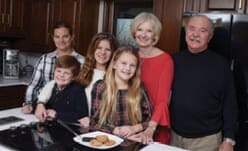 She mentored others and also was mentored by others.
"They were a lot smarter than I was," she said. "That is a very wonderful reward."
Heading the agency meant adopting good business practices, including managing for good outcomes, analyzing data and acting accordingly.
"That really was a sacrifice, so many hours to not only stand up but maintain a business," Woloshansky said. She praised her husband, daughters, son-in-law and grandchildren for being so supportive.
"All entrepreneurs would like to see their work carry on in some fashion," she said.
Woloshansky helped choose her successor, Lisa Daugherty.
"I feel really fortunate that the stars all lined up for me," Woloshansky said.
— Larry Avila contributed to this report.
Note: Photos were provided by Norman Turner Photography and Lyric Miller, except where noted.
Click here to read more from the December-January 2023 issue of Northwest Indiana Business Magazine.