Local 531 union member pursues pro fighting career after full days as general foreman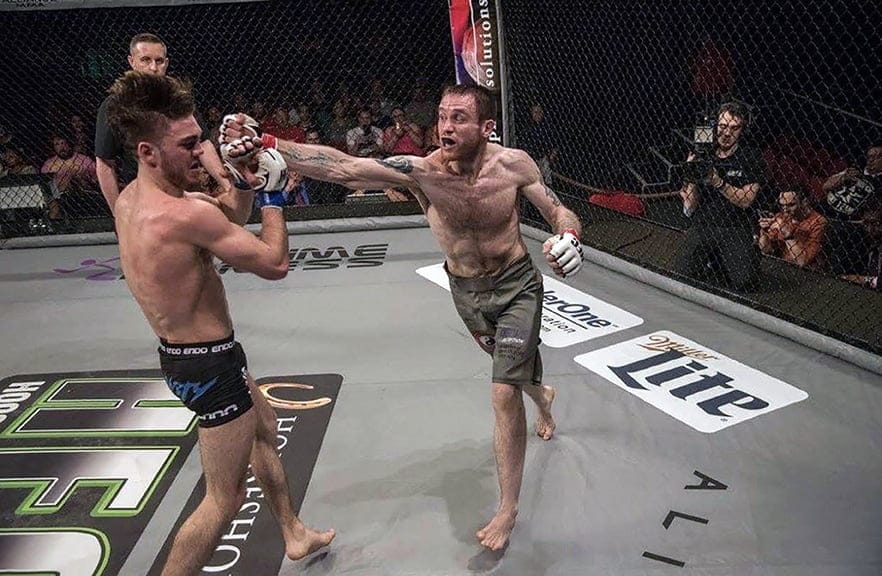 A Crown Point electrician is lighting up the Indiana Mixed Martial Arts pro circuit.
Jonathon Appelman has three pro fights under his belt, with his quick fists and feet leading him to victories in two of those bouts.
Before turning pro, he established himself as an amateur, winning the Midwest Bantamweight title by defeating Chicago-based Juan Avila in a unanimous decision at the Elite Fight Night event Aug. 14, 2021, at the U.S. Steel Yard in Gary.
Mixed Martial Arts is a demanding combat sport, combining such specialties as boxing, wrestling, judo, jujitsu, karate and Thai boxing. But Appelman has proven himself equal to the task, bringing to the cage the same work ethic he carries to the mills and powerhouses that are his arenas with Local 531 of the International Brotherhood of Electrical Workers.
"You got to grind at work, just like you got to grind at the gym," Appelman said. "I'm going to put my best foot forward every time, every day."
There are some parallels between his job and his sport.
"You got to be aware of your surroundings, just like you do in a cage, because any false movement could result in injury or death," he said. "You don't know what's going to be around the corner of a blast furnace or a boiler."
Appelman has a strong union background. The son of a union carpenter, he graduated from Portage High School in 2006 already a welder. His sister's husband, an electrician, helped Appelman get a job out of high school.
He entered Local 531 as an apprentice, completing the five-year program, before becoming a journeyman in 2015.
"I wouldn't be able to be where I'm at if it wasn't for the help of all the people that were my journeymen when I was an apprentice in 531," he said.
A lot of his work involves installing piping and wires. He also does maintenance work in mills and powerhouses. He has sometimes put in 16-hour days seven days a week.
Projects have included the science buildings at Valparaiso University and a hospital in Michigan City. His latest project is as general foreman on the Dunns Bridge Solar Project in Wheatfield, an ambitious project that promises to produce the biggest solar array east of the Mississippi River.
He said he became interested in Mixed Martial Arts through his best friend, MMA fighter Henry Huff.
Appelman told him, "If you can do it, I can do it." It was hard work to get in shape for fighting.
"Jon wasn't always the skinniest guy in the world," Huff said. "I told him at first, 'All right, man, but you're going to have to lose like 30 or 40 pounds.'"
Appelman entered the sport in his 20s and didn't have boxing or wrestling experience. He said MMA was a lot harder than Huff made it look — especially because he started later than most.
"For the first few months, me and Henry, we'd go to the gym every night after I would get off work," Appelman said. "He told me that if I wanted to do this, that I had to have the determination to want to do it. And I had to do something every single day, no matter how tired I was from work."
Huff said his friend surprised him with his dedication.
"He's always busting his butt in the gym after working 10 to 12 hours a day, waking up at two, three o' clock in the morning to go to work," Huff said. "The man doesn't call off work. It says a lot about his character as a person."
Appelman's first fight was in the Michiana Fight League in December 2015. Weighing in at a little under 135 pounds, he won in the second round.
During his amateur career, he was 7-3 with two championship wins, including the bantamweight championship for the Xtreme Fighting Organization.
Focus is important to success in Mixed Martial Arts. When he is in the cage, he said, "I don't hear the crowd. I don't hear anything else. Everything goes silent except for the people that I need to hear."
Appelman's fan base includes members of his union. Jim Clarida, business manager and financial secretary of IBEW Local 531, has been to a few of Appelman's fights.
"For anyone that can go out there and do what he's doing plus hold a job and do all the things he's supposed to do, it shows a testament to his commitment," Clarida said. "When he wants to do something, he's going to do it."
Clarida has known Appelman since he was a young apprentice. "He has always been a hard worker and always done a good job," Clarida said.
IBEW apprentices are trained in multiple specialties.
"I think Jon's one of those guys that can probably do everything pretty good," Clarida said.
Appelman said his next fight will probably be in August.
"I'm going to take it as far as I can and as far as my body will let me," he said.
Read more stories from the current issue of Northwest Indiana Business Magazine.