Salute to small business leaders making an impact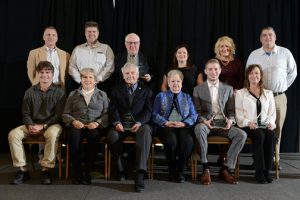 One of the highlights for the region's business community is the annual celebration of notable entrepreneurs selected to receive Entrepreneurial Excellence Awards. The E-Day Award ceremony shines a spotlight on individuals who have built a reputation for business prowess and community service.
The E-Day Class of 2017, honored at a November 8 ceremony at Avalon Manor in Merrillville, joined nearly 200 outstanding entrepreneurs who've received this special recognition over the past 25 years.
The Northwest Indiana Small Business Development Center (NW-ISBDC) works with a steering committee to coordinate the nomination and selection process. Lorri Feldt, NW-ISBDC regional director, says E-Day showcases those who exemplify the entrepreneurial spirit.
Northwest Indiana Business is pleased to join the NW-ISBDC in saluting the 2017 E-Day Award winners.
RICH and LESLIE MONROE
Monroe's Crossing, Inc.
Emerging Business of the Year
Leslie and Rich Monroe started Monroe's Crossing on Hudson Lake in New Carlisle five years ago. The business—featuring a lakeside restaurant, bar and banquet center—is a popular spot in a steadily growing rural area.
The couple has infused new life into an 8,000-square-foot former ballroom built in 1914. A previous owner renovated in 1998, and the Lakeside RV Resort sprung up next door.
"New Carlisle used to be a lot of weekenders and retirees from the Chicago area, but now we're seeing more full-time residents," says Rich Monroe.
Rich says the key to success is consistently offering good food, good service and regular hours. Breakfast, lunch, and dinner are served seven days a week. Some of Leslie's homemade specials are found on the menu, along with a variety of local craft beers, pizza, a Friday fish fry and live music.
Leslie enjoys creating customized menus for special events. "We're affordable," she says. "We work within people's budgets. We try to accommodate everyone's wallet."
The Monroes were nominated for the award by Steve Varela, an assistant professor at Calumet College of Saint Joseph. "The operation gives a renewed sense of energy at the lake and an opportunity for year-round employment for locals," Varela says.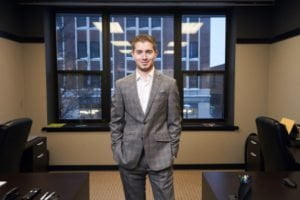 SETH SPENCER
SERA Solutions
Young Entrepreneur of the Year
Seth Spencer was an entrepreneur before he knew what the word meant. In his early teens, Spencer started an online computer gaming company. Three years ago, the 18-year old launched SERA Solutions, while pursuing a business management degree at Purdue University Northwest.
His Michigan City based company specializes in website development and branding and data analytics services for businesses of all sizes. The company has three full-time employees and students from area universities are hired as interns. The students gain practical job experience, and Spencer says he learns as much as they do.
Being a mentor and entrepreneur go hand in hand for Spencer. He works with fourth graders weekly in the classroom of Marty Briggs, a STEM (science, technology, engineering and mathematics) teacher at Crichfield Elementary School in La Porte, Spencer's former elementary school.
"Having me going in and saying, 'I sat at the same desk,' is very motivating to them," Spencer says. "I can go into the classroom and change the mentality, (showing them) learning is actually cool. Knowledge is really power."
Spencer sees the same desire to give back in his SCORE (Counselors to America's Small Business) mentors, including Jim Hubbard, who nominated him for the E-Day Award.
"He started on his own, made his own mistakes, was smart enough to know what he didn't know and sought help," Hubbard says. "Through diligence and hard work, he was able to build a strong marketing services company that has grown quickly over the years based on delivering a level of service few companies do."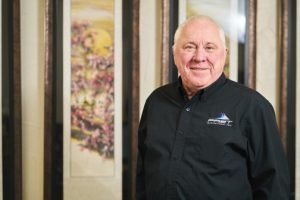 SCOTT YAEGER
FAST International, Inc.
Small Business Exporter of the Year
Filtration and Separation Technology International (FAST), Inc. is an innovative company that markets ultra-filtration electrocoat paint products that inhibit corrosion in automobiles, farm equipment, appliances and a host of other consumer goods. Customers are in Asia, Australia, North America, Central America, South America, Europe, the Middle East and Africa.
FAST handles marketing, sales, customer and technical services as well as worldwide distribution from its La Porte facility, a 7,000-square-foot warehouse and distribution center with an on-site lab. President and CEO Scott Yaeger started FAST as a filtration consulting company in 2004. Five years later, he became the exclusive distributor of Parker Hannifin's Electrocoat Paint Ultrafiltration Elements, made in California.
Recently, FAST developed a patented filter that can recycle and reuse industrial wastewater from the electropainting process. In a recent innovation/entrepreneurial competition in China, the company's unique filtration system earned third place in a field of 15 competitors in the renewable energy/green technology category.
The company's innovative wastewater treatment process is being tested at General Motors and Nissan plants. According to auto industry estimates, plants could save millions of gallons of water a year and could lower wastewater treatment costs by 40 percent.
NW-ISBDC's regional director Feldt says FAST International epitomizes the kind of company the E-Day awards are meant to highlight. She says "Scott and his team sell to top auto manufacturers across the globe and are part of a green and sustainable solution for water used in their manufacturing processes."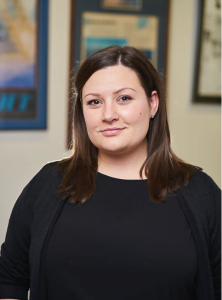 JUSTINE KING
Bilingual Speech Solutions, LLC
Women-Owned Business of the Year
Justine King saw a business opportunity while working in her first post-college job. She had earned bachelor's and master's degrees in communication sciences and disorders, with a second undergraduate major in Spanish. After graduation, she was worked to provide bilingual evaluation services for elementary students in heavily Spanish-speaking Cicero, IL. Surrounding school districts began contacting King requesting the same services.
In 2013 she started Bilingual Speech Solutions LLC, based in Crown Point. The company focuses on overcoming language barriers by providing speech therapy services for children whose first language is not English. King has eight full-time staff members who work with native speakers of 20 languages.
"We get calls all the time for other languages," King says. "Just this week, we got calls about working with Vietnamese, Macedonian, and Thai."
King's speech language pathologists are trained to evaluate students to determine whether they have a language disorder or whether their primary problem is learning English.
"It can be a really grey area," King says. "They mimic each other. English problems begin to show up when you get into higher level, more cognitively demanding language skills. That usually shows up by third or fourth grade. The sooner we can get to them, the more effective the interventions are."
King was nominated by Kevin Crose, Peoples Bank assistant vice president in Munster. He says, "Justine's passion for helping young children is undeniable. She's able to fulfill her passion while successfully running her own business."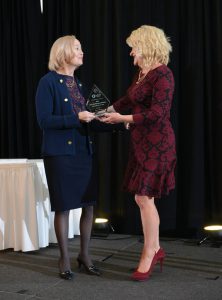 Erica Dombey


Regional Development Company
Garry Bradley Small Business Advocate of the Year

Erica Dombey has devoted most of her career to advancing small businesses. As president and executive director of the Regional Development Company, based in Valparaiso, she provides business financing through the federal Small Business Development Administration.

Small businesses are those with under $15 million in net worth and $5 million in net profit, Dombey explains, and they represent 98 percent of all U.S businesses. She calls them "the economic engines of the community."

"The majority of high-paying job creation is coming from small businesses," Dombey says. "A lot of communities will focus on getting an Amazon distribution center or a new Cracker Barrel, but you have to have good paying jobs to attract larger chain businesses."

Born and raised in Portage, Dombey points to the tremendous expansion of that community as evidence of the region's increasing economic vitality. When she was a child, Dombey says, "The only store on U.S. 30 was Toys"R"Us and there was nothing on Hwy. 6 except cornfields."

Dombey began her career in banking, has chaired the Portage Economic Development Corp., is chairperson of the Northwest Indiana Forum, and serves on the board of the Lake County Indiana Economic Alliance.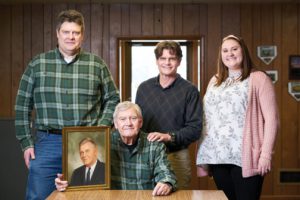 LEEP FAMILY
Pleasant View Dairy
Family-Owned Business of the Year
Bill Leep, vice president of the family-owned Pleasant View Dairy in Highland, says they were "very honored" to be nominated and enjoyed seeing the other E-Day Award winners.
The Leep family was nominated by Mary Luptak, executive director of Highland-Griffith Chamber of Commerce, because of their successful track record. "I admire the family's service and generosity to the Chamber and the communities in which they serve," Luptak says.
Pleasant View Dairy has been processing and bottling milk since 1932, when Nicholas and Hilda Leep started the business. From its founding until the late 1970s, Pleasant View Dairy offered home delivery service. Today, it employs its fourth generation and the company continues to distribute to schools, hospitals, nursing homes, grocery, and convenience store markets. The company has 35 employees and processes some 75,000 gallons of milk each week.
Bill Leep recalls working with the family business since the age of 10, "I'd ride along with the home delivery driver and run half gallons of milk up to the house. Back then, Highland was a little farm community. Local farmers grew and distributed food to customers in the Chicago area," he says. "Highland has grown up around us. We're now on the edge of the downtown area."
Leep continues to be enthusiastic about the dairy business. "The business can be different every day," he says. "We all work together. It's a team atmosphere."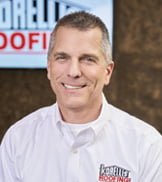 PETE KORELLIS
Korellis Roofing, Inc.
Small Business Person of the Year
Pete Korellis is president and CEO of Korellis Roofing, Inc., a company started by his father, George, in 1960. He's built the thriving company on the family's good reputation, which has led to its impressive roster of commercial and industrial customers.
Pete says as an E-Day Award recipient "It's a great honor, but a reflection of team I have around me that makes the company a success in our industry." He says company vice president Jeff Tharp helped build the business over the last 32 years.
One could say Pete started at the top, working on roofs in middle school through college. He joined Korellis Roofing full-time in 1983, after earning a bachelor's in business management from Indiana University. He worked alongside his father, who he says never pushed him into the business.
Korellis Roofing is known for investing in its 150 employees. The company retrofitted an older building for use as a training center after completing a $2 million facility expansion. As a union shop, the company also offers a joint apprenticeship program with the roofers union.
"We train workers at a higher level in half the normal time," says Pete. "It's difficult to find skilled roofers. We need to replace retiring workers plus hire additional workers to expand the business. Once we find them (new workers), we want to bring them on board, mentor them and keep them. It's a career not a job." He added that the roofing business is a pretty secure career, "one thing that hasn't changed is people need roofs. It's a business of need not want."
In January, Pete says Korellis Roofing announced it was selling the company to its employees through an employee stock ownership plan. He says the decision fits the employee-centered business culture. "The success of our business has been based on hiring good people and having them engaged," he says. "This rewards employees who have helped grow Korellis Roofing into what it is today."
DONNA HUBINGER
Hubinger Landscaping Corp.
Entrepreneurial Success of the Year
Snow and ice removal is a high priority for Northwest Indiana businesses, and they count on dependable, 24-hour-a-day service. That's just one of the ways the multi-generational Hubinger Landscaping business is meeting customer needs.
Dave and Donna Hubinger started their full-service commercial and residential lawn, garden, and landscaping company in Gary in 1968. Ten years later, the business relocated to a 20-acre site in Crown Point. The garden center was added in 1999.
Dave is retired and Donna is the owner and president, with son David as vice president in charge of the landscaping division. The business has 35 full-time and 29 part-time employees. Many of them have been with the company for decades.
In order to service their clientele through the seasons, Donna says Hubinger Landscaping is a year-round business. "We are open seven days a week until the end of December. From January through March, we snow plow. The garden center opens up again in March."
Thomas Neuffer, vice president, Business Banking for Centier Bank in Merrillville, nominated Donna for the E-Day Award. He says "the business has grown from just a small start up to one of the largest landscaping companies in the area. They are very highly regarded and a big reason for that is Donna's leadership."
ROBERT COOLMAN
Coolman Communities, Inc.
Lifetime Achievement Award
Bob Coolman got early lessons in entrepreneurship when his parents, Robert and Florence Coolman, carved out a piece of their farm land outside of Valparaiso to create a subdivision. Bob went to work at the age of 10, "when I was old enough to reach the pedals on a tractor."
After 62 years in the housing development business, Coolman sold his company in January to eight long-term employees. Coolman Communities, Inc. (CCI) has built more than 1,500 single-family and multi-family homes and developed well-known neighborhoods in the Valparaiso area. Its success has been built on a solid reputation for developing good, livable neighborhoods and making sure customers are satisfied.
Coolman's business acumen includes an ability to see new market opportunities that others miss. For example, at the bottom of the housing market in the 1980s, he began constructing condominiums in Valparaiso after recognizing them as ideal housing for single people.
In 2004, Coolman decided to share his entrepreneurship experience and began working with young people in Sierra Leone and Liberia through Operation Classroom. The nonprofit organization is affiliated with United Methodist Church and its mission is to enhance secondary education, with an emphasis on entrepreneurship.
"Our approach was not to impose a new system on them, but to learn how things are done in their cultures," says Coolman, who had been inspired by working with the young Africans. "We want to assist high school students in thinking like an entrepreneur and to equip them to think for themselves."
Coolman believes the E-Day Lifetime Achievement Award is an affirmation of his life's work and says "the fact that those things that have interested me over the years and the ways I've focused on business and engaged with people have turned out to be viable. They've worked!"
Click to read more from the Feb-Mar 2018 issue of Northwest Indiana Business Magzine.