Furniture is 'functional art on a human scale.'
by Barbara Eastman
Dust & Ashes Productions Inc. is a Valparaiso-based custom furniture and home accessories company owned by Vincent and Jessie Leman. They founded the company in 2005, before they were married, and have spent the last 11 years growing the business.
Growing up on a farm in the tiny hamlet of Francesville, Ind. (population 1000), Vincent was an artistic child who enjoyed drawing, photography, and working with clay. In the winter, he helped his father build traditional kitchen and bathroom cabinets. He was an eager student and became proficient at woodworking, but the monotony of making the same basic light oak cabinet over and over again made him long to do something more creative.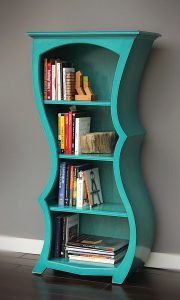 After high school, Leman went to Purdue University and earned a degree in mechanical engineering. He realized he was not cut out for the corporate world and returned to his father's cabinet shop–this time to create his own designs. He leans toward curved, fluid lines that suggest movement and break all the traditional notions of furniture, much as the fanciful creations of Antonio Gaudy stretched all the conventions of architecture.
He says, "I like to think of my furniture as functional art on a human scale. Unlike a painting or piece of sculpture, which you enjoy passively, furniture is interactive. You put things into it or place things on it. You may sit on it or work at it. In addition to unexpected curves, I favor bright, vivid colors and rich finishes."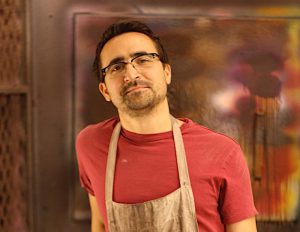 Vincent and Jessie connected online and met for the first time at the Sculptures Objects Functional Art + Design Fair in Chicago (known as SOFA). They married in January 2006 and, based on the increasing demand for his furniture, the newlyweds decided to launch Dust & Ashes Productions Inc. At first, they continued to operate out of Vincent's father's cabinet shop, but rapidly outgrew the space.
Vincent says, "At a time when most newlyweds are just trying to settle into married life, we found ourselves launching a business. We found space in Valparaiso and opened Dust Furniture. Then the recession hit and we needed to add a line with a lower price point. We launched a second brand called Uncommon Handmade, which is sold in an Etsy store. This line is Jessie's domain and offers a diverse array of home decor items such as clocks, mirrors, wall decor, occasional tables, and even wood jewelry. Our third line is called Rocket Mission, and consists of desks and other office furniture that I would describe as mid-century modern.
"Over the last decade we have had a lot going on. We moved our business and home to Valparaiso. We've expanded our product offerings and recently doubled the size of our workshop. Three years ago we started a family and have a son and daughter (three-year-old Emerson and four-month-old Ada), and I also went back to school and earned a master's degree in product design and development from Northwestern University."
Vincent designs every piece of furniture, and it is all produced, painted, stained, sanded and finished in the Valparaiso studio using woods and hardwoods sourced in the Midwest. Virtually everything that goes into the furniture and accessories–hardware, drawer slides, hinges, etc.–is American made. The only exception is the clock mechanism, purchased from Seiko.
Jessie continues to be very active in the business and designs many items sold under the Uncommon Handmade brand. With two small children, she works mostly from home using a software program that allows her to communicate with Vincent and others at the office throughout the day.
Vincent says, "We have a small, dedicated staff who shares our commitment to quality products and outstanding customer service."