Trucking industry's labor woes contribute to supply chain problems as few consider sector for work

It's a multifaceted problem, but among them, is a shortage of truck drivers. That issue includes drivers who move shipping containers filled with imports off massive cargo vessels to those who transport product from warehouses to stores.
The American Trucking Association estimates the shortage at 80,000 workers and growing to 160,000 by 2030. The estimate is based on driver demographic trends as well as expected growth in freight demand.
"It's been a shortage for a couple years now," said Kavin James, academy director for KLLM Transport Services in Burns Harbor. "The more you order, the more truckers you need."
But there are many factors contributing to the driver shortage, including job burnout and low interest among young people starting, as well as remaining, in the field long term, experts say.
An assortment of trucking jobs is available for people considering the profession. From long hauls across the country to regional routes to delivering construction equipment and materials as well as furniture, fuels and packages to someone's home.
"If you have it on your table or in your house, it came from a truck somewhere," said Lynne Rehmel, president and owner of L&R Transportation and Logistics in Valparaiso.
Long-standing problem
Vanta Coda II, CEO at the Ports of Indiana in Indianapolis, sees the trucking industry from an outsider's perspective. Indiana's three ports see ships, barges, trucks and trains daily.

"In Indiana, we grow things, we make things, we move things," Coda said. "Our cargo is typical of what Indiana is — agricultural, energy and manufacturing based, from steel to food products."
Indiana ranks between 12th to 13th as a maritime state across the United States, he said.
Coda said the Midwest is not affected by the container problems out of Asia with consumer goods headed to California.
"We don't participate in containers at our three Indiana ports," he said. "Where we stand in the supply chain is that first layer of value added from raw products to its first sustainable piece such as taking raw steel and preparing it to go into manufacturing."
Trucks are an important part of that logistics puzzle at the ports. The Ports of Indiana-Burns Harbor typically sees 350,000 trucks each year," Port Director Ryan McCoy said. That's an average of 6,730 trucks per week.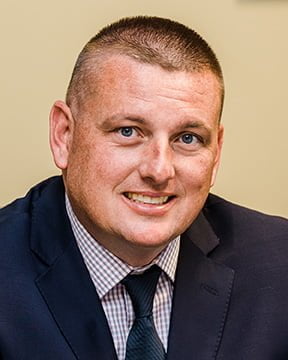 Coda said the supply issues Indiana's ports have experienced the past decade are with personnel.
"Millennials have a 1% identification with transportation and logistics as a career," he said. "We aren't very visible within the job landscape, even though there are really good jobs."
Coda said the port business needs more qualified tradespeople. Port tenants rely heavily on trucks to transport raw materials and products.
"The trucking shortage has been at the top of the list for 10 years," Coda said. "We hear some companies have 100% turnover annually due to job hopping because the demand is so high."
Karen Orosz, school director at DriveCo in Gary, said people in their 30s is the average age of students seeking a commercial driver's license.
"A lot of times it is a career change," she said. "Perhaps the person has done odd jobs all their lives and wants something permanent."
Orosz said some students have worked in another industry or lost their jobs and want to get into a profession where there is a future.
"We have carrier companies that come in here and present to the students," she said. Those company representatives try to recruit drivers while they're still training.
"Right now, there are so many opportunities out there," Orosz said.
Making sacrifices
Drivers make more money going over the road — the long hauls — because they're gone from home so long.
James with KLLM said single people are best suited for long-haul driving.
He gave the over-the-road lifestyle a try. "I feel trucking is a good starter" career, James said.
James was single his first year as a long-haul driver. He lived and worked out of his truck to save money. With no permanent home, he didn't pay rent, a mortgage or utility bills.
James' living expenses at that time included a cellphone bill, food and clothing. A long-haul or over-the-road trucker can make between $70,000 and $85,000 annually.
But the lifestyle is not for everyone.
Charlie Gamblin, apprentice trainer for Teamsters Local 142 in Merrillville, said life on the road can be expensive.
"You're working for $25 an hour, and you're spending $25 to $30 a day for meals and a shower," he said. "A simple shower could cost you anywhere from $10 to $15 a day."
For many drivers, they get paid per mile. Delays affect their income.
"These guys show up for a 9 a.m. appointment, and they're loaded at noon," Gamblin said. Or they stop to use a restroom, and it costs them money to slow down, pull into a truck stop, use the restroom and buy a few things, then hit the road again and get the 80,000-pound truck back up to speed.
"When these guys stop, you lose 30 minutes," he said. "It just cost you $15 to pee."
Gamblin said he sipped on water to stay hydrated, then ate crackers to absorb the liquid so he could keep driving longer.
But there are other struggles an over-the-road driver faces, Gamblin said. If a driver needs a doctor or dentist, scheduling an appointment can be difficult.
"(Drivers don't) know where (they're) going to be in a week or two weeks," he said.
Getting sick on the road is bad, too. "You're lying in the back of the sleeper and sweating it out," Gamblin said.
Drivers can visit urgent care clinics while traveling, but that's different from having a primary care physician who knows their medical history.
Sandy Smith, president and owner of SAN Corp. in Crown Point, said the long-hauler's lifestyle is hard on older drivers.
The average age of over-the-road truckers is almost 50 years old, according to the American Trucking Association.
Smith is in the construction industry. Construction is seasonal, so her experienced drivers know to budget accordingly. Younger people want to work year-round, she said.
Gamblin said younger drivers also want to spend more time with their families, which the over-the-road job doesn't allow.
The ATA estimates almost 1 million new drivers are needed over the next decade to replace drivers who retire, leave voluntarily or involuntarily — because they fail a drug test or have a bad driving record, for example — as well as industry growth.
"The inability to pass a drug test is a big issue," Orosz said. Marijuana is legal in some states, but it's still prohibited under federal law."
Orosz said that can trip up drivers using marijuana legally for medical or recreational use while obeying state law where they live.
Finding solutions
The ATA said the solution to the driver shortage will most certainly require increased pay, regulatory changes and modifications to the business practices of shippers, receivers and carriers to improve conditions for drivers.
James has some good news for drivers.
"We're doing guaranteed pay, which is like a salaried job," at KLLM, he said. Overall, truck drivers' pay has increased.
Smith said landing a trucking job with union representation offers perks.
"The union watches out for (its members)," she said. It's good for companies, too.
"Everybody's happy because we all stay within the rules," Smith said.
The American Trucking Association is pushing for a lower minimum age to drive commercially across state lines. In northern Indiana, the practical implication of the current rule is that a driver must be at least 21 even though an 18-year-old can hold a CDL.
Infrastructure is an issue as well, the ATA reported, with drivers stopping earlier than they need to so they can get one of the limited truck parking spots for a night.
Congestion also can make it difficult for a trucker to make deliveries safely and efficiently.
"Other barriers to entry include the inability of potential candidates to meet carriers' hiring standards for driving record or criminal histories," the ATA said.
Demographics matter, too. The ATA said women make up only 7% of all drivers, although James said he has seen an increase in the number of women undergoing training.
"A lot of women have to care for kids, so they can't be out every night," Orosz said. Some might not feel safe at truck stops overnight, either.
Gamblin urged the industry to look at ways to get truckers home more frequently.
"The farther you get from home, the longer it takes you to get home," he said.
If terminals could be set up for relays, that would be easier on drivers, he said. A driver could go maybe 10 hours in one day, spend the night and be home the next night.
The big money is in driving coast to coast, but that comes at a lifestyle cost, James said.
Gamblin said driving schools often try to sell potential students on the ability to see more of the country, but that's not the way it works out.
"After about a month, and you're passing it at 50 mph, 60 mph, that's all you see," he said. "Would I love to stop there and spend the day? Well, yeah."
But that's the reason people don't see many trucks near the Grand Canyon.
"You get to see nice places, places you thought you'd never be able to be in," James said. He enjoyed visiting small towns along the way.
At the Ports of Indiana-Burns Harbor, a 6-acre truck marshaling yard will be built at the southern end of the port under a FASTLANE project, Port Director McCoy said. It will be capable of accommodating 135 trucks across 15 lanes.
The project has obvious environmental benefits by reducing the need for trucks to idle, but it also will improve truckers' lives by giving them a driver lounge, a patio and a food truck area.
Orosz urged people to explore a truck driver's life and the industry's assorted career options. Jobs are available in the trucking industry that don't require being gone for a week or two at a time, she noted, and truckers don't need the expense of a college degree. A class is 160 hours. That's four weeks of schooling for a full-time student driver, Monday through Friday, or 10 weeks for a driver going part time on weekends and evenings.
Click here to read more from the February-March 2022 issue of Northwest Indiana Business Magazine.