Plans to bolster town amenities, expand transportation driving new residential construction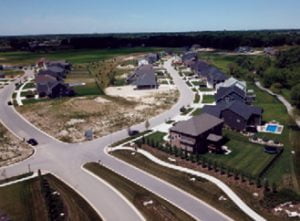 When compared to neighboring states, Northwest Indiana's relatively low home prices, good schools, scenic national park, easy access to transportation and numerous other attractions continue to make it a place where people want to buy a home, raise their children or retire, real estate professionals say.
The Region has experienced a strong housing market and rising prices in recent years, but as positive as that is, it has pluses and minuses depending on a person's situation.
"It's amazing the growth that's happened in our market," said Bill Vossos, managing broker for Keller Williams Realty NWI in Schererville. "It's good if you're a seller (but) bad if you're a buyer."
In a not new but ongoing trend, people are continuing to relocate to Northwest Indiana from Illinois.
"We've been seeing an influx of people from Illinois for a while, and it's continuing to increase," said Jack Slager, development manager for Schilling Development in St. John. "Now we see people coming from farther away."
People moving into Indiana from Illinois traditionally are from the just-over-the-border communities of Lansing and Crete, but now many are relocating from more distant cities such as Homer Glen and Palos Park, he said.
"They're looking for lower taxes, more house for their money in terms of dollars per square foot — just more bang for their buck," Vossos added.
The experts say some of Northwest Indiana's housing growth may be attributed to people looking to escape high taxes, pension and debt woes, traffic congestion and other problems in Illinois. Vossos and others in the real estate industry add the exodus to Indiana might be credited in part to efforts by Indiana boosters to make Illinoisans more aware of the Region's assets.
Come to Indiana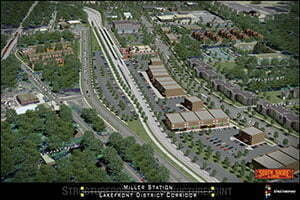 A prominent initiative is the Move to Indiana digital marketing campaign sponsored by the South Shore Convention and Visitors Authority, which promotes the Region as a bedroom community to Chicago.
Touting lower taxes, a cheaper cost of living and amenities such as Lake Michigan beaches, the marketing effort is targeted at attracting young married couples and empty nesters to leave Illinois for Indiana.
"We're trying to tie ourselves closer to Chicago," said Peter Novak, CEO of the 3,000-member Greater Northwest Indiana Association of Realtors. "We're a Chicago suburb. That's how we look at it."
To make his point, Novak notes it takes longer to drive to downtown Chicago from some Chicago suburbs, including Naperville or Barrington, than it would from St. John or Dyer.
"The commute time is comparable or less," Novak said. "That (a long commute to Chicago) is one of the biggest misconceptions about Northwest Indiana."
If recent statistics are any indication of an ongoing trend, Illinois' population exodus might continue to benefit Indiana.
The last time Illinois had a population increase was in 2013, and since then, the number of people calling the state home has decreased by 223,000 residents, which includes births, deaths, and domestic and international migration, according to census data. Illinois lost an estimated 51,250 people, or 0.4% of its residents in 2019.
That exodus might seem like a potential boon for Northwest Indiana, except that most of the Hoosier state's growth isn't in the border area with Illinois but in central Indiana.
"In (Northwest) Indiana, we're concerned about population losses ourselves," Novak said. "Indiana is more stable, but looking to the future, that (population loss) may affect us as well."
Growing state
The Indiana Business Research Center reported in 2018 that Indiana's population is expected to grow by 660,000 residents or 10% by 2050.
"The Indianapolis area is a large driver of that," Novak said.
Just as in Illinois, older industrial cities in north Lake County have witnessed population declines, according to the U.S. Census Bureau.
In 2018, Hammond, which is the Region's largest city, had a population of 75,795 residents compared to 76,418 in 2017. East Chicago's population went from 28,168 residents in 2017 to 27,930 residents in 2018.
By contrast, some communities in south Lake County are experiencing growth. St. John's population surged to 18,047 in 2018, up from 17,209 in 2017.
"St. John and Dyer are prime locations," Novak said. "A lot of that has to do with traffic patterns. There are a lot of ways (from those communities) to get into and out of Indiana."
St. John is where Schilling Development has been operating for 120 years. Slager said about half the company's customers come from Illinois and half from Indiana.
"We have local buyers who are moving up in their housing," he said.
More home for the money
Schilling is the developer behind The Preserve, a high-end residential development in St. John. The 400-lot subdivision is being built out in phases with about 50 lots becoming available each year.
The company's website advertises lots, including a 4.9-acre site for $248,000 or a 2.62-acre property for $188,000.
"It's a nice community," Slager said. "We try to preserve some of the natural areas, so there is open space and maybe some hiking or biking trails."

Custom builders are constructing the homes in The Preserve. Rim Maurukas who operates Newcastle Homes is one of them.
"It used to be that most of my buyers came from Indiana, but now it's a mix," Maurukas said. "A lot of my Illinois buyers have some connection to Indiana. They grew up or went to college here, or they're marrying someone from here."
Whatever their ties to the area, Maurukas said many want the sort of upscale, custom houses he builds, which cost in the range of $550,000 to $1.2 million. The houses generally have four bedrooms, three-and-a-half baths, large kitchens with islands, and second-floor laundry rooms.
Those prices are well over the median home price sold during the past couple of years in Northwest Indiana but less expensive than a similar house in many desirable suburbs in Illinois.
Novak reports that a median home price (for a house with three bedrooms and two baths) during the past couple of years was about $175,000 in Northwest Indiana compared to $200,000 in Illinois.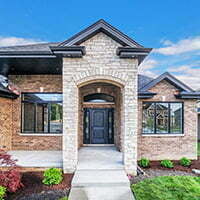 Amy Alexander, sales and marketing director at Sublime Homes in St. John, said her company is building houses in St. John, Crown Point, Munster, Valparaiso and Michigan City. Sublime is a land developer and custom and semi-custom builder.
Like Newcastle Homes, her company's new houses range in price from $600,000 to $1 million.
Those lofty prices for new construction are still less than what the same type of new house might cost in the Chicago area's more expensive suburbs, she said.
"The new construction is going to be a teardown, or you're going to have to go very far west or very far north (of Chicago)," she said.
Eddie Castellanos, executive officer of the Home Builders Association of Northwest Indiana in Merrillville, said affordability is a main draw for Northwest Indiana.
Affordable homes
High-end custom houses ranging from $500,000 or more might be a hot commodity in the Region, but new homes in the $250,000 range or less also are available, he said, but that depends on what a buyer wants from location to size to number of bedrooms.
Even so, he said that the area's housing boom has made it more difficult for first-time homebuyers, particularly in hot communities close to Illinois, to find affordable housing.
He cited a recent conversation at a Realtors meeting as an example.
"Realtors were asking each other 'Do you have anything coming up in Whiting that isn't on the market because I have buyers that really want to buy there,'" Novak said.
"I think a lot of people would like to buy new construction, but finding one that's affordable is very hard," Vossos added. "They (buyers) are going to have to leave the border towns and go farther east to Merrillville or Crown Point."
Castellanos said young people, like many throughout the country, have challenges to face, including high student loan debt.
"I see that the average age for buying a first house is around 35 to 40," he said. "Twenty or 30 years ago, you could be (in) your 20s and buying your first house."
Vossos said he hears resistance from buyers about going farther east. He said many communities, both near and farther from the Illinois border, are making public improvements that have the potential to lure people east, and which will improve the quality of life in various communities.
Passenger rail expansion

One factor affecting quality of life in Northwest Indiana is transportation. Plans to improve the South Shore Line's service east of Gary is getting major support. In mid-February, the Federal Transit Administration put the double-rack project into its final engineering phase.
The $416 million Double Track Northwest Indiana project would allow the commuter rail to build a second set of mainline tracks between Gary and Michigan City. It also would make improvements at five stations, expand station parking lots, build nine new platforms and close 21 at-grade crossings in Michigan City. Railroad officials have said a second set of tracks would allow trains to run faster and more reliably.
The double-track project is expected to receive the FTA's full funding approval in the spring of next year, and completion might occur in fall 2023, or 2024, depending on what obstacles might affect construction.
Another project to improve commuter rail access also is advancing. In October, the FTA selected the $816 million West Lake Corridor project for its final engineering phase.
West Lake will be a new 8-mile rail link between Hammond and Dyer, along with four stations and a connection to the existing South Shore route to Chicago.
In a signal of the importance of these projects, the FTA gave both high ratings for local financial commitment, with state and local funding providing 62% of the projects' cost. In past years, the usual split between federal and local funding for transit projects was 50-50.
There are myriad other examples of how individual communities are building assets that will likely be attractive to potential residents.
For example, Merrillville's Parks and Recreation Department broke ground in December on a new $24 million community center, developers said. The 90,000-square-foot facility will feature a gymnasium with three basketball courts, six volleyball courts, a running track, fitness area, rock climbing wall and a multi-function event center that can be rented for weddings and other gatherings.
Projects like these and many others are expected to benefit businesses that have invested in Northwest Indiana for the long haul.
One of those is Schilling Development, which is developing properties it purchased decades ago.
"We're developing land now that has been in their hands for 40 years," Slager said.
"They had the foresight to see where growth would come."
Click here to read more from the April-May 2020 issue of Northwest Indiana Business Magazine.