Great leadership knows no gender or skin color
Local women and minority professionals bring a wealth of perspective to the workplace.
Great leadership knows no gender or skin color. Exceptional leaders inspire and encourage us to dig deeper and think beyond the status quo. They are visionaries and advocates. They work tirelessly for the benefit of their team and their organization at large. Some people are born to lead, while others rise to the occasion.
Regardless of their circumstance, these five professionals in Northwest Indiana, from a variety of ethnic and professional backgrounds, are standout examples of what happens when women and minorities lead by example.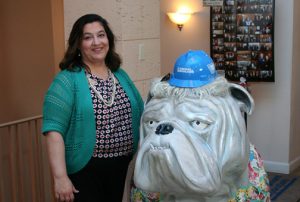 Monique Ruiz
Monique Ruiz is likely the first person you interact with when calling the Lakeshore Chamber of Commerce in Hammond. As office administrator, she does a little bit of everything to support the organization's mission of strengthening the economic vitality of East Chicago, Hammond and Northwest Indiana. Highlights include interacting with current and prospective members and planning and assisting with special events. She says no two days are alike in the office and that variety is refreshing. In her words, "It's truly a great job. It's all about the relationships you make."
Relationship building has been a key theme in her professional life. Prior to joining the Chamber, she worked for a bank in Chicago. She says the career move has proven to be a boon to her quality of life. "I haven't looked back," she says. "I'm always looking forward."
Ruiz, a Hispanic woman, attributes her job satisfaction to the Chamber leadership, including executive director Dave Ryan. She says while some women in the modern workplace feel stifled and limited in their current roles, that hasn't been the case for her. "I've had a lot of opportunities for continual growth," she says. "I'm always getting to do exciting things. "
And that support comes from the top. The culture at the Chamber is very affirming and conducive to growth, according to Ruiz. "I have never heard 'you can't do something,'" she says. "He (Ryan)'s very encouraging. I'm extremely grateful for the opportunity for someone to push and pull for me opportunities."
Beyond the support at work, Ruiz acknowledges the role her upbringing has played in her success. "One of the things that has helped me tremendously is that my parents have been big on education," she says. Ruiz, a first-generation college graduate, says she sees education as more of a process than a finite experience. There is a need to constantly invest in yourself and your career.
Looking to the future, Ruiz offers these words of advice to the next generation of minority leaders: "You have to be persistent, consistent and surround yourself with positive people."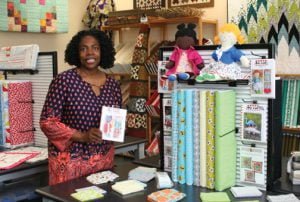 Ginger Stout
Ginger Stout is both an artisan and a business woman—a combination that has served her well in the business world. Stout, who owns and operates Spiceware Sewing Center in Merrillville, has been sewing since the age of three. In fact, she remembers sitting on her mother's lap as a toddler and watching her sew. She learned by example and has been able to turn a hobby into a business. Sewing is and has been a part of her DNA for a long time. "It's my passion," she says. "It's what I always wanted to do."
It was just a matter of figuring out the details. Stout's career path ended up laying the foundation for her current venture. She worked at a major department store, a division of AT&T and later Fishman's Fabrics in Chicago, which is a world-renowned fabric store.
The latter changed the trajectory of her career. The manager at the time was impressed with her resume and saw greater potential for her beyond cutting fabric. She was tapped to sell Burnina sewing machines. In 1997, she purchased the Burnina dealership from Fishman's, serving clients in Northwest Indiana and Chicago.
But Stout, being a true artist, later returned to the craftsmanship side of the business. She conducted some preliminary research and discovered that there was no one offering fashion sewing in the area. There were quilting shops, but nothing along the lines of alterations. In other words, there was an opportunity. She first set up shop in an antique store in Crown Point, offering sewing lessons to children and adults. She outgrew the space and moved to a larger retail space on the Square in Crown Point. She recently made the move to a location in Merrillville, in the Avondale Park retail center off Highway 30.
Despite the changes in venue over the years, Stout's mission and dedication to customers has not changed. The challenge is remaining relevant and reinventing yourself. "You have to find your niche," she says. "A stitch is a stitch."
Stout attributes her success to a strong work ethic, integrity and "not being afraid to take the next step." There's no time for over-thinking decisions. "I get up every day and I do it," she says.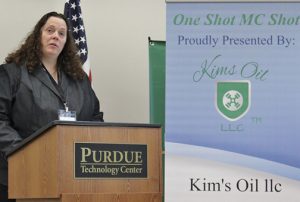 Kim Macchiarella
The best business concepts are ones that save people time, money—or both. A problem solver by nature, Kim Macchiarella has always been one to tinker with things. As a kid, her parents let her work on some engines and her curiosity never waned.
For example, she shared that as an adult she had a leaf blower stored in her garage that wasn't working. The problem was improper storage.
Macchiarella started looking for solutions to solve this common problem. Thus, Kims Oils was born. Kims Oils develops a small engine storage solution. Her idea stems from personal experience and a desire to help and empower people, particularly women. That's because her products require no mechanical know-how and are accessible to virtually anyone.
She's in the final stages of getting her product to market, which involves a lot of details. "Things arise from the initial idea that you must resolve to get to the next road, which leads to funding," she says.
And her efforts have not gone unnoticed. In June, she was named the top winner in the Northwest Indiana Small Business Development Center's InnovateHER competition. Macchiarella will receive prizes including co-working space and will be considered for a spot in the national competition. She's hoping to secure funding, which is a time-intensive process.
Despite this recognition, she remains humble and driven. As a woman in a primarily male-dominated industry, she's aware that she's up against some challenges. For one, she must overcome stereotypes and perceptions about gender roles.
"I understand the product well enough to speak to any audience, so that builds credibility with them," she says. She says it also helps that this product serves a very specific need—she's not reinventing the wheel.
Validation is another external driving factor. "I understand why sometimes entrepreneurs want to throw in the towel (when facing challenges)," she says "Then something (like positive feedback) brings me back and tells me I'm on the right path."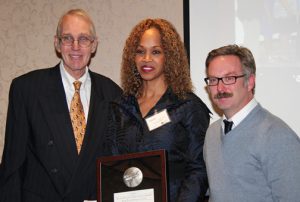 Dr. Danita Johnson Hughes
Education can take you far. Dr. Danita Johnson Hughes, CEO of Edgewater Behavioral Health Services in Gary, holds a bachelor's degree, two master's degrees and a doctorate. Combining education with real-world experience has been the key to her success, at least in part.
Hughes started her career right out of high school at a state hospital as a psychiatric tech. "I got all the jobs no one wanted," she says. "I did all the physical work of patient care. I decided I didn't want to do that all my life."
Thus, education proved to be a path to advancement. Following her first master's degree, she was able to secure a job as a youth employment supervisor. She wanted to be in management, and this position led her to a subsequent job as a payroll manager at Purdue University Northwest. Her later advanced degrees in social service administration and health administration, as well as policy and human services administration, provided a path to the healthcare field.
Her ultimate goal as CEO is to help make a positive and measurable impact on the region. Hughes attributes her success to a solid board of directors and supportive colleagues. She also has managed to challenge the status quo to create lasting change. In her case, it's earning credibility with cliques of white, middle-aged men in leadership in her industry who don't always take women executives seriously. According to Hughes, success then is mostly about attitude.
"I view life as a series of challenges. You have to be mentally prepared to adapt to these challenges and be flexible," she says.
Speaking of flexibility, Hughes is a woman of many talents. In addition to leading Edgewater, she's also an author, speaker, business owner and mentor. "I want to be that support for someone else," she says.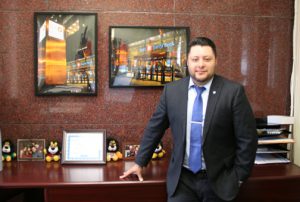 Derek Estrada
Derek Estrada is a shining example of how far you can go when you prove your abilities. Currently an assistant vice president with BMO Harris/Woodmar in Hammond, he started in retail sales at a store and worked his way up into management. A decade flew by, and he was ready to make some changes for the sake of work-life balance. Now at age 34, he's an inspiration to young people looking to blaze their own path in the financial industry.
It wasn't that long ago that a friend recommended him for a position at the bank and he made the transition. Following two years as a personal banker, he was approached about a bank manager development program. He learned the ins and outs of the position and the banking industry for six months before being transferred to the Hammond branch.
Estrada says he finds his everyday work fulfilling. He wears many hats, meeting the needs of clients and developing team members. Being able to help his team achieve personal and professional aspirations is particularly rewarding, he says.
Estrada, who is Mexican-American, is proud of his heritage and roots. Both parents were hard workers and served as examples to him. His employer also motivates him. He says it's refreshing to work for an organization that walks the walk when it comes to embracing these values. "I am very fortunate to work with this company since they value diversity," he says.