Induction into Wheelchair Softball Hall of Fame top of mountain for Ivy Tech employer consultant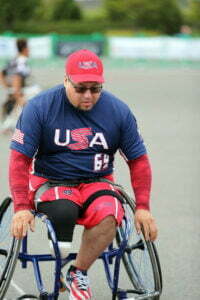 Not much slows Dino Ramirez down — despite a life-altering accident when he was 15 years old.
Ramirez was involved in an ATV accident, which led to the amputation of a portion of his right leg three years later. It was initially devastating, but the East Chicago native would not stay down long, though the journey was not easy.
"I wish I could say my injury never kept me down," said Ramirez, an employer consultant for Ivy Tech Community College in Lake County. "I was down many times, but I refuse to stay there."
He credits encouragement from family and friends for their positive reinforcement.
"I have great friends and family members that lift me up, so I always push on because I never want to let them down," Ramirez said. "I also learned very early that people can benefit from me staying strong."
Ramirez is competitive by nature and loves sports. He turned to wheelchair softball, which ignited a new passion.
Ramirez excelled in softball and became known for his hitting ability. He won numerous awards in the sport as well as a spot on three national championship teams.
In 2017 and 2018, Ramirez played on Team USA's wheelchair softball team, which went on to win back-to-back world championships in tournaments played in Japan. He said softball is not considered a Paralympic sport, but the National Wheelchair Softball Association has been lobbying to have it added to its list of sports.
Ramirez thought he had accomplished everything he could in wheelchair softball until he was notified that he would be inducted into the USA Wheelchair Softball Hall of Fame.
"Honestly, I cried when I learned I was being inducted," he said. "I immediately called my family and friends and said, 'We made it.'"
Ramirez said induction into the hall of fame was a culmination of all the time and dedication he put into softball.
"It truly means so much to me," he said.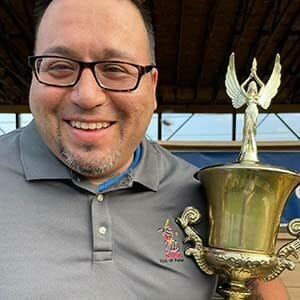 Sally Lobo-Torres, a friend of Ramirez for 10 years, said she admires his determination, noting his hall of fame induction is a testament to his hard work and resilience.
"(Dino) is a very competitive person, so I know this pushed him to perform at the highest level," she said. "He never let his injury be an excuse to not do something, or at least try it, and that I admire about him."
Lobo-Torres said Ramirez's athletic achievements are inspirational to her and others.
"Being a hall-of-famer is the highest accomplishment in an athlete's career," she said. "Many play their entire lives trying to reach a level of performance that will get them to the summit, but not many get there. So, that fact that he did speaks volumes about his dedication to the sport and his discipline as an athlete."
Ramirez also finds motivation in helping people achieve their career goals. As an employer consultant, he works to better understand workforce needs of Region businesses, so higher learning organizations can focus curricula on the skills sought by companies today and in the future.
"Having a true passion for business development, I can sit and talk shop with any business owner or manager all day long," he said.
Ramirez said his softball playing days might be ending soon — now that he has been inducted into the sport's hall of fame. But he has other plans. He has his sights set on wheelchair football.
"I just started playing wheelchair football for the Great Lakes Adaptive Sports Association's Chicago Bears," he said.
Lobo-Torres has no doubt Ramirez will find success.
"He has played football before, so when he told me he joined the Chicago Bears wheelchair team, I was so excited," she said. "Dino is a competitor, and this is just another venue to showcase his abilities and talents while being an example to others who might want to venture into wheelchair sports."
Click here to read more from the February-March 2023 issue of Northwest Indiana Business Magazine.