Former social worker develops healthy, good-tasting snack food
For 15 years, Emily Edwards ran a private practice as a social worker to assist people going through tough times.

But a few years ago, she began to feel a sense of burnout.
"I still wanted to help people but not from a mental aspect," Edwards said. "Growing up in Mississippi, I realized at an early age and spending time in the kitchen with my mom that food is a universal connector for people."
She believed, if she could create something healthy that could be shared with others, it would be another way to help people by providing healthy food options that wouldn't ruin their waistlines.
With that, Edwards began developing a new healthy snack food that was both delicious and nutritious.
She recalled time spent with her mother growing up in Philadelphia, Mississippi. "My mom baked, and she played around with recipes," Edwards said. "I can remember me as a young child sitting on the countertop waiting for her to finish with the cake batter so I could lick the wooden spoon."
Edwards said her mom's kitchen was a gathering place with the aromas, the baking and the love.
"Those were my first experiences with sharing and realizing how food unites people," she said. "When I was creating this product, I really wanted to be able for my target customer, which is millennial mothers, to be able to recapture those moments and be able to share them with their children around food and realize that food can be healthy but still sweet."
Edwards began Paradise Spreads in March 2018, but it took her 18 months to develop the final product for mass consumption. She traveled monthly to the department of food science at Purdue University in West Lafayette to perfect the product.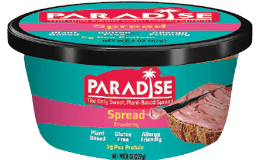 "It was a wonderful experience," she said. "I learned so much about food, including food safety."
Edwards said food safety is really the No. 1 thing.
"You learn what ingredients go together," she said.
As for Paradise Spreads, Edwards said it's healthy and goes with pretty much anything.
"The main ingredient is from a sweet plant-based spread with pea protein that you can use on just about anything," she said. "It has protein and the other ingredients that are all natural."
She said it's a spread, so people who like peanut butter or Nutella but want something different with no allergens, no preservatives and no additives might want to have Paradise Spreads in their pantries.
Paradise Spreads come in an 8-ounce jar or in a small snack pack. They also come in three flavors: strawberry, chocolate and caramel sea salt vanilla.
"You can spread it on bread, bagels, pancakes, waffles, in-between two cookies," Edwards said. "I have an uncle (who) puts it on crackers."
Edwards runs Paradise Spreads from her home base in Schererville, while her spread is produced in Valparaiso.
Her products are available online at spreadparadise.com or at eight Strack & Van Til locations in Northwest Indiana.
Darian Collins of Merrillville is a big fan of Paradise Spreads.
"A few years ago, I had a really bad sweet tooth," Collins said. "I was looking for some options, something that I could have but not have the calories."
Collins said she enjoys the salted caramel with pretzels or apples. She also puts it on crackers.
Anytime she buys Paradise Spreads, Collins said she feels good knowing she is supporting a Northwest Indiana-made product.
"Emily is very dedicated, very determined," Collins said. "She has a very, very good product."
Collins appreciates that Edwards' product is available at Strack & Van Til.
"It's very popular, and everyone that I introduce it to, they really like it," Collins said. "I'm just waiting for the rest of the United States and world to catch up to the greatness of this product."
Edwards' goal is to do just that over the next five years.
"We're still local, so coming up next year, we're going to look to expand regionally and throughout the Midwest, and then, we would like to go national," Edwards said. "The ultimate goal would be to grow the company big enough that we could sell it."
Click here to read more from the February-March 2022 issue of Northwest Indiana Business Magazine.