Kidstuff Playsystems in Gary finds global audience for equipment that makes safety first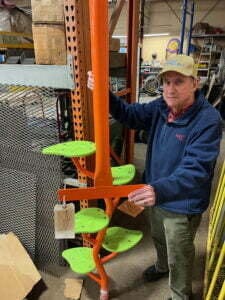 George McGuan, president of Kidstuff Playsystems in Gary, estimates the playground equipment his company makes can be found on every continent — except Antarctica.
But according to McGuan, what isn't found on today's playgrounds are teeter-totters, merry-go-rounds, metal slides and climbing monkey bars.
"Over the decades, designs and demands change with the generations," McGuan said. "There might be the occasional request for a metal slide every now and then, but plastic is most of what you see today."
McGuan started the company 40 years ago in his basement with his neighbor and business partner Richard Hagelberg, the CEO of Kidstuff Playsystems. They were two dads looking for playground equipment they couldn't find.
Now, the company has headquarters and a manufacturing plant at 5400 Miller Ave. in the Miller neighborhood of Gary. They opened it in 1985.
"Every need starts with an idea, and it was 40 years ago when I was looking for a playground for my childcare center," Hagelberg said. "I knew my neighbor George was a carpenter, and I wanted something built that was sturdy, and this is how it all began."
Their efforts have paid off. Their tri-ride slide earned a spot in the final four of the 2022 Coolest Thing Made in Indiana competition, which is sponsored by the Indiana Chamber.
When the company first launched, most of the playground equipment designed, built and sold was made of wood and steel before plastic became the preferred resource in the late 1980s.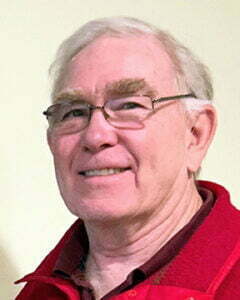 "The metal slides would become very hot in the summer," Hagelberg said. Although, he said, he warned those who bought them that the equipment should be installed facing north to keep them from direct sunlight during the hottest part of the day.
"The plastic designs give us so many more opportunities for a variety of shapes and twists and turns for a better experience," he said.
Today, Kidstuff Playsystems employs a staff of more than 30 team members in addition to numerous sub-contracted help to fill the volume of orders received weekly. The company has invested more than $2 million in the variety of molds they've created for the vast inventory of whimsical playground design equipment they sell in their catalogs and also at www.kidstuffplaysystems.com.
"Much of our industry changed in the early and mid-1990s when a group of eight of us playground manufacturers were together at a national conference, and the subject of playground safety became the focus of that decade as steered by the U.S. Consumer Products Safety Commission," McGuan said.
He said the group realized they needed a certification for their products, so they started the International Play Equipment Manufacturers Association, which then offered a seal of approval. Kidstuff's equipment also adheres to the requirements of the American with Disabilities Act.
McGuan and Hagelberg said, while many of the average budgets for a playground landscape are about $200,000, they have many orders that exceed $400,000.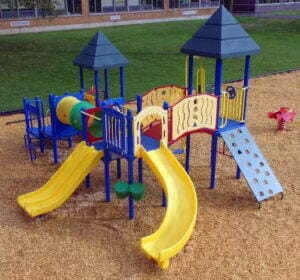 "We not only fabricate our equipment but also powder coat and protect our equipment," Hagelberg said. "We also ship out small parts and components needed for when playground equipment is being assembled and mounted."
Customers are more than happy with their work.
"I am so happy to say that the playground equipment and safety surface are installed and look fantastic," said Vanessa Patient, of Elim Springs Park, Illinois, on the company's website. "Everyone I've spoken with thinks it's a huge improvement."
The company invests much time and resources testing their playground equipment for strength and weight requirements.
"When you see a deck or raised platform for a slide or any playground equipment, we are making sure that space can support as much as 4,000 pounds, which would be the equivalent of two full kindergarten classrooms of students all standing on the platform at the same time," McGuan said.
He said he knows that sounds impossible.
"But we never take any chances with playground safety," he said.
Click here to read more from the February-March 2023 issue of Northwest Indiana Business Magazine.