Ability to stay nimble helps businesses make quick changes during unthinkable financial crisis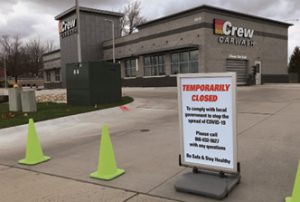 The COVID-19 outbreak had a major impact on everyday life in spring 2020 and put a new meaning on the saying "going viral."
Every aspect of life was affected — from birth to death and everything in between.
Businesses had to adapt quickly to the stay-at-home orders issued by Gov. Eric Holcomb and others. Businesses, government officials and organizations took numerous precautionary measures to limit contact with the public and even encouraged or required remote learning or virtual meetings.
"It is beyond obvious that one wouldn't have required a spotlessly clear and reliable crystal ball to have predicted the speed and severity with which the COVID-19 pandemic would impact global financial markets and supply chains," said Elkhart attorney Joel Duthie, a partner with Barnes & Thornburg.
The pandemic required businesses and organizations to review or consider making changes to their operations to best handle the novel coronavirus situation as well as protect employees while still trying to survive.

"If nothing else, the COVID-19 crisis is teaching us the importance of having an emergency preparedness plan," said Trent A. McCain, a Gary attorney at McCain Law Offices. "If you're a restaurant, what do I do if I cannot serve patrons in person? How do I continue to pay my employees?"
Valparaiso attorney James L. Jorgensen, a partner with Hoeppner Wagner & Evans, said the COVID-19 pandemic "permeates the relationship between employers and their employees."
"Employers may be potentially liable for a breach of duty owed to employees, either under existing laws or under those specifically enacted due to the pandemic itself," he said.

Merrillville attorney Natalie Shrader, a partner with Burke Costanza & Carberry, said businesses can protect themselves from liability during a crisis by seeking legal guidance.
"When a crisis arises, there is sure to be instability and difficulty for business owners as they anxiously attempt to protect their employees, remain productive and navigate the changing landscape," she said.
Fluid situation
In the case of the CARES Act, changes were frequent.
Congress passed the legislation one late spring evening, and it was signed into law the next day. Legislation that complex would normally have taken weeks to get approval as the ramifications of each provision would be considered, but because it was emergency assistance prompted by the pandemic, the bureaucrats were left to work out the kinks and set up procedures afterward, said Merrillville attorney Chad Nally, a partner with Burke Costanza & Carberry.
The Small Business Administration was sending daily FAQ lists — frequently asked questions — as the agency worked to implement the policies required by the new law.
Businesses were eager for assistance, but they wanted to first find out whether loans would be forgiven, a detail that was uncertain early on because of the "vague, ambiguous terms," Nally said.
Like most law firms, Nally's firm deals with banks on a routine basis and that relationship helped, he said.
The Families First Coronavirus Response Act, like the CARES Act, was rushed into law.
"While this legislation provides a number of programs to help employees, businesses and people who have lost their jobs, these statutes also create liability for employers who fail to properly administer the employee-related programs," Shrader said. "At the same time, business owners and human resource personnel have been working through the new Title VII and HIPPA scenarios raised by coronavirus concerns."
Then there's the common sense need to protect workers.
"Businesses are also now considering what it means to provide employees with a workplace free of hazards during a pandemic," Shrader said.
The Occupational Safety and Health Administration requires employers to protect workers from exposure to hazardous chemicals used for cleaning and disinfecting, which are common in many sanitizers and sterilizers.

"The use of gloves and eye, face and respiratory protection may be required," Jorgensen said. "When respirators are necessary, employers must implement a comprehensive respiratory protection program."
Those who lived through the COVID-19 pandemic will long remember the masks and other personal protective equipment necessary to protect people from exposure to the deadly virus.
In recent months, employers dealt with social distancing, enhanced cleaning and disinfecting of the workplace and, in some cases, barred employees from the workplace who were confirmed to have the virus, Jorgensen noted.
In addition to OSHA, the Americans With Disabilities Act applies to a pandemic. Employers could ask workers if they were experiencing symptoms of the virus, but they couldn't specifically ask if they had it, Jorgensen said.
"Employers normally cannot check employees' temperatures under the ADA. However, because the Centers for Disease Control and Prevention and state/local health authorities have acknowledged community spread of COVID-19, the Equal Employment Opportunity Commission has stated that employers may check employees' temperatures," Jorgensen said, but in a nondiscriminatory manner and with noninvasive equipment. Also, any information recorded as a medical test is subject to confidentiality requirements and could not be documented in personnel files.
ADA confidentiality means employers should not disclose the identity of employees diagnosed with, or suspected of having, the virus, Jorgensen said. Employers should, however, send a communication to employees reporting that there was a confirmed case among a co-worker, urging employees to be careful in observing symptoms and directing employees to avoid the office and seek medical attention if symptoms occur.
"By enabling their businesses to take measured approaches in protecting the health and well-being of workforces, mitigating organization and operational risks and exposure to liabilities and vulnerabilities, and shoring financial stability in a volatile environment, they can exercise flexibility in a universe that is witnessing broad and unique availability of emergency credit," Duthie said.
Plan ahead
McCain said it is impossible to plan for every contingency.
"Some things you can't imagine happening in a million years," McCain said. "But for those who have a plan, it will give them some comfort and confidence when they're facing down an emergency or crisis."
Duthie said he encourages management teams to take an "outside-in view" of the company, "assessing risks and vulnerabilities to the organization threatened by external factors both within and without the company's control."
He suggests clients develop answers to a series of questions, including these:
Are there areas of the business that can be labeled mission critical, that if disturbed would result in a devastating impact to employees and the financial viability of the organization? Can any of these be performed remotely? Does remote work threaten the company's cybersecurity?
Are there physical changes in the workplace required or requested by federal, state or local agencies to remain operational?
Have workplace and human resources policies for available leave been reviewed and updated? What leave is available to employees during an emergency? Is there a communication plan for emergencies?
Does the company have insurance policies in place with coverage available for business interruption or catastrophic events? Have these policies been reviewed, and is the coverage sufficient for up to six months loss of operations resulting from a shutdown? What are the insurance carrier's notice requirements to trigger coverage?
Does the company have a strong relationship with a lender or source of available credit? Has the company reviewed requirements for obtaining additional credit in an emergency?
"During a crisis, employers must also protect their employees' physical and mental well-being," Shrader said. "As a baseline, employers do this by obeying all relevant laws pertaining to employee protection."
During the pandemic, employers provided employees with necessary personal protective equipment, hand-washing stations, sanitizer and, in some cases, the ability to work from home to safeguard employees, Shrader said.
Obviously, employers must follow applicable laws. But they should go beyond that, she said.
"Employers should be empathetic to their employees during a crisis," Shrader said. "Employees are also worried about their jobs, health and families. Each employee approaches these concerns in a different manner."
Listen to employees' concerns and ask them what they need to be productive, and make reasonable accommodations where possible, Shrader said. An employee assistance program in their benefits package should also be considered so workers have access to needed support programs.
Flexibility essential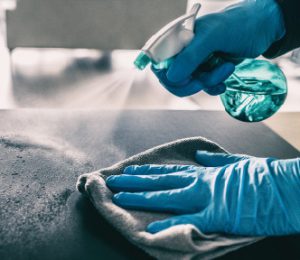 The Family and Medical Leave Act comes into play two ways during a pandemic, Jorgensen said. Employers with fewer than 500 employers, and government employers, must provide 12 weeks of family and medical leave to employees who have worked for at least 30 days and are unable to work — either at the workplace or remotely — because they need to care for their child whose school has been closed or an alternative child-care provider is unavailable because of the virus, Jorgensen said.
The first 10 days of the leave may be unpaid, although employees can take paid time off if their employers' policies allow it. When they return, employers are required to restore employees to their same or equivalent position.
Employees who refuse to come to work out of fear of contracting the virus likely would not qualify for FMLA leave, Jorgensen said.
During the COVID-19 crisis, many businesses were forced to shut down to reduce exposure to the virus. Many employers instituted furloughs.
"While the employee is on furlough, he is still an employee and may continue to receive employee benefits depending on the benefit plan and employee handbook provisions. But not performing work for the employer means the employee isn't being paid, Shrader said.
A pandemic is, of course, not the only potential threat a business faces.
What happens if a key employee becomes seriously ill, dies, leaves for employment elsewhere or is caught embezzling?
Businesses of a certain size should have "key person insurance," McCain said. "Such insurance is needed if the executive's death or inability to work would be devastating to the future of the company." In the case of a mom-and-pop business, the key person may be the owner and founder and, in many cases, is the only person capable of running the business. In that case, the company itself is the beneficiary.
Comprehensive business insurance is protection from embezzlement, fraud and other inside criminal activity.
Contingency planning
It's also important for business owners to develop a succession plan, experts said.
"We don't see that often enough," McCain said. "No one likes to think about their own mortality, but as a responsible business owner, you have to think about the life of your business after you've come and gone."
"Just like we parents know, we're not going to be around forever, (but) it is our job as parents to equip our children with tools they need to be self-sufficient," McCain said.
"As a business owner, it's the same thing (because) you birthed the idea into a business, you've cultivated the business and grown it (but also must) plan for what it will look like without you."
Aspiring entrepreneurs know business plans are essential for starting a business and raising capital, the experts said. But that's not all they're for.
"One thing that is not emphasized as much as it should be is an exit strategy," McCain said. "For aspirants, all of their focus is getting into business and being successful, and they give little to no thought on 'how do I get out if I need to?'"
Economic downturns often come with little warning.
"But others, such as the slow gravitation from traditional taxi cabs to ride-sharing apps, have a longer germination period," McCain said. "As a business owner, you cannot bury your head in the sand or say that you'll cross that bridge when you come to it (because) you have to observe changing trends."
"Going back to the restaurant example, if your competitors are delivering, you'd better be delivering, (because) if your competitors have an app where customers can receive rewards or pay in advance on the app, then you'd better be offering the same," he said.
McCain said it's likely some businesses won't survive the COVID-19 crisis.
"For those that do, however, each day they should write down some lessons learned for the future," he said. "It's too late to make bullets on the battlefield."
Click here to read more from the June-July 2020 issue of Northwest Indiana Business Magazine.