Northwest Indiana businesses find ways to adapt, keep up with demand during pandemic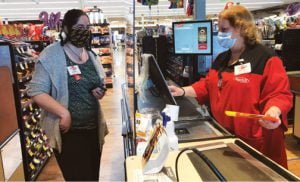 When the novel coronavirus hit, people and organizations did what comes naturally when they're under attack — they raised their shields.
Konrady Plastics was instrumental in creating personal protective equipment, specifically sneeze guards, which commonly are seen at buffet restaurants. Now the shields, referred to as health guards, are an essential piece of equipment in the fight against the spread of the virus.
The company's shields are among the myriad ways businesses have adapted on the fly by developing new procedures for safe interaction between customers and vendors.
Paul Konrady, president and COO of Konrady Plastics, said the pandemic created heightened demand for its products. "It's been a really interesting year," he said.
Konrady Plastics is a plastic sheet, rod and tube distributor. In addition, the computer numerical control machine shop cranks out plastic parts, day in and day out, for the food processing industry and other businesses.
Now it also makes custom-designed health shields for customers.
Al's Supermarket, with locations in Michigan City and La Porte, were among the first customers that came to Konrady Plastics when the pandemic arrived.
"They were really the first ones to do this," Konrady said. "We're trying to turn orders around within one or two weeks."
The plastics distributor also created about 100 shields for Strack & Van Til, he said.
Just about anywhere there's a cashier, there's now a plastic shield in place to prevent the spread of disease. The shield typically has an opening through which payments and products can be passed.
Family Express is among Konrady's customers. Konrady said his company came up with a "free-standing" solution for the chain of convenience stores.
"We machine the shields, and we machine the legs," Konrady said.
Since then, business has taken off.

"COVID was a real interesting transition for the business," Konrady said.
Even as the company manufactures shields and sells the raw materials for shields, it must protect its employees also. That may mean staggering shifts to facilitate social distancing.
Hand sanitizers also are available throughout the operation.
For Konrady Plastics, the spread of the new coronavirus could have a big impact on the business.
How long could the demand for plastic shields continue? Industry experts are trying to figure that out.
"We hope it (demand) is here to stay," Konrady said.
"They foresee it carrying on into quarter one and quarter two of next year," he said.
Then there's the natural growth area that hasn't been talked about much.
"Eventually schools are going to open back up," Konrady said. What kind of health guards will be needed in classrooms and other areas?
Another eventuality is damage to the shields already in place. Repeated cleaning of polycarbonate shields with window cleaning solutions like glass cleaner can cause hazing, diminishing the clarity of the plastic.
Months from now, that problem could become evident. Will businesses want to replace the shields then? And will they switch to a more expensive plastic with a scratch-resistant coating?
Also, acrylic can crack or chip if it's toppled, Konrady said.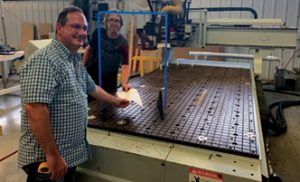 A hurdle for Konrady Plastics and its competitors has been getting enough raw material.
"We've done a couple of 100-plus orders," Konrady said. "Manufacturers, they're running around the clock" to meet demand. "These guys are just buried," Konrady said.
Konrady also is buying from secondary sources, including imports from places like Indiana. The prices are a little higher for imports, but the lead times are better, he said.
The company hasn't increased its workforce, but the workday is hectic.
"The days go by quick, but in business the ultimate goal is to sell," Konrady said. "It's been an unusual time, but it's also been an exciting time."
"It's something I've never seen in my life," he said.
The new normal

Dave Wilkinson, chief operating officer of Strack & Van Til, knows that feeling. They made many changes to keep customers and employees safe and to keep product on the shelves.
One of the first things the company did was to get rid of the small shopping carts, he said. The larger ones help facilitate social distancing better.
Like other supermarkets, Strack & Van Til also has had to deal with the twin problems of increased demand and reduced supply.
When the pandemic started, customers' shopping habits changed. They stocked up on toilet paper and cleaning products, of course, but they also emptied shelves of canned goods, cake mixes, flour, sugar, yeast and other staple products that can sit on a shelf at home longer.
And knowing they would be forced to stay home, customers bought more food to cook rather than just heat up. They stocked up, too, because they knew they wouldn't be eating out for a while.
"They're buying things they haven't eaten in years," Wilkinson said. "It's almost like going back in time. … It's been crazy, all the demand," he said.
Production capacity diminished, too, as the supply chain hiccuped. Pop companies ran into trouble getting enough cans for their product. Other manufacturers were experiencing label shortages, and on down the line, Wilkinson said.
There aren't as many warehouses holding excess products like there used to be. Freshness dates are on many more products, he said. What is intended to become a just-in-time inventory system wasn't ready for the sudden, sharp increase in demand.
"There's not much stored in warehouses any longer," Wilkinson said. The upside of that is we're all getting fresher products, he said.
Inside the store, the customer experience changed.
"We've put in place a lot of different things to promote social distancing as much as possible," Wilkinson said.
That includes one-way aisles, sanitized keypads, plastic health shields and more.
Store hours were changed, too. Now the first hour of the day is set aside for senior citizens and others considered at high risk of difficulties from the COVID-19 virus. Hours were shortened to allow more time for thorough cleaning and sanitizing everything.
"I think it's as same an environment as we can make for our customers," Wilkinson said.
Changes like the plastic health shields are likely to remain in place for quite some time, he said.
For Strack & Van Til, the increase in sales came at the same time as an increase in costs.
Employees received hero pay for a couple of months to reward their hard work meeting customer demands for products and cleanliness, he said.
Cleaning even more often than before also added to the company' costs, he said.
"Nobody saw this coming," Wilkinson said. "There's probably no one alive now that has been through this before."
Creating opportunities
For Busy Bees Pottery and Arts Studio, the stay-at-home order meant changing the business model. The franchise at Southlake Mall in Hobart specializes in providing arts-and-crafts experiences for groups like birthday and bachelorette parties and corporate outings.
Customers could rent a party room or the entire store.
In the studio, that included pottery, canvas and glass painting, franchise owner Nakia Sprouse said.
When the COVID-19 virus caused shelter-in-place orders, she consulted with other locations to see what they could do to survive.
That's how the to-go craft kits were developed.
"We were doing curbside at that time," Sprouse said. Customers purchased kits to do their artwork at home. Each kit included the pieces and paint, with brushes available for purchase separately, or a kit that also contained brushes.
"We make sure they have everything they need," she said. "We do offer whatever they want to brush and paint."
One of the snags along the way was the company's website, which was designed to help customers book a reservation rather than sell the kits. That had to be changed, Sprouse said.
Some of the customers shared photos of their completed projects on the store's Facebook page.
"A lot of them have come back and purchased again," Sprouse said.
When the switch to selling take-home kits happened, Busy Bees suddenly found itself competing with larger companies such as Michaels and JoAnn Fabrics and Crafts. Store employees began marketing the kits to camps, day care centers, nursing homes and similar facilities to keep participants busy with fun activities.
"We're trying to expand our market and our customer base," Sprouse said.
"When you get kicked in the gut, sometimes you just need to re-examine your business practices and your business model," she said.
"You just have to be flexible and to kind of gauge the needs of the public and your customers," Sprouse said.
Stepping up
MonoSol also learned to adapt to meet the needs of not just its employees and customers but also the communities in which it operates.

"Keeping our people safe, healthy and working is our No. 1 priority," CEO P. Scott Bening said. "The disaster plans that we all have for business continuity, whether it's for tornadoes or hurricanes and things like that, we had to take those plans and adapt them quickly to this situation, which obviously no one has ever seen before."
Bening believes MonoSol took the necessary steps to protect employees during the crisis.
"By doing what we've done to protect our people and seeing how it's kept them safe, I feel much more comfortable that those were the right steps," he said.
Demand for cleaning products surged because of the pandemic, including health care laundry bags.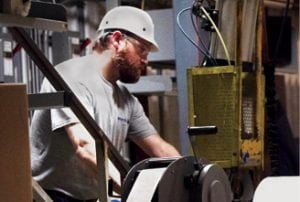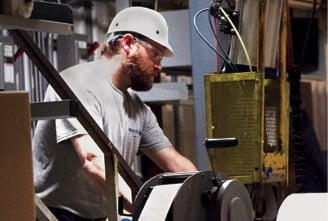 MonoSol's largest customer for those laundry bags is the National Healthcare System in the United Kingdom. To add capacity, MonoSol sent its production experts to a third party that formerly manufactured a similar product and is now helping them restart equipment to make more bags, Bening said.
The company also is exploring ways to produce additional masks in MonoSol's own facilities or in conjunction with other local manufacturers, he said.
"We are part of the community, and so one of the things that came up right away is our food pantries were gone bone dry," Bening said. "So, we put some emergency funds into all of their food pantries and other organizations are feeding people in the community."
He said the company then shifted to using its procurement team to help front-line health care workers and first responders.
"Over time, that further evolved into helping recognize our employees and help stimulate the local economy," Bening said.
MonoSol has reached out to help other businesses by doing things like advancing payment to help small vendors with their cash flow and supporting efforts. MonoSol also joined the Boone County Economic Development Corp. as a founding sponsor of its small business recovery fund to provide micro-loans to small business owners in the Indianapolis area.
MonoSol also offered a Takeout Tuesday program to allow employees to order a carryout meal from restaurants in communities where MonoSol has a facility. The company covered not only the cost of the meal but also a 25% gratuity for the restaurant staff, Bening said.
Click here to read more from the August-September 2020 issue of Northwest Indiana Business Magazine.