Flexibility and collaboration bring success to fledgling businesses.

by Lauren Caggiano
Coworking has been in the entrepreneurial vernacular for a few years now. The idea is simple: that independent professionals and those with workplace flexibility work better together than they do alone. And thanks to several facilities in Northwest Indiana, coworking is no longer just a concept, but a reality.
Union Station Technology Center
What was an abandoned factory is now a hub for technology and mixed-use space in South Bend. Entrepreneur Kevin Smith purchased the former Studebaker factory located in a blighted neighborhood and turned it into an event space and subsequently a data center. According to Will Fulsom, communications assistant for the facility, Union Station is the region's largest data center and the second-largest carrier hotel in the region and serves as "the convergence of all back-end IT infrastructure."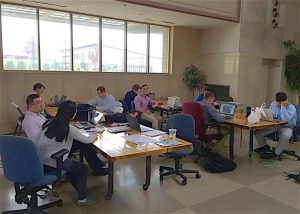 Fulsom says several companies lease space in the facility, which further adds to the atmosphere. The companies range from educational institutions to start-ups. The coworking arm of Union Station, the Depot, makes it possible for seemingly unrelated companies to intersect and collaborate–all under one roof.
"Because we recognized the benefits of having this eco-system in Union Station, we started a coworking space," Fulsom says.
The Depot is a membership-based ecosystem designed for entrepreneurs and creative professionals as well as freelancers, consultants and students. The objective is to facilitate business growth and innovation by providing a central facility for collaboration and mutual development. The Depot also offers the advantage of high-tech office space without the burden of overhead expenses.
For a nominal monthly fee, members have access to the facility and its various amenities. But more importantly, they are able to expand their ideas and opportunities through the atmosphere and collective energy. That is the beauty of coworking.
In Fulsom's words, "One of the best things about it is the openness–it's conducive to open dialogue and collaboration. It's really a crossroads when a bunch of people are coming to work every day."
There is also the perk of flexibility. Some professionals wants a dedicated space they can go to escape distractions at home and work in quiet.
"(Coworking) allows you to put yourself out there to the business community without being tied down to a certain office," he says.
Whatever the motivation, Fulsom says the management hopes to harness that positive energy going forward. "We hope to expand in terms of office space, attract businesses and keep that eco-system alive." According to Fulsom, there will be a couple phases to the project. One building is expected to be completed by the fall. The second phase might be more like 5-10 years down the road, he says.
"The ultimate goal is to create a more vibrant community out of this," he says. "We really want to change the game in that neighborhood."
The Branch
Also located in South Bend at 105 E. Jefferson Blvd., The Branch is building community–one member at a time. But before there was The Branch, there was an unmet need. As they say, necessity is the mother of invention. Such was the case for co-founder Dan Neumann. A consultant at the time, he found working from home too distracting. And at the same time, he found it isolating.
"There wasn't a way to bump into people with similar careers," he says. "I missed that."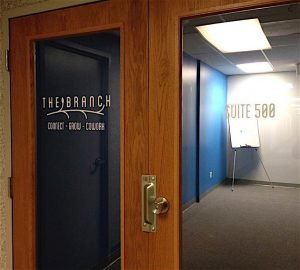 Neumann knew there had to be a better way to live the self-employed lifestyle. He connected with a local man looking for office space, which served as a catalyst to find an office with a short-term lease. That was three years ago in May. Neumann and his wife and co-founder, Debi, took the plunge and haven't looked back. Today The Branch has a vibrant community of coworking professionals.
The environment is attractive to anyone looking for that connectedness of an office environment without the price tag that often comes with it. According to their website: "We want to take away the burden of renting office space and getting it setup for business." To that end, The Branch pays the lease while providing internet, heat/cooling/lights and office furnishings. Members pay a monthly fee relative to their level of use. There is no long-term lease commitment, which means users can try it out without feeling confined by a lease. Membership runs between $25 and $225, depending on the level of use.
What unites their membership is a shared desire to connect and get things done.
"We want people to focus on what they're there for," Neumann says.
And that looks like something different for each member. Members' lines of work run the gamut–from a marketing professional, to seamstress, to attorney. A ride-sharing company recently rented space in the building.
Some members are more established than others, which is what makes a coworking space unique. Neumann considers The Branch a "launchpad," a place where young companies can grow and cut their teeth. Having a physical space lends an element of legitimacy.
"You can only meet with someone in a coffee shop so many times before they begin to wonder if you're a real company," he says.
There's also a sharing of ideas that happens organically in a coworking facility you won't find in a coffee shop. As Neumann describes it, "It's the opportunity to bump into other people that might help each other."
Open Door Coworking
Open Door Coworking has a similar origin story. The founder, J.D. Flynn, was commuting to Chicago from La Porte five days a week when he was first exposed to the Midwest brand of coworking.
"One good thing about this was the fact that it was much easier for me to network with other professionals in Chicago, many of them freelancers and entrepreneurs," he says. "Through many conversations, I learned that many of them opted to work from coworking spaces around the city as opposed to working from home or coffee shops."
Flynn tried the work-from-home route, but was unsuccessful. As he shared, he was easily distracted and become eager to find an alternative arrangement. He did some research and found that there was a coworking space in Valparaiso (Zoseco Coworking) and South Bend (The Branch) but there was nothing resembling a coworking space in La Porte County.
He inquired about available buildings that would be a good fit. He also worked from some local coffee shops to see if there was a need for a shared workspace. He determined the need was there, so he decided that the time was right to open a coworking space in La Porte. The idea came to fruition In November 2005 at 1705 State St. Flynn currently has two members and anticipates growth this year.
"My goal is to make it open to anyone who needs a place to work, and to not limit it to any one type of business," Flynn says. "However I've found that the majority of interest I've gotten has come from people in the technical field: web developers, IT consultants, etc."
Regardless of profession, Flynn hopes that independent workers can benefit from the community aspect.
"Many freelancers and solopreneurs miss out on the community that comes from working in a traditional office," he says. "By joining a coworking space they gain access to both a community of coworkers that they couldn't find at a coffee shop or at home and a group of other professionals, often from multiple backgrounds, to bounce ideas off of or to ask for advice."
There is also the ability to scale as needed. In Flynn's words, "I see a coworking space as a stepping stone between the home office or coffee shop and the storefront or office. I've seen professionals thrive in coworking spaces for several years, and I've seen freelancers grow into companies so fast that they've had to move out in a matter of months."
What's more, Flynn sees the introduction of Open Door Coworking as part of a larger, national trend. He noted the number of coworking spaces has been steadily increasing since the first "official" coworking space opened in 2005. And it's not because people just want to open them. The demand is there, too.
"In larger tech communities, it isn't uncommon for spaces to have enough overflow to warrant someone else opening another space down the road, "he says. "We haven't quite reached that level of need in Northwest Indiana yet, but as more people learn about coworking spaces and more companies opt for distributed offices, the need is only going to increase."
Zoseco Coworking
Eric Zosso saw a void in Valparaiso, and like Flynn, he was inclined to bring a solution.
"We started it to give entrepreneurs a place to grow themselves and their businesses," says Zosso about the coworking facility located at 5 Washington St.
"We currently have 27 individuals who use our space at Zoseco. Some people come every day, some people come every evening, and some people come when they're in town and want to get some work done."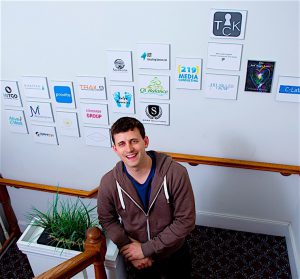 That's the beauty of a coworking space, according to Zosso. It's nice to have the option to work from home or come to a dedicated space to network and bounce off ideas. "Ultimately, coworking is part of that ecosystem because sometimes we need a place to truly focus hard, get work done, and spend time around other highly motivated individuals."
And those individuals–members, in this case– are often entrepreneurs in growth mode. Others are people with remote day jobs who come to the space for a different atmosphere where they can have fun and/or concentrate. The third type of professional is someone who now works for one of the companies headquartered at the space, says Zosso. In fact, entrepreneurs at the space have added seven new employees to the group.
Just as the type of member varies, so do their respective fields. According to Zosso, the facility caters to professionals in the fields of web design, technology consulting, sales, marketing, health coaching, accounting, management consulting and more.
"It's a great, diverse group, which means if someone is facing a unique challenge, there's usually some sort of link to help solve it," he says.
LaunchPad
LaunchPad in downtown Goshen owes its very existence to changing times.
"Like most Midwestern downtowns, demographic and economic shifts away from city centers in the last half of the 20th century led to decreased utilization of second floor offices, " says Gina Leichty, spokesperson for LaunchPad and partner/account manager at Eyedart Creative Studio. "Over the last ten years, advances in technology have enabled more workers to work remotely. In Goshen, the economic crash of 2008 forced many creative workers out of full-time employment into freelance positions."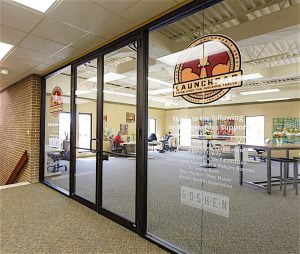 Goshen was no exception to the rule. That's why the Goshen Chamber of Commerce sought a solution to creatively use the space and support the business community at the same time. Through research with various economic development agencies, businesses and non-profits, the Chamber identified a growing national trend of business people, hobbyists, and entrepreneurs seeking incubator and coworking space. Convinced it was the next right move for Goshen, the Chamber determined to use its extra space to create a new business resource for the community.
"The Goshen Chamber of Commerce believes that bringing creative entrepreneurs and freelancers together in a fun, productive work environment is the best way to accelerate the launch of startups in Goshen," Leichty says.
Grants and funding made it possible to remodel and open the upstairs suite offices into an open concept coworking space. The Chamber officially opened their LaunchPad in the summer of 2013, partnering with Eyedart Creative Studio to design and decorate the space. Together, the Chamber and Eyedart continue to market and promote the space to small businesses and freelancers in the region, according to Leichty.
The facility hosts a large coworking room with 12 seated desks, four standing desks, a large-screen projection unit, high-speed internet, three conference rooms with video-conferencing capability, a gallery of original artwork, and some cozy couches.
According to Leichty, the coworking aspect of the facility is just the tip of the iceberg.
"The LaunchPad founders envisioned not only a coworking space but also a business incubator, a training and resource program to support business development for rapid-growth companies," she says. "They envisioned young start-ups locating here to receive consulting and training, and ultimately outgrowing the space and transitioning into other buildings."
Looking to the future, Leichty says LaunchPad has the potential to be a game-changer: "While these additional supports and amenities may ultimately play into the resources at the LaunchPad, it could dramatically change the nature and function of the current space."