HealthCall's platform helps health care providers stay informed about patients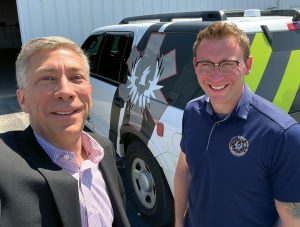 He includes this axiom in the tagline of his emails, and it also is expressed in the mission and services provided by his Crown Point-based company.
"HealthCall grew out of necessity and a strong belief," Hayes said. "While many good things can be said about the U.S. health care system, there are problems as well."
He said during the past decade, addiction, chronic disease and homelessness have significantly escalated.
"With our backgrounds in technology and experience in health care, we were confident that the right technology could help health care lower costs and improve quality for more people just like it has in other areas," Hayes said.
The idea for HealthCall started in 2003, Hayes said. The official name of the company was adopted in 2007.
"Our mission has stayed the same: provide the communication of more timely and relevant health information between health care professionals and patients," Hayes said. "We have, however, expanded into many different segments of health care."
Hayes defines HealthCall as "the platform behind the people who are caring for those with addiction, mental health and chronic disease." He said the platform serves as a guide to patients and providers in following best practices to make it easier for care teams to provide better care for more people, in less time.
The company website at www.healthcall.com explains the platform has been adopted around the country "from rural mountains to the largest cities," and includes a roster of care agencies, first responders, hospitals and medical entities from Phoenix and Tampa Bay, Florida, to Ashe Memorial Hospital in Jefferson, North Carolina, and the EMS unit in Kokomo. The platform has expanded over the decades and now provides support for a range of client and patient-care needs, including chronic care management and health screenings, mobile integrated health, pandemic care, remote patient monitoring, behavioral health and transitional care management, among other options.
"A positive aspect of 2020 was the willingness of so many to work together," Hayes said. "Much of our regular work was put on hold while we helped equip frontline workers and responders to care for COVID patients. For many weeks, we were working 10 to 12 hours per day six days a week configuring our telehealth platform for remotely screening and monitoring patients."
Because of safety protocols put in place due to the pandemic, HealthCall quickly filled a void by providing the communication bridge in 2020 for the needs of communities, clients, patients and health care workers around the country.
"The HealthCall telehealth platform enables providers, paramedics and health departments to remotely screen patients for COVID systems, track test results and vaccines, and monitor multiple quarantined populations for new or worsening symptoms," Hayes said.
He said to help promote wellness of frontline workers, the HealthCall automated system also provides daily screening of key signs and symptoms to reduce possible contagion.
"What makes this totally unique is that it brings all these different groups together into this system without them giving up their autonomy," said Nicole Adams, a registered nurse and clinical assistant professor in nursing and research at Purdue University.
"They still have control over their own schedules and environments, but this application gives community groups power while at the same time provides a mechanism to make care delivery easier," Adams said. "The patient benefits, the different organizations benefit and the community benefits."
Hayes said the community-wide approach also has made HealthCall valuable for programs in correctional facilities by guiding the user out of the prison system and into rehabilitation.
"This shifts the corrections environment from being less punitive to more rehabilitative, while streamlining the process," said Jason Huber, executive director of Tippecanoe County Community Corrections.
Hayes said HealthCall is used in numerous cities and counties across the U.S. to care for those who are uninsured and underinsured.
"Those who lack insurance are typically reluctant to seek early medical attention, and instead may wait until their condition significantly worsens," Hayes said. "Unfortunately, treating an acute case is considerably more expensive when an ambulance and an emergency room visit is involved."
He said HealthCall service usually takes four to six weeks to launch. His team is working to continue expanding into other communities with added interest to partner with others, including working with Purdue University, several treatment facilities and paramedics, as well as launching a community "Point-of-Crisis" scheduling program.
Click here to read more from the June-July 2021 issue of Northwest Indiana Business Magazine.

Latest posts by Philip Potempa
(see all)