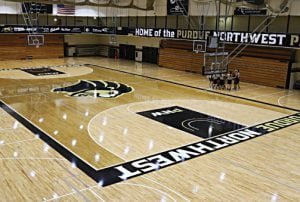 New conferences for Purdue NW and Valparaiso University
Thirty-four miles of toll road still separate the two, multiple lanes of pavement that run east and west and, these days, represent far more than just a thread of red on some service plaza map of Indiana.
Those 34 miles are only geographic now, because Purdue Calumet to the west and Purdue North Central to the east consolidated last year into a single entity, Purdue Northwest.
And that thread of red?
It runs not just between two points on the compass, but to a brave new world for Purdue Northwest's still-new athletic presence.
Purdue Northwest will jump to NCAA Division II this fall when it becomes the 12th member of the Great Lakes Intercollegiate Athletic Conference (GLIAC), a venerable circuit that's been around for 45 years.
It didn't happen solely because of the consolidation. But it didn't not happen because of it, either.
"Purdue Calumet was pretty far along the process of moving to Division II already," says Rick Costello, Purdue Northwest's athletic director. "But it certainly bolstered our NCAA application. Anytime you can add an entity like Purdue North Central to your portfolio, and a beautiful new athletic facility (The James B. Dworkin Student Services and Athletic Center, completed last year and seating 1,500 for basketball) as well as another 5,000 students…
"When we applied to the NCAA, we were 15,000 students strong. And we just had wonderful athletic facilities with the Dworkin Center and Dowling Park (a baseball, softball, tennis and soccer complex on the Calumet campus, completed in the fall of 2015). So it was very helpful."
Purdue Northwest moves into a conference dominated by the Grand Valley State Lakers, who have won 19 consecutive all-sports trophies and have made a national reputation in football, where they've appeared in six Division II national championship games and won four titles since 2001. The GLIAC also saw another of its members, Ashland, win a Division II national title in women's basketball this year.
Women's basketball has a strong record at Purdue Northwest. Led by Indiana Hall of Fame coach Tom Megyesi, the Pride women's basketball team has enjoyed six straight 20-win seasons and reached the NAIA national tournament four times in the last five years.
"Our women's basketball is really strong," Costello says. "And the strength of that conference is absolutely amazing from a women's basketball standpoint."
He notes, "Up and down (the conference), the competition is very tough–with Ferris State, Ashland, Wayne State and Michigan Tech and Northern Michigan. It's a strong conference athletically and it will be a nice step up in competition for the Pride of Purdue Northwest."
With the addition of women's golf in 2016-17, PNW offers 13 varsity sports, seven on the women's side and six on the men's. The GLIAC sponsors all of those sports in addition to nine others.
Geographically, the GLIAC comprises nine Michigan schools stretching from Michigan Tech, Northern Michigan and Lake Superior State in the upper peninsula of Michigan to Wayne State in Detroit. It stretches south and east to include Tiffin and Ashland in Ohio, and now south to include Purdue Northwest, the first Indiana school in the conference.
Costello says, "The GLIAC schools look a lot and feel a lot like Purdue-Northwest. The student body is anywhere from that 15,000 to 25,000, and they are schools that prioritize academics, similar to PNW."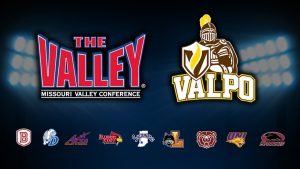 Thirty miles south and east of Purdue Northwest, Valparaiso University is also on the move athletically, replacing departing Wichita State in the Missouri Valley Conference. It's the latest step for the upwardly mobile Crusaders, who have gone from the old Mid-Continent Conference to the Horizon League to the Mo Valley in the last decade.
"We are thrilled to join the Missouri Valley Conference," said Valparaiso President Mark A. Heckler in the school's press release. "This is an important step forward for all of our athletics programs and an opportunity to advance the national standing of Valparaiso University."