Working together to build 21st-century workforce will fuel innovation, diversity, talent
There's an African proverb, "If you want to go fast, go alone. If you want to go far, go together."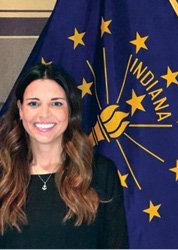 As Indiana works to fill more than 1 million jobs during the next decade, attracting, developing and connecting talent for a 21st-century workforce has never been more crucial for growing Hoosier prosperity. Our ability to meet this opportunity relies squarely on our ability to go together. Collaboration across industries; amongst public, private and not-for-profit sectors; and with local, regional and state leaders all working together is crucial. "Ignite the Region," Northwest Indiana's strategy for economic transformation, is a critical playbook that empowers each member of the team required to achieve the vision of a dynamic region "fueled by innovation, diversity and talent."
As a La Porte, Ind. (better known as the "Hub of Awesome") native, Northwest Indiana will always be home to me. But as we think about how we attract new generations to call the Region home, we must ask ourselves, "What inspires others to choose Indiana?"
A 2017 survey by Area Development magazine indicates people heavily weigh quality-of-place amenities, including public transit, bike lanes and trails, when choosing where to live. That is why communities and regions must also make them top priorities if they want to remain competitive.
On April 29, 2019, Gov. Eric Holcomb approved the state budget. It included an additional $205 million for improvements to the South Shore Commuter Rail Line connecting Hoosier communities to downtown Chicago. Double tracking and other station improvements will mean faster commute times, improved safety and connecting Region residents to high-wage Chicago jobs, and Illinois residents with the opportunity to join Hoosier communities at roughly 40 percent less the cost of living. These improvements also increase access to the newest national landmark, the Indiana Dunes National Park!
Cyclists, joggers and families wishing to enjoy a walk together are soon to have greater access to bike lanes and trails spanning several counties. Through funding from the Next Level Trails grant, the Region is extending four area trails, including Pennsy Greenway Northwest Trail, Marquette Greenway, Veterans Memorial Parkway Trail and the Erie Trail, which not only closes gaps in the trail system and better connects area communities, it makes our Region that much more desirable for individuals and families to choose to live, work, play and learn.
Along with local and state government investments to attract talent, regional business, education, economic development and other partners are developing a 21st-century workforce by teaming up to provide unique learning experiences, growing the skills needed for increasing levels of new jobs. Since the launch of the Next Level Jobs initiative, more than 4,100 individuals from the Region have expressed interest in earning a career certificate in a high-wage, high-demand career field, representing more than 12 percent of leads generated across the state. Additionally, increasing numbers of high school students are learning essential skills in hands-on career and technical education programs while earning wages or college credit.
One such example is the Porter County Career and Tech Center, where a student is accepted into programs supported by area companies. Employers like Task Force Tips or Urschel Laboratories provide real-world career training, wages and college credit from Vincennes University. And students simultaneously complete their high school diplomas.
Partnerships like these ensure students gain awareness and earlier access to needed skills to thrive in an evolving world of work, and businesses can access a skilled and ready workforce.
The comprehensive Ignite the Region plan provides clearly defined goals. They allow us to set a clear course on where we need to go and how we collectively accomplish bold achievements, which no one can fulfill alone. With Ignite the Region as our guide, Northwest Indiana will go far, because we are equipped to go together.
Click here to read more from the Aug-Sep 2019 issue of Northwest Indiana Business Magazine.