Shift to clean energy sources transforming many business sectors in Northwest Indiana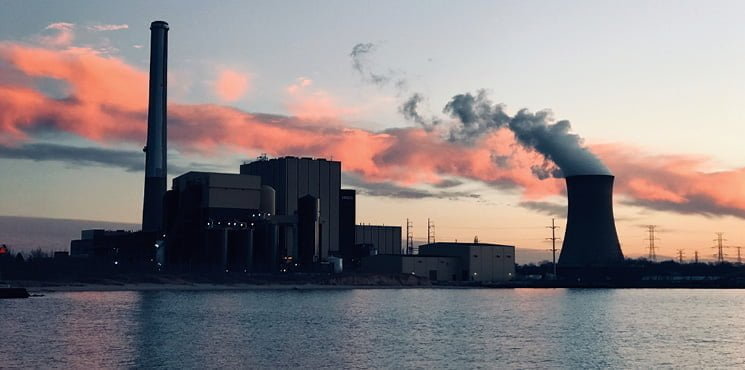 According to Clean Jobs Midwest, there were more than 86,800 clean-energy jobs in Indiana at the end of 2019 — more than the combined workforce of real estate agents and brokers, computer programmers, web developers and restaurant servers.
Northwest Indiana is a major hub for clean-energy jobs, with 10,320 at the end of 2019.
Growth in the industry is expected to continue as the shift from coal accelerates.
NIPSCO has placed expiration dates on its final coal-fired power plants.
Schahfer Generating Station in Wheatfield will close its coal-fired units in 2023, with two of the four units closing in December, and the Michigan City Generating Station will close in 2028, the company has announced.
Schahfer also has two units powered by natural gas, which will remain in operation.
In 2018, NIPSCO announced its goal of becoming coal free by 2028. That was the result of an integrated resource plan that must be periodically updated to comply with Utility Regulatory Commission rules, said Tara McElmurry, a spokesperson for NIPSCO.
NIPSCO changed its standard operating procedure for that report and issued a request for proposals for all generating sources. It received real proposals with costs and other details outlined and found that, with advancements in technology, wind, solar and battery technology had become the most cost-effective approach.
The shift to renewable energy sources is expected to save customers $4 billion during the next 30 years, McElmurry said.
"Reliability is fundamental," she added. "We would not move forward with a plan that wasn't reliable for our customers."
Fuel costs account for major savings in the plan. Coal costs millions of dollars, but wind and solar are free once the equipment is installed, McElmurry said.
NIPSCO is still working to determine the impact of the change on the company's workforce.
"It's still quite early" to measure the impact, but redeploying and retraining workers could become part of the plan, she said. "Our goal is definitely to minimize impact to positions where possible."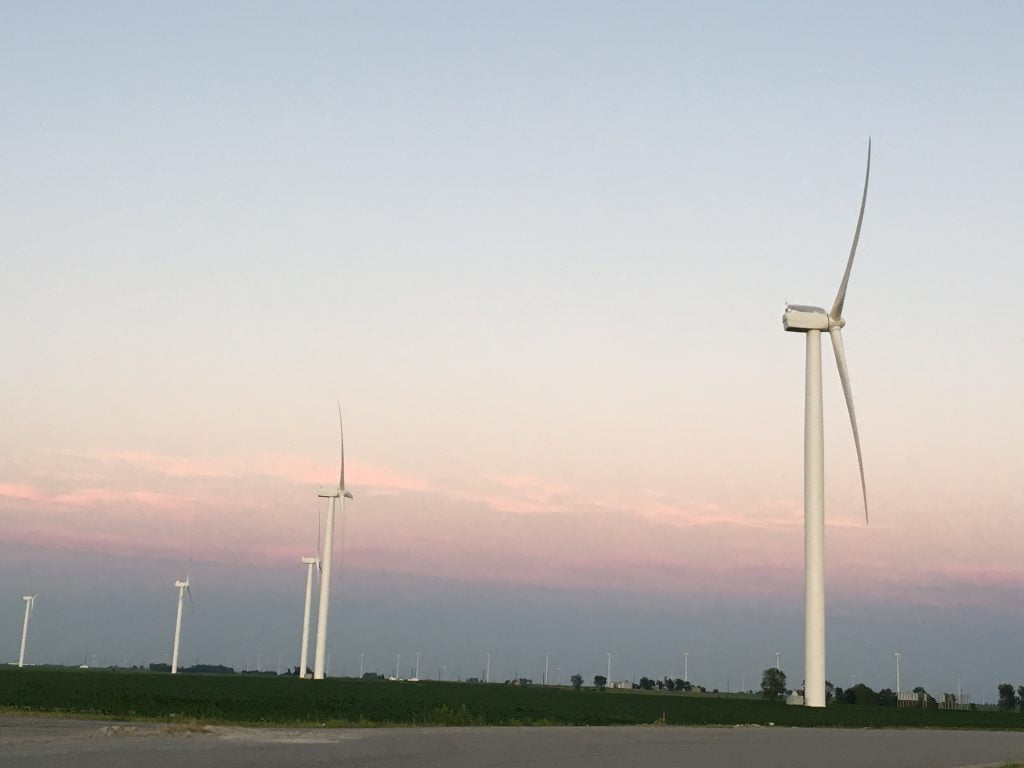 The utility is working with partners who are experts in the renewable energy field to set up additional wind farms and solar arrays.
NIPSCO's first two Indiana-based wind projects — Rosewater Wind Farm in White County and Jordan Creek Wind in Benton and Warren counties — are now online, the company announced in February.
Two future solar farms — Dunns Bridge Solar 1 and Dunns Bridge Solar 2 — are scheduled to become operational in Jasper County in 2022 and 2023, respectively. They will offer a combined 700 megawatts of electricity and 75 megawatts of battery storage.
Moving forward

"Clean energy goes beyond just wind and solar," said Carl Lisek, executive director of South Shore Clean Cities. "It's a matter of how we fuel and energize our vehicles as well and making sure we're doing that in a way that closes the loop."
He said electric vehicles are a hot-button topic right now, and they can be an excellent choice for reducing emissions and improving air quality, and creating vehicles made with Indiana steel.
"They're made even better when they are charged with renewable sources of energy," Lisek said. "New companies and developments coming into Northwest Indiana are quickly learning the best time to install the infrastructure for EVs and solar, for example, is during the construction phase, and we're seeing that happening more and more."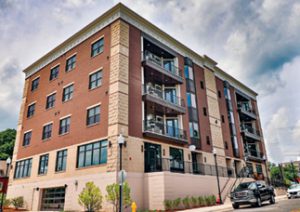 Solar panels on the roof of Vale View generate enough electricity to power all common areas in the building. (Photo provided by Wayne Enterprises / Homefly Media)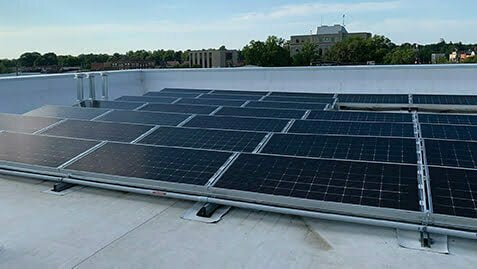 At Vale View, a commercial and apartment building that opened in downtown Valparaiso last summer, solar panels are used to generate electricity for all common areas in the building, including elevators for the four-story structure and the charging stations for electric vehicles in the underground parking garage.
The white rubber roof has bifacial solar panels, meaning the bottom of the panel is also functional. Light reflected from the roof is also put to work in creating electricity.
"These were the first bifacial solar energy systems for that type of building in the state," said Rich Shields, director of marketing and business development for Chester Inc., which designed the building.
The Welter family, which owns Vale View LLC, is conscientious about reducing the carbon footprint, Shields said.
"We at Chester Inc. are cognizant of the effect on our environment in everything we do," he said.
Chester Inc. is concerned about the environment in each of its three major sectors — agriculture, information technology and construction.
The information technology team makes sure old technology is replaced with newer, more environmentally friendly gear when customers need upgrades. Every bit of the old hardware is recycled, down to the bare bones, Shields said.
Chester educates clients on ways to save money and help the environment at the same time.
"You don't need to print every email you get," Shields said. Nor does every computer need its own printer. Managed print services with cloud printing and network printers are more efficient.
Agriculture adapts
Technology is evolving rapidly in agriculture, too.
"The agribusiness sector has transformed probably threefold," he said.
Chester Inc. helps farmers with irrigation and grain bin storage and handling. Technology has become as important to farmers as the plow.
For irrigators, farmers no longer need to drive out to each field. They can set the controls, measuring the amount of water needed and where it should be directed with a smartphone.
Agriculture is becoming more science than art. Farmers are finding ways to get the most abundance out of their crops as possible. As they're doing that, they're cutting costs and helping the environment at the same time.
"A lot of what we're seeing is farmers going almost exclusively solar now," Shields said. Hog farmers, especially, use a lot of electricity to feed animals and keep them warm. Generating the electricity onsite is cheaper.
Even if a livestock operation isn't fully dependent on solar, it's moving in the right direction. "It's still a reduction of the carbon footprint if you're doing 65% solar and 35% electricity," Shields said.
Employment growth
Lisek said it is important to remember clean-energy jobs are not taking jobs away from other sectors.
"The whole idea is to shift the workforce toward jobs that support clean energy, and you do that by having public, private and nonprofit sectors embracing clean energy in their practices and in their planning," he said. "That's exactly what we're seeing in Northwest Indiana, (and) the NIRPC 2050 Plan is an excellent example of that."
He said clean energy and clean fuels are not an afterthought in planning.
"They're woven into the long-term planning process," Lisek said.
In Indiana, solar jobs grew 9% in 2019, Clean Jobs Midwest said.

Zach Schalk, Indiana program director with Solar United Neighbors, is working to boost solar job growth while helping residents, farmers and small businesses switch to solar. Solar jobs have doubled in the last few years, he said.
Schalk helped Northwest Indiana form its first solar power co-op and is hoping to start another one soon.
These co-ops bring down the cost of solar installations for group members. By joining together, the members can negotiate group discounts for solar installations.
The first solar co-op in Northwest Indiana chose Indianapolis-based Jefferson Electric.
"It was a tough decision, (because) here were really good companies who all provided really good proposals," Schalk said. Northwest Indiana drew five bidders.
"There's a lot of roofs that could be good for solar," Schalk said.
Homeowners whose roofs are approaching the end of their lifespans would be smart to replace them before putting solar panels up. Solar panels can be expensive, but there are some grants available to help defray the cost.
In Indiana, the biggest challenge is a 2017 law, Senate Enrolled Act 309, which sets a timeline for ending net metering. Currently, net metering is set to disappear July 1, 2022, and there is some uncertainty about what happens next.
Net metering allows homeowners to send excess energy back into the power grid and get credit for it, drawing power from the grid later when it is needed.
"Net metering is kind of the bedrock for solar customer economics," Schalk said.
This summer, the 21st Century Energy Policy Development Task Force is expected to address net metering. Schalk hopes Indiana will decide not to fall behind its peers.
"We actually were ahead of the curve early on in terms of adopting and expanding net metering," he said.
Indiana has some big solar installations, including Indianapolis Motor Speedway, the biggest solar installation of any sports facility, and Indianapolis International Airport, with the largest solar field of any airport in North America, Schalk noted.
As coal is squeezed out of the energy portfolio, there will be real opportunities to continue investing in green jobs and communities that will be impacted by coal's shrinking role.
"We're hearing a lot of buzz about potential programs and funding from the Biden administration," he said. "I hope our state government will be open to accepting these opportunities."
Environmental benefits
Lisek said clean energy can lead to improved air quality.
"The reality is if it doesn't make good financial sense, no one is going to invest in it," Lisek said. "What we're seeing now, however, is every major corporation in the U.S. is announcing its decarbonization plan, (and) that's not an accident, and it isn't because it's trendy or popular or solely because it's the right thing to do from an environmental standpoint."
He said businesses recognize clean energy can save money over time and offer excellent return on their investments.
Preparing for the future

At Valparaiso University, a new environmental engineering major was started two years ago.
"I believe we are unique" in Northwest Indiana, said Zuhdi Aljobeh, associate professor of civil and environmental engineering.
"Engineers design systems," he said, and that will include clean-energy systems.
Students are required to take a thermodynamics course that includes information on environmental sustainability, fluidic energy, how to design different elements of wind turbines and more. They will learn about solar energy, too.
VU's engineering department is doing extensive research on solar chemistry as well.
"Solar chemistry is a little bit different from what most people think of when they think of solar energy," said Luke Venstrom, associate professor of mechanical engineering. Students and faculty are looking at processes that take water and sunlight, splitting the water — H20 — into hydrogen and oxygen.
"There's a lot of interest right now in using hydrogen for a long-term storage medium. Kind of the holy grail for us is to take the hydrogen and mix it with carbon monoxide."

The process dates to 1940s Germany, which developed it in response to repeated Allied attacks on refineries, Venstrom said. German scientists were turning coal into liquid fuel. Venstrom hopes to use a similar process to fuel renewable energy.
VU's solar furnace uses an array of convex hexagonal mirrors to focus solar light into a high-powered focused beam.
The undergraduate students' research over the past few years is paying off.
"We've developed what we call a rotary drum system," Venstrom said. Think of it as a cement truck on steroids, with about 40 revolutions per minute. A falling stream of particles of sand inside the reactor creates a kind of cloud that allows efficient absorption of sunlight. VU has demonstrated the highest efficiency anyone has ever attempted, he said.
Ten percent conversion of sunlight into chemical form is what researchers shoot for, Venstrom said. VU has achieved 20%, "which is quite high."
The problem lies in scaling up the process to see if it would be a commercial success. Cobalt oxide has all the right properties but is not good for the environment. Iron oxide — rust — "is not environmentally dangerous at all" but might be useful even though less effective than cobalt oxide.
Creating models that scale up techniques to see whether they would be commercially viable is an area where Purdue University's Center for Innovation through Visualization and Simulation excels.
Chenn Zhou, NIPSCO Distinguished Professor of Engineering Simulation and director of the facility, said the center has been working on wind energy, creating a program to train the workforce involved in setting up and maintaining wind turbines.
The program includes creating many simulations so community college students can look at "what if" scenarios for strategic troubleshooting and maintenance.
"A lot of people want to use that now," Zhou said.
Since 2016, the center has been part of a nationwide consortium aimed at making the steel industry more efficient and more competitive. Research includes areas like applied energy savings and cleaner emissions. New fuel injection technology is among the areas being researched.
Additional work includes energy research, with a large federal grant. Clean energy is a high priority for the federal government.
Lisek said renewable energy and fuel sources also are domestic fuel sources, which means they support U.S. jobs and reduce dependence on imported oil.
"That becomes important not only for supporting our economy but also for energy resiliency in times of crisis, like natural disaster," he said. "There have been countless studies and white papers written about the important role of alternative fuels in helping save lives during evacuations for East Coast hurricanes when petroleum sources were scarce."
Click here to read more from the April / May 2021 issue of Northwest Indiana Business Magazine.