As new betting boom takes off, enhanced customer experiences attract new clients to Region's gaming venues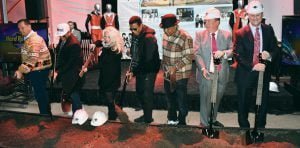 The advent of sports betting has been a game-changer for Northwest Indiana casinos. The new revenue stream has helped them draw in customers who are new to the gaming experience.
Earlier this year, Indiana ranked fourth nationally — behind Nevada, New Jersey and Pennsylvania — in sports gaming, said Dustin Gouker, analyst with the PlayUSA.com Network, which reports on regulated online gaming in the United States. PlayIndiana.com, one of its affiliates, is specific to the Hoosier state.
Indiana could overtake Pennsylvania, which has a much larger population and launched sports betting a year ahead of Indiana, Gouker said. "They're ahead of the curve right now," he said.
And that was just a few months after Indiana started allowing casinos to partner with sportsbook operators like DraftKings and FanDuel. DraftKings, the market leader, operates under Ameristar Casino's license. FanDuel partners with Blue Chip Casino Hotel and Spa.
"The FanDuel sportsbook has just been a home run for us," said Brenda Temple, Blue Chip's vice president and general manager.
Blue Chip is seeing younger, more professional customers since betting on sports began last fall, Temple said. The sports bar has been popular with this customer demographic. That new amenity brings in new customers who might not otherwise have come to the casino.
Horseshoe Casino in Hammond, one of the biggest in the Midwest, has likewise seen an influx of gamblers. The casino led the state in sports betting in January, with $13.7 million in bets. That generated $1.8 million in gross receipts, Gouker said.
Proximity to Chicago gives Horseshoe a big boost, he said.
Football was a big draw for sports gaming in January and early February, with the playoffs leading up to the Super Bowl generating buzz and bets. Basketball is popular, too, so March Madness has been popular.
Horseshoe's 60 feet of screens at The Venue let people watch multiple games and enjoy what Horseshoe decided to call Mad Marchness, General Manager Dan Nita said.
Opening the door

A landmark U.S. Supreme Court decision in 2018 opened the door to sports gaming nationwide. Previously, Nevada was the only state that could offer it.
Gouker credited Indiana's regulators for their foresight.
"Indiana has been remarkably progressive in the way it has managed its sports betting industry, rivaling New Jersey as the most forward-thinking legal jurisdiction," Gouker said. "Indiana has put together a pretty good model that has been primed for growth."
Indiana's law fosters competition, Gouker said. By allowing Oscar betting, Indiana has shown its willingness to open new markets, which helps both casino operators and the state's revenue. New Jersey and Indiana were the only states in 2020 to allow bets on who would take home an Academy Award.
"The Indiana Gaming Commission is focused on accommodating innovation," said Sara Tait, agency executive director. "The IGC has demonstrated a willingness and ability to facilitate discussions about new technology, which is going to be key as demographics change, (and) certainly we're seeing more emphasis on amenities than would have been the case 20 years ago, and we anticipate that will continue to be an important component of the industry."
After the first Indiana casinos opened in 1995, state taxes on them quickly became one of the state's top revenue sources.
"It's an ever-changing industry that is increasingly more competitive," said Speros Batistatos, president and CEO of the South Shore Convention and Visitors Authority.
Among the changes have been creation of a mobile app for Hoosier gamblers. They can place their bets anywhere in Indiana but not outside the state, Gouker said. He estimated 80 percent of sports bets are placed online, but casinos still get their cut because the sportsbook operators must work under a casino's license, he said.
"If gaming is like anything else in society, it's going to be driven right into your handheld device like everything else," Batistatos said.
Catering to market needs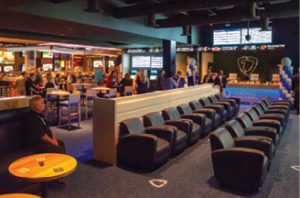 Customer service is also partly responsible for Horseshoe's success, Nita said.
Horseshoe is consistently honored as one of the best places to work in Indiana, and that begins with very selective recruiting and extensive training.
The casino, which is open 24/7, rewards team members based on customer service ratings.
Blue Chip also focuses on providing excellent customer service, Temple said.
"This is an industry that's all about competition," Batistatos said. "You've got to continue to evolve and present new and competitive products on the market."
For Blue Chip, the evolution has included a major expansion of event space. Blue Chip added 15,000 square feet last year and offers 45,000 square feet for gatherings of all sizes.
"A lot of trade conventions, trade groups, social groups we brought here, they outgrew us," Temple said. "We were a victim of our own success, so they left us. But now they're coming back."
Regional conventions find Blue Chip less expensive than Chicago. Business travelers and others who attend shows and meetings there enjoy a stop in the casino, Temple said.
Batistatos sees the Blue Chip expansion as a lost opportunity for Lake County.
When Star Plaza was built at I-65 and U.S. 30 in Merrillville, it was the market leader for events. When the hotel and convention center were razed, no one stepped up in Lake County to replace it.
"I've been saying since 1999 we need to have a municipally owned convention center," Batistatos said. "Now we're seeing the result of a failure in a public policy point of view."
"We've lost hundreds of millions of dollars in our convention business" and seen the decline of restaurants and retail shops in the area because Lake County has refused to pass a food and beverage tax to fund a new convention center, Batistatos said.
"Our refusal to do the right public policy is enriching a hotel and casino in La Porte County," he said.
Enhancing visitor experiences

Public investment pays off, Batistatos said. He cited the sports complex in Crown Point, downtown park in Valparaiso, cleaning up Lake George in Hobart and the Mascot Hall of Fame and lakefront park in Whiting.
A big private investment in Lake County is the construction of the new $300 million Hard Rock Casino Northern Indiana at the intersection of Burr Street and I-94 in Gary. When it opens in 2021, the land-based casino will replace the Majestic Star riverboat casino in the city's Buffington Harbor area.
A second phase of construction will include a hotel and parking garage.
The casino is expected to include more than 2,100 gaming positions as well as sportsbook.
Ameristar Casino Hotel East Chicago was the first in Northwest Indiana to move gaming operations onto dry land when a $15 million renovation in 2018 created a new high-limit room, featuring 95 slot machines and 14 table games, including 12 blackjack and two baccarat tables.
Don't expect Horseshoe to move to dry land because of the casino's earlier major expansion.
"You as a guest wouldn't know you're on water," Nita said. "We're not going on land because we spent a half billion dollars already."
Indiana's 1993 legalization of casino gambling required floating casinos that would cruise — even though Blue Chip became known as a boat in a moat because it couldn't get out onto Lake Michigan.
The intent was to control access to casinos to the duration of the cruise. The law was later eased to allow customers to come and go at will, then to allow casinos to operate on land.
The changes made casinos more customer friendly.
At Blue Chip, "we are a service-driven property. We are a service-driven industry," Temple said.
She expects entertainment options and online offerings to expand.
Horseshoe is intentional about making customers aware of their offerings.
"We will put our food offerings very visible on our casino floor," Nita said.
The more often customers come to the casino, the more they see what Horseshoe has to offer.
One of the challenges casinos face is enhancing the customer experience.
"I think there's an opportunity to enhance the socialization of gaming," Nita said.
When customers come to the casino in groups, they often go their own way on the casino floor, place their bets and rejoin later. Nita sees an opportunity.
"We have to do a better job of trying to keep groups of people together," Nita said.
The casino industry is also trying to figure how to capitalize on skill-based games, but current products aren't overly compelling, he said. The popularity of mobile apps like Scrabble and Candy Crush show there's customer demand though.
Click here to read more from the April-May 2020 issue of Northwest Indiana Business Magazine.