Steel City Salvage initiative addresses blight, creates jobs in Gary
A nonprofit hopes to spur economic development while addressing issues like blight, in hard hit Gary.
The Chicago-based Delta Institute is committed to building both a resilient environment and economy through sustainable solutions. The Steel City Salvage initiative in Gary is a local example of its tangible work in the region. The organization is currently engaged in the project and working with partners such as the City of Gary and University of Chicago Harris School, to establish Steel City Salvage. Plans call for creating a marketplace for reclaimed lumber and building materials from vacant homes in Gary.
So why Gary? It comes down to a high level of potential in terms of growth. Director of Strategic Priorities Eve Pytel, who has worked in economic development for the past 15 years, provided some context. "Gary once had a thriving industrial base and was a major employer in the steel industry," she says. Factors like white flight meant the city has lost a substantial percentage of its population in the last 50 years, she adds. What's more, there are more than 6,000 vacant parcels in the city, which further adds to the problem.
Despite the depressed nature of the city, groups like the Delta Institute are committed to a transformation. It comes down to how to "leverage liabilities into assets," in Pytel's words. The conversation first started in 2014, with dialogue about how other communities were taking homes apart to turn into "value-added products."
The Delta Institute isn't the only organization bullish on Gary. The project has attracted national attention for their efforts and was a winner in the 2016 Knight Cities Challenge. The efforts come on the heels of a deconstruction pilot program initiated by the Delta Institute through which about a dozen homes in Gary were demolished.
From here the Steel City Salvage project will assess conditions for establishing a marketplace, establish the physical facility, test different ways to bring reclaimed materials and share findings with other weak market city planners. 
This is only the beginning of the process. Pytel says Delta and partners will then develop and test three strategies for bringing these materials to market in Gary, creating long-term, sustainable economic benefit for Gary and its residents. In order to affect the most change, they had to develop the local infrastructure; otherwise salvaged materials would be exported to Chicago, which would be counterproductive, Pytel says.
The economic impact also extends to the demolition contractors, who are required to bid on the work and go through a training course. Pytel is quick to note that this "represents only one way materials can be salvaged." In her words, "a variety of different groups can access these materials." For example, retail, warehouse, pop-ups, festivals and Habitat for Humanity ReStores are among the potential venues. Steel City Salvage is also eyeing a location in Gary for a physical marketplace, where contractors could access reclaimed materials.
While the project is still in its infancy, Pytel says the response from the community has been largely positive. They see the project as a boon to Gary and are on board with the plans. Pytel also invites businesses to get on board through corporate sponsorships.
For more information about the Steel City Salvage project, visit delta-institute.org.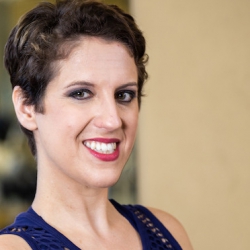 Latest posts by Lauren Caggiano
(see all)