Access to high-speed internet levels playing field for economic, educational success in smaller towns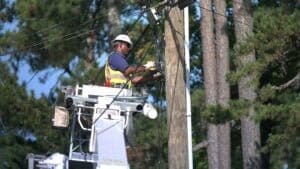 For years, a group of leaders from the town of Bourbon, Indiana, strove to bring high-speed fiber optic internet to their community. Their efforts were unsuccessful until a meeting with a small internet provider.
"Broadband is a must," said Ward Byers, president of the Bourbon Town Council. "It's something we rely on every day. It runs everything in our homes, our entertainment, our businesses, our security, everything. High-speed used to be a want, but now, it's a must."
With the help of Elkhart-based Surf Internet, Bourbon now has 21st-century communications infrastructure.
Across Indiana, government officials have made high-speed internet connectivity a priority for all communities. That effort is supported by the state's Next Level Connections Broadband Grant Program, which provides funds for the development of broadband infrastructure to areas where there is little or no access.
The $270 million initiative supports efforts from companies such as Surf Internet, AT&T, Comcast and others to build a network that will meet those access goals. Specifically, the grant program is aimed at areas within the state that lack broadband service or have broadband with limited output.
Success story
Byers can relate. He recounted the years-long struggles to bring broadband to his small town in Marshall County. Local business leaders and the schools had called for broadband, but they could not find a company willing to build the infrastructure. That all changed when Byers met Gene Crusie, chief executive officer of Surf Internet.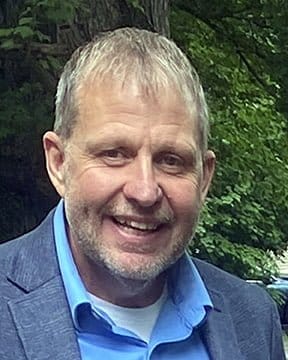 Byers contacted Crusie and explained the town's needs. Within days, Surf Internet crews visited Bourbon and began to draft plans to bring high-speed fiber broadband to the community. It wasn't too long before the company began to lay the fiber optic cables in there.
The town's business district was the first to receive the high-speed option, with residential areas soon following. The change has been extraordinary, Byers said.
Surf's Crusie likens equitable access to high-speed broadband to rural electrification initiatives, part of the New Deal program launched by President Franklin D. Roosevelt in the 1930s. Federal subsidies brought electricity into rural homes across America. Those efforts made life so much easier for many residents, because it provided them with access to refrigeration, electric heat and so much more.
"It was transformational and fiber optic broadband is as well," Crusie said. "Access to fiber optic broadband is an equalizer. It gives everyone the same access to the same resources regardless of where you live or your economic status.
"Once everyone in the U.S. has this unlimited pipeline into their home, it will unlock innovations we can't imagine, like improved telemedicine, artificial intelligence in the home, remote medical diagnostics implanted within the body and more."
For the first step to happen, that broadband pipeline must reach homes. The town of Bourbon is well on its way to realizing the transformational potential of high-speed fiber optics, Crusie said. The budding fruits of their efforts are already showing around town.
For Harmony Marketing Group, a Bourbon-based commercial printing service, access to high-speed fiber broadband has improved workflow efficiency while saving the company money. Before Surf Internet came to Bourbon, Joel Harmon, a co-owner and vice president of the company, said Harmony Marketing Group relied on two different cable-internet providers to handle client needs for the company's digital services and e-commerce capabilities, as well as daily operations.
"When Surf came in, we were able to handle all our needs with one provider. Everything was faster," Harmon said. "We were able to get rid of our two providers and save money in the process."
In addition to its client services, Harmon said the Surf fiber-optic network has also improved the company's internal communications. Harmony Marketing Group maintains multiple facilities in Bourbon, and the new high-speed service significantly increased electronic communication points between the sites, Harmon said.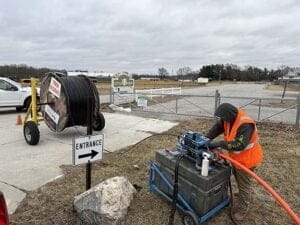 "The fiber-optic network has been incredible for us, but it's also done wonders for the town of Bourbon," Harmon said. "It's a new level of service that could help attract new businesses to the town."
That's a sentiment Byers agrees with as well. The addition of fiber will benefit a new water plant under construction in Bourbon. Surf's fiber will allow for seamless construction of computers that operate that plant, Byers said.
"With technology and how it's grown, you have to have that fiber. It's been incredible to have this capability as a part of Bourbon's infrastructure," Byers said. "It's just as important as having water, sewer and streets. High-speed fiber is part of a municipality's needs and infrastructure."
Broadband initiatives
State governments are not the only ones backing broadband initiatives. In La Porte County, Sheila Matias, former president of the La Porte County Commission, launched a broadband task force to encourage expanded broadband development across the area. The taskforce conducted surveys among area stakeholders to determine current levels of connectivity and future desired levels. That information was used to lobby internet service providers to bring high-speed fiber optics to underserved areas within the county.
"This work is critical for our agricultural community, for economic development, for health care and the service sector, but most important, for our children and for their education," she said.
The work of the La Porte County Broadband Task Force has proven to be successful. Providers such as Comcast, AT&T and Surf Internet, among others, have responded with efforts to build necessary infrastructure to meet consumer demands.
Comcast is in the process of building an extension of its advanced network infrastructure to the Kingsbury Industrial Park in La Porte County. Business park customers able to connect to it will have the benefit of up to 100 gigabits per second, said Sean McCarthy, regional vice president of business development and strategic initiatives at Comcast.
A communications giant, Comcast is actively connecting communities across the Region to high-speed internet. The company has laid about 10,000 miles of network in northern Indiana. Of that, about 2,200 miles consist of fiber. Comcast recently received grants from the Indiana Next Level Connections Broadband Grant Program to build an additional 1,200 miles of network to under- and unserved rural areas in 19 counties across the state. Those counties include La Porte, Marshall and Porter counties, McCarthy said.
In addition to its ongoing work in La Porte County, Comcast provided high-speed networks to a data center in Hammond, as well as to the towns of Portage, Schererville, Middlebury, Wakarusa and Warsaw. Other ongoing broadband and fiber projects include the towns of Crown Point, Gary, Griffith, Elkhart and Highland.
"When you talk about economic development, it used to be that you just talked about water, sewer, gas and electric," McCarthy said. "In the last five years, the importance of connectivity has been added to that."
For Surf Internet, Northwest Indiana is a primary focus to provide broadband capabilities. That commitment began in 2017 when the company began to build a network connecting schools across the Region, Crusie said.
"We wanted to build an infrastructure that would allow us to come in and provide fiber to homes in areas like Portage, La Porte, Westville and Valparaiso," he said. "We're trying to invest in areas where there isn't another fiber provider."
With mobile phones and tablets, computers, smart televisions, gaming systems, intelligent personal assistants like Alexa and more, a plethora of devices in our homes and businesses rely on an internet connection.
Crusie said people used to think about speed as their top need, but with so many connected devices, capacity is a top consideration these days. And that's why broadband capabilities are so appealing. The fiber laid by Surf and other companies can provide end users with high speeds and high-capacity rates.
Like Comcast and Surf, AT&T also has built an extensive broadband infrastructure in Indiana. A&T has more than 1.6 million fiber optic strand miles across the Hoosier state. The company's high-speed fiber can be found in communities such as Gary, Crown Point, Hammond, South Bend, Mishawaka and Michigan City.
Jill Ritchie, AT&T's director of external affairs for Indiana, said the communications company is working closely with state and local governments to bring broadband to communities across the area.
Ritchie said there are "unprecedented levels of federal funding" available for broadband deployment. She added that access to this resource is critical not only for today's economy but also for modern conveniences.
In October 2022, AT&T delivered fiber services to parts of Vanderburgh County. Ritchie said the company heard directly from residents who were ecstatic about the new levels of connectivity. Parents shared positive experiences about being able to conduct video calls with physicians or better participate in e-commerce activities.
Those same opportunities are being brought to other areas in Indiana. Ritchie noted AT&T is working with the state's Next Level Connections Broadband Grant program to bring fiber into more locations.
Beyond broadband, both AT&T and Comcast continue to build out their wireless networks across Indiana as well. That additional infrastructure provides seamless levels of connectivity in Indiana, Ritchie said.
"Connectivity creates opportunity. It improves the way we move through our daily lives, sets a path for success in work and school, and allows us to participate in the global economy," Ritchie said. "And we want all Americans to have access to the digital resources they need to reach their full potential."
Comcast's McCarthy agreed. He said building broadband infrastructure gives communities the level of connectivity people want these days. It allows communities to grow, attract new businesses and increase the quality of life. High-speed connectivity grants people access to uninterrupted telehealth appointments, online education and work-from-home opportunities, he added.
"You can live in Chesterton and work for a company anywhere in the world," McCarthy said. "The reliability of broadband creates opportunities for everyone."
Read more stories from the current issue of Northwest Indiana Business Magazine.