Entrepreneurs' decades-long journey culminates with opening of multiple Fluid Coffeebars
Husband-and-wife team Charles and Alison Scates know how to go with the flow — they operate their personal and professional lives with a fluidity of sorts. Enter Fluid Coffeebar, the couple's caffeine-centric venture that's enjoying a period of rapid growth.
The Scateses developed a reputation for their brewed beverages and brunch menu at their original cafe at 159 Lincolnway in downtown Valparaiso, where they opened in 2016. They expanded in 2019, with a new roasting operation in the historic Eagle Building at 518 Franklin St. in Michigan City's Uptown Arts District.
The couple will soon open a third location at the Vale View Apartments at 260 Franklin St. in Valparaiso, which they say is part of their entrepreneurship journey 20 years in the making.
Before setting out on their own, they both had careers in other industries. As they raised their children, Alison sold antique furniture and artwork online, and Charles worked in the building industry.
"We had wanted to start a coffee shop (a) long time ago, prior to Starbucks taking over the world," Charles Scates said. "It just didn't, didn't work out at the time. But when the time was right, we were able to just kind of pick up where we had left off."
Scates said he and his wife make a great team, romantically and as business partners. It helps that they share the same values.
For example, their beans are responsibly sourced — which speaks to their socially conscious ethos in general.
"When we first opened, we set out to try to have local connections the best we could, and that's what we've done with the baked goods and suppliers," Charles Scates said. The couple sourced seasonal ingredients from regional vendors, and their food menu changed with the seasons. Meanwhile, they also made a conscious effort to accommodate vegetarian and vegan lifestyles.
People come for the perk up and stay for the food and the lively atmosphere, Scates said.
He said coffee aficionados say they can taste the difference when it comes to direct-trade coffee versus traditional lines. Not only does this distinction ensure the coffee farmer is treated and compensated fairly, Scates said the quality and flavor are superior to other market alternatives.
The Scateses have moved several times through the years but decided to return to their Northwest Indiana roots to start their business.
"We opened Fluid in Valparaiso, because we saw the potential in downtown," Scates said. "And in downtown Michigan City, it's the same thing. There's a revival there."
Katie Eaton, president of the Michigan City Chamber of Commerce, said the Scateses have played a role in this momentum.
"Fluid Coffee is a wonderful addition to our Uptown Arts District," she said. "Downtown areas that thrive on foot traffic depend on having a variety of businesses to keep customers in the area longer."
Eaton said having a strong mixture of service, retail, food and beverage businesses allows consumers to spend more time in a concentrated area that meets several needs.
"Fluid also meets the need of a quick meeting space, allowing community members and business members to connect with one another while enjoying a specialty drink or bite to eat," Eaton said.
"Fluid Coffee is a welcome addition to our community."
Scates said the response in Michigan City has been positive. Similarly, having their own in-house roastery has been a boon to operations.
"We've been able to cut out even more of the middleman," he said. "So now we're roasting the coffee specifically to the way that we like it."
That milestone certainty helped take Fluid to the next level, but Scates is equally concerned with elevating the coffee industry has a whole.
"You've seen craft beer just kind of blow up in the last 10 to 15 years," he said. "Prior to that, nobody even knew (what) craft beer was, and now it's a household name."
Scates said microbreweries and breweries are popping up on every corner, and it's been a good thing overall for the industry.
"We'd like to see that happening with specialty coffee," he said. "We would really like owners to really consider using better-quality beans."
Click here to read more from the April-May 2020 issue of Northwest Indiana Business Magazine.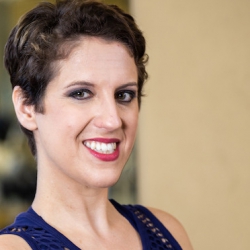 Latest posts by Lauren Caggiano
(see all)