Crisis sparked consumer movement to seek food and other products made close to home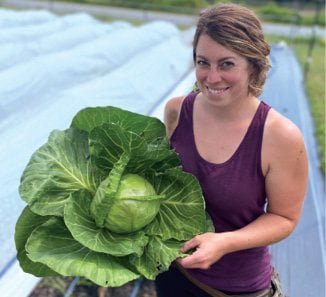 Anne Massie has something positive to say about the pandemic.
When the COVID-19 virus put the world on lockdown to slow the spread of the disease in early 2020, Massie said it sparked a buy-local movement. People wanted to know where their food and other items were coming from and sought to support businesses close to home during the crisis.
This sentiment was shared statewide, which benefited Indiana Grown, a state initiative to encourage residents to buy, sell and share food and products made in Indiana. Massie, president of the Northwest Indiana Food Council and owner of Grounded Earth Farm in Crown Point, has been a member of the organization since it launched in 2015.
"As farms and small businesses were able to pivot their business to be online or to offer curbside pickup, they seem to have actually done better because of the pandemic and had increased business," Massie said. "A lot of farms and small businesses that sell value-added food products are definitely seeing continued support and continued business throughout the pandemic."
Massie said, as far as food, the pandemic showed people that the national supply chains are much more fragile than they believed, causing an increase in appreciation for local purchases.
"We saw grocery store shelves were empty, meat packing workers couldn't go into work because of unsafe conditions, and when that happened, we saw a lot of small businesses and small farms step up to try to fill that gap," Massie said.
Buy local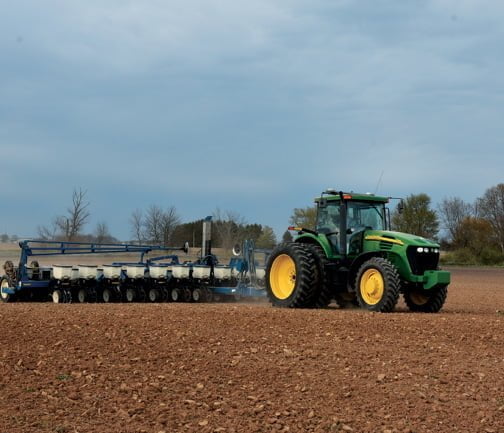 Indiana Grown is a program with more than 1,700 members and 50 business partners, including farmers, farmers markets, distributors, breweries, grocers, hospitals, restaurants and other supporting organizations. The statewide branding initiative aims to form a clear designation of local Indiana products, according to its website.
Products from Indiana Grown can be identified by four categories: 100% from Indiana, prepared in Indiana, an Indiana Grown partner or Indiana Grown members.
Indiana Grown celebrated its fifth anniversary in July 2020. Its program director, Heather Tallman, said the support to local farmers and producers across the state has been strong for many years and grew stronger amid the pandemic.
"Though there was not a shortage of proteins available at the grocery store, many consumers did shift their shopping patterns to more local offerings," Tallman said. "You might say there was an increased sense of awareness about local agriculture and farmers markets in 2020."
Purchasing Indiana Grown products supports fellow Hoosiers while also supporting job creation and the building of sustainable communities. It also helps preserve Indiana's agricultural heritage, according to the organization.

"As our access to technology grows and communities form more and larger farmers markets, it is easier for consumers to not only find local farmers and producers in their areas, but it's easier to interact with them and make purchases," Tallman said. "Whether it's through an online marketplace, a farmers market visit or a trip to your local grocery store, it is easier to find local food than it was even 10 years ago, (and) so if that is due to an increased awareness about local agriculture or an increased desire to support the local economy — Indiana Grown supports this."
Stronger communities
Massie said support for local businesses and farmers has been great amid the pandemic, and she hopes it continues as the crisis subsides.
"There's a lot of hope that the change in consumer behaviors to buying more local and getting to build those relationships with local business owners will stick after the pandemic is over," Massie said.
Massie also noted there was an increase in people who signed up for subscriptions to Grounded Earth Farm during the summer months as Hoosiers sought to secure a food supply.
Through community-supported agriculture, or CSAs, people can buy a subscription to receive a share of a farm's harvest. After paying upfront at the beginning of the year, families receive a weekly delivery or pickup of produce as vegetables come into season and are harvested by the farm.
"Once the pandemic picked up, we sold out right away," Massie said. "We probably could have doubled our membership if we wanted to, but we couldn't, just because of our size."
She started a waiting list in 2020 that spilled into the new year.
"I think (people are) starting to realize that in order to make sure that you are secure, we have to have these localized relationships again," Massie said.
Massie said several customers who have health issues were able to avoid going to the grocery store when the pandemic started by ordering through farmers and picking up with either no contact or safe contact.
In addition to creating curbside pickup services, Massie said farmers were able to assess areas in which they could assist their community and took action.
"A lot of farmers, when they saw this was happening and that the supply chains were breaking down and grocery store shelves were empty, a lot of them put in extra refrigerated space, invested more into their farms, expanded what they were growing and really tried to expand their businesses to help their communities out," Massie said.
Business obstacles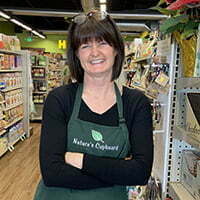 Mylese Tucker, owner of Nature's Cupboard, with locations in Michigan City and Chesterton, said she, too, saw an increase in business at the beginning of the pandemic, but has seen sales return to a normal pace.
"Business went crazy. We were doing curbside pickups for people, we offered delivery as well … because we started wearing masks almost immediately, a lot of people said they felt more comfortable shopping in our stores," said Tucker, who is a member of Indiana Grown. "Business was really crazy and busy for maybe a month, and then after things started to loosen up (in the spring), things started to get back to normal again."
Tucker said the uptick in online shopping has been hard, and as a small store, it is difficult to curate an online presence.
"If more and more people (switch to) online grocery shopping, we'll never survive," Tucker said. "Are little businesses like me even going to survive? Or is Amazon going to take over the world?"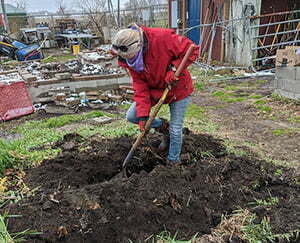 Sara Stewart, president and founder of the Unity Gardens in South Bend, said the community gardens have worked with Indiana Grown for about four years. Stewart said she has experienced more people purchasing plants and compost supplies from Unity Gardens, though at the beginning of the pandemic, sales decreased by about 40%.
"People wanted to stay in, they didn't want to go shopping," Stewart said. "The farmers market, though a great alternative, was just not something on the top of their minds."
Stewart was troubled by declining sales for her business, she also was concerned about the rising problem of people who were going without food. Unity Gardens provides food for people in need, Stewart said, and while there was a decrease in revenue, the ability and need for free food was increased during the crisis and still lingers.
As the situation worsened, Stewart looked past her own business issues and focused on helping those in need and began growing more food.
"I said, literally, 'if we're going to go down, we're going to go down growing food,'" Stewart said. "So, we put greens everywhere in the garden, things you could plant in March — peas, greens, whether they are mustard, lettuce, chard, all of that, (and) we had our 7-acre, big urban ecosystem, just absolutely planted and full in March and April, and it paid off."
Stewart said business began to pick up as people started purchasing plants and worm compost, causing sales to go higher than normal.
As the Unity Gardens harvested winter plants, the hope was sales of produce along with products made with honey would help the organization's finances.
"The bees are working regardless," Stewart said. "Our honey and our products we make out of the honey or beeswax, like our candles and soaps and hand balms, are really keeping us going."
Preserving the momentum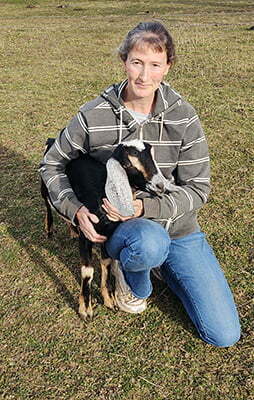 As small businesses do their best to survive, Rebecca Miller, like many others, said her business also has seen more residents from her community buy local to help neighboring farms and other businesses. She also is a member of Indiana Grown and owner of Miller's Goats and Gardens in Lakeville. She hopes heightened community patronage continues as normal daily life resumes.
Miller became a member of Indiana Grown last spring, and Miller's Goats and Gardens sells products at the River Valley Farmers Market in South Bend.
"I think people are trying to help their neighbors, support local people," she said. "Plus doing produce, that's always a really important thing for people to buy locally — they know where it's coming from, they know how I grow it, so that's a good thing."
Miller's Goats and Gardens customers have an option to buy online with curbside pickup, but Miller said she finds people prefer making purchases in person.
"People still seem to want to come in and physically see things and talk," she said. "When you are buying from people who are making or growing things, what they're selling, it is a connection, (so they want) to come in and talk to you about it. They get to know you, and you get to know the customers, too.
"(So) even though we're keeping distance and everything like that, you're still able to connect."
To keep the buy-local movement going, Tallman said Indiana Grown will continue providing resources to consumers to educate them on the effects of their purchases, while also assisting them with finding farmers in their area.
"Consumers should pattern their shopping habits in the way that makes them most comfortable," Tallman said. "If they prefer an online method, there are so many options there from buying direct from farmers through an online platform to online 'farmers markets' like Hoosier Harvest Market and Market Wagon."
Tallman also noted that, while Indiana Grown created maps, trails and guides to help consumers find wineries, breweries, distilleries, landscape nurseries and Christmas tree farms, members gravitated toward a protein guide, which was widely popular on social media. The protein guide represents a fraction of the more than 56,000 farming operations in the state but allows people to see producers near them.
"(The past year) reminded us that our members are resilient and so is this industry," Tallman said. "How they grow may have a different direction for a while, but many of our members shifted in such a way that they are seeing growth."
Awareness is high surrounding buying local, and it has benefited many businesses, including Massie's. However, she noted many farmers also are still struggling, so the trend will need to continue to aid those challenged to make ends meet.
"The challenging thing about telling the story of farms adapting and doing well during a pandemic is, I don't want to blow over the fact that farmers are still struggling," Massie said. "Just because there's been an uptick in the buy-local movement, there's still a long way to go."
Click here to read more from the February / March 2021 issue of Northwest Indiana Business Magazine.