Local companies go straight to the source for new employees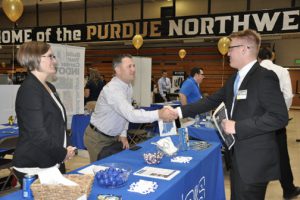 Jacob Brunetti will be graduating this spring from Purdue University Northwest in Hammond with a degree in computer science.
To get a jump on finding a position, the 22-year-old Munster resident attended a career fair at PUN's Westville campus in February. Unlike a standard job fair, a career fair positions prospective employers with graduating students in the field that best suits their company's needs.
"When I go to a career fair, I don't expect to get an interview. But I was interviewed by a company," Brunetti says. "I think the main thing you have to do is be authentic with the company and let employers know what you really want and see what if you make a good fit. I don't think it has to do with selling yourself like people say."
Natalie Conners, director of PNW's Career Center, says these types of events are very important.
"This is Purdue Northwest's second largest annual recruiting event," Connors says. It is a great opportunity to meet with many of the talented students, alumni, and community members in one easy location."
Enterprise Holdings, the parent company to Enterprise Car Company, was one of the employers at Purdue Northwest's career fair. Bob Berdelle, talent acquisition manager for Enterprise, says he's been recruiting new employees directly from Purdue University for years for the company's entry level management training program.
"It really depends what a company is looking for," Berdelle said. "We're constantly trying to fuel our entry level opportunities. We hire both full-time and intern."
Berdelle says maintaining a relationship with Purdue gives him an advantage over other companies when it comes to recruiting future employees. "If a business goes to a career fair and they expect for students to just come flocking to you, it's fool's gold. You might have a few students who will stop by to say hi," Berdelle says.
By building his ongoing association with Purdue, Berdelle says he's able to get others, including professors and departments heads, to talk up his company to students. "You get a fleet of advocates preaching your name so when you do show up on campus, you have some students who have already built up a familiarity with your company," Berdelle explains.
Stiff competition for young talent
In the past, after a student graduated from college, they would open the newspaper and look in the 'help wanted' section. That no longer happens.
There's stiff competition for young talent, and employers are learning new ways to connect with them. Facebook, Twitter, Linkedin, career fairs and apps are now standard search tools for both graduates and employers.
But an effective approach, which seems to be standard practice for some employers, is recruiting potential employees directly from colleges and universities.
Tom Cath, Director of the Career Center at Valparaiso University says he's developed relationships with local employers, like ArcelorMittal, White Lodging Services, NIPSCO, Task Force Tips, and Urschel Laboratories, to fill local business hiring needs.
"There are additional ways of sourcing talent that employers are using," Cath says. "We have relationships with hundreds of employers."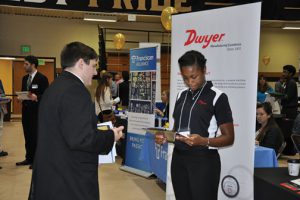 Cath says the role of the Career Center is to assist students in learning who they are, what talents they have, and what occupational choices they might have for prospective employers.
"The students need to test those, maybe investigate those a little bit. And then ultimately, they need to convince a firm that they are a good person to hire and we're hoping they are capable of doing that," Cath says. "We're facilitating, we're developing relationships with employers, we're working with as many students as we possibly can on campus. We have a variety of ways we connect with students."
Recruiting on campus by employers may also put the student at ease. "A student might be more comfortable on campus than if a student just approaches someone cold and not through us," Cath said. "There is research that suggests a student is better off when they use their college's career center than when they don't. They don't necessarily know some of the nuances or steps to take to make sure they are doing it professionally. It makes a lot of sense for students to use the career center," Cath explains.
But in the ever shrinking and competitive job market, not all students are taking advantage of their school's career center. A 2016 poll conducted by Gallup and Purdue University, nearly half of undergraduate students have reached out to their school's career center for assistance in finding a job. This comes at a time when fewer students are less confident that they will be able to find a job once they graduate.
According to the survey, Americans with a bachelor's degree can expect to earn about $1 million dollars more than those with a high school diploma over the course of their careers. However, the unemployment rate for college graduates has doubled since 2000.
"Career services offices often provide this support, which can include stimulating student interest in disciplines they had previously not considered, helping students select a major field of study, assisting students in securing employment while enrolled in college, and preparing students for finding a job upon graduation through mock interviews and resume workshops," according to Gallup's finding in the 2016 survey.
Success story
At Indiana University Northwest in Gary, the school doesn't wait for students to visit the career services office, it brings the service directly to the students.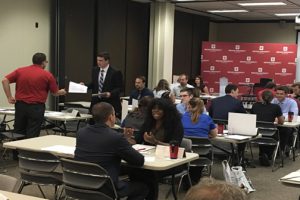 Before graduating, each IUN student take a required career planning course. Through the course, employers are brought into class to meet with the students. "It's like a sequestered job fair. In fact, it's better than a job fair. It's actually a recruiting event where the employers come and meet directly with the students," says Cynthia Roberts, dean of the School of Business and Economics at IUN. "It's in a sit-down environment, face to face, they are able to interview, pre-screen and review resumes."
Roberts says this approach seems to be beneficial to students. "Students have been offered positions, have been offered follow up interviews. Have been offered internships. It's proven to be very valuable and innovative for our programs and for our students," Roberts explains.
Helen Harmon, Assistant Director of Undergraduate Services at IUN, says about 20 different companies participate in the course. "Some of them bring two or three reps from the organization. Over time, it might have been a particular firm that came with one person but found it to be so fabulous that in the second semester, they'll bring with them a colleague, either from another department or their own department," Harmon says. "So there is two of them to vet out some potential new hires."
And because it is in a class setting, Harmon says it's also a learning tool for the students.
"The students are really interacting with the employer and getting to know them," Harmon says.
Harmon added that higher education is always looking at better ways to network in the communities in which they are located and vested in.
"The idea is that we're educating and granting degrees to individuals that we hope will stay, so that they continue to contribute to the local economy," Harmon says.
Roberts says that the university also receives calls directly from an employer looking for a recruit to fill a position. "We get request like that all the time. That's another way they reach out to us."
It's through IUN's Employer Networking Night that Nicholas Perazzolo landed his job while still in college. "To be honest, I didn't' really expect anything out of the job fair. I just thought I would get some pointers about my resume. But a couple of days later, I was asked if I wanted to come in for an interview," says 31-year-old Perazzolo of Cedar Lake.
Perazzolo landed a job with Victoria Supply, an online supplier of lighting in East Chicago, before he graduated with his accounting degree from IUN in 2016. Perazzolo says it didn't feel like he was in a traditional job interview, because of the program's structure.
"I felt like it was more a learning opportunity. I was more relaxed. And I was talking as employers were viewing my resume, offering tips and making it look better," Perazzolo says. "But the next day, I ended up getting a call."
Perazzolo says even if he didn't land a job, the feedback he received from the recruiters was invaluable. "It helps you because you have all these employers looking at your resume and you might be able to land something in the future," Perazzolo says. "It helps to extend your network and helps build and improve your interviewing skills."
Last year, Perazzolo, who works as a purchasing manager for Victoria Supply, went back to IUN to use the same system for finding a candidate for the company. "We contacted some students through that job fair as well," Perazzolo says.
Soft skills make the difference
At Ivy Tech Community College, working with employers is handled a little different, says Peter Linden, chancellor of the Michigan City campus. Linden says the school partners with the Center for Workforce Innovation in Valparaiso and the Department of Workforce Development through the state of Indiana.
Ivy Tech also has its own program called Workforce Alignment. "That works exclusively with employers and links them with our best suited programs in meeting their immediate needs," Linden says.
Besides matching students with potential employers, they also work with the so called "soft skills" recruiters are looking for, he explains.
Those soft skills include being a team player, flexibility, effective communication, problem solving, accepting feedback, creative thinking, and confidence.
"Those soft skills are essential for success for not only gaining a job but sustaining a career in any given field," Linden says. "It's those people skills that are so important. Of course, we also provide the technical skills but those soft skills are also critical."
Click to read more from the Apr-May 2018 issue of Northwest Indiana Business Magazine.