Northwest Indiana emerging as a destination for global investments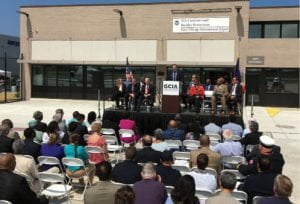 While interest and investment on the part of foreign companies in Northwest Indiana is not a novelty, recent wins suggest the trend may have staying power.
For instance, Gary and Hammond put in bids for Amazon's HQ2. Gary/Chicago International Airport has a full-fledged U.S. Customs facility. Thor Industries of Elkhart recently bought a German company for $2.4 billion and operates in a global marketplace. Japan-based Daifuku Wynright recently announced plans for a new $26 million facility in Hobart.
Region economic and business development representatives say Indiana is gaining interest in the global marketplace.
Setting the stage
Recent major business announcements only tell part of the story. Indiana is home to more than 800 foreign-owned business establishments that employ more than 190,900 people, according to the Indiana Economic Development Corp. The state also is home to the highest percentage of private-sector jobs coming from foreign-owned firms in the Midwest.
Between 2012 and 2015, foreign-owned companies announced plans to invest $6 billion into Indiana and create 20,000 new Hoosier jobs.
So, what's changed about Indiana? What is driving efforts in Indiana to make the state a destination for international business? Experts from the public sector, private sector and academic community suggest a variety of factors have helped the state become a business destination.
According to one state official, Indiana has reached a critical mass years in the making. "I think it's not a recent development but a culmination of all our efforts over the last dozen years," said Matt Saltanovitz, the Indiana Economic Development Corp.'s director for Northwest Region business development.
And state leaders do not seem to be resting on their laurels. In fact, it's quite the opposite.
"On a higher level, the governor and secretary of commerce are traveling (abroad) to bring Indiana to the world and the world to Indiana," he said.
Those efforts can translate into action. For example, Saltanovitz said it's no coincidence that Northwest Indiana is on the map. State leaders courted Israeli-owned MCP. The result? MCP, a plastics company, gained approval for a new 65,000-square-foot building in the AmeriPlex business park in Portage that's expected to bring 60 new jobs, according to the IEDC.
What about the other pieces of the puzzle? If you ask leaders of the Lake County Indiana Economic Alliance, it requires just as much looking backward as it does forward.
According to the alliance's President and CEO Karen Lauerman, "the state has stepped up its game" and is now reaping the fruits. Specifically, she cited the creation of the IEDC under then-Gov. Mitch Daniels as one critical factor in taking the state to the next level in attracting and retaining investment, both domestic and foreign.
So, what does that look like? The IEDC is the state of Indiana's lead economic development agency. The IEDC was established in February 2005 to replace the former Indiana Department of Commerce. To respond quickly to business needs, the IEDC operates like a business. To that end, the IEDC is organized as a public-private partnership governed by a board of directors.
Bold moves
In addition to the creation of the IEDC, Don Koliboski, vice president of economic development at the alliance, contends the state has made some bold moves in recent years that continue to benefit the business climate. For one, the elimination of the inventory tax has been a "major step in moving forward." Second, he said the privatization of the toll road through a lease to Indiana Toll Road Concession Co. by Daniels was forward-thinking.
As part of the concession, ITRCC pledged to spend $200 million on capital improvements to the facility during the first three years of the lease and about $4.4 billion over the life of the concession. By leasing the facility, the state was able to retire $225 million in debt. It allocated the remainder of the lease proceeds to several funds used solely to pay for infrastructure projects throughout the state. Koliboski said the deal in turn has driven private investment, which can equate to job creation.
Third, he said decreasing the floor of depreciation tax from 30 percent to 10 percent of the total value of inventory has meant great things for manufacturing and the supply chain in general.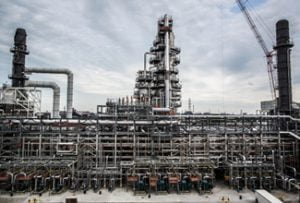 "That's helped our core industries," Koliboski said, noting that BP's continued investment in Whiting was no doubt encouraged by this latter factor.
In 2017, the refinery replaced two steam-driven turbines used to pump cooling water with electric-driven turbines that require less energy to achieve the same flow, according to a statement from the company. The company said it began constructing a $300 million naphtha hydrotreating unit that will significantly reduce the amount of sulfur in its fuel, allowing it to make cleaner products and meet federal standards.
Whiting continues to be a powerhouse as BP's largest refinery in the world. It produces about 10 million gallons of gasoline, 3.5 million gallons of diesel and 1.7 million gallons of jet fuel each day, along with about 5 percent of all asphalt in the U.S., according to a statement from BP.
"By way of perspective, Whiting produces enough gasoline each day to support the average daily fuel needs of more than 7 million cars," according to the company's reports.
The economic impact in the Region cannot be understated either. The BP Whiting Refinery on Northwest Indiana's lakeshore paid out $190 million to 525 vendors and supported more than 11,300 jobs last year. BP employs more than 1,700 workers in Indiana, pays $3.8 million in property taxes and contributes $3.9 million a year to community causes, according to the 2018 U.S. Economic Impact Report.
Looking at how the three factors mentioned intersect, Koliboski said overall the landscape is more business friendly. "It's all about tax certainty now," he said. "There's been a corporate culture shift."
Lauerman and Koliboski have seen a shift of a different kind too. Other states are looking to Indiana as a case study for what works. "We're doing something," he said. "We're not sitting on our hands. We are recognized as not idled—we're aggressive."
The bigger picture
Organizations like the LCEA tend to concern themselves with the micro picture, while others look at things from a more holistic standpoint. Economists often fall into the latter camp when analyzing the current state of affairs, including Micah Pollak, an assistant professor of economics with Indiana University Northwest.
In his estimation, the conversation needs to go beyond a dollars-and-cents evaluation.
"These things (like lower taxes, less regulation, etc.) are certainly important initially, but they are only good in getting people in the door," he said.
In other words, he said stakeholders need to take it a step further. Variables like a qualified workforce are what keep companies in the game, he added.
"We haven't put together a complete package yet, but that's starting to change," he said.
For example, the state still lags behind others in markers such as poverty, income and educational attainment. On the consumer side, he said intangibles like high-end shopping, green space and quality housing can help keep talent here.
Anthony Sindone, clinical assistant professor of finance and economic development at Purdue University Northwest, challenges the conventional narrative that foreign investment should be more highly valued or celebrated.
"To me investment is investment," he said. "If there's a good business climate and a high probability of ROI, it doesn't matter whether it's domestic or foreign. What's good for any business is good for a foreign business."
However, he contends that foreign investment can be attractive to the state and its residents from one specific vantage point.
"If we focus our attention on foreign investment, an inflow of capital will result," he said. "From that injection we can generate more income."
And increased income has the power to affect what Sindone refers to as "the human side of things." In other words, individuals, families and communities can become stronger from investments.
He applauds the efforts of everyone from the governor's office to the local level in making Indiana a better place.
"We are seeing tremendous efforts to build this place to the full potential of what it can be," he said.
Investing in the future
Daifuku Wynright Corp. is one of those companies that's betting on Indiana for its own growth. Wynright Corp., a wholly-owned subsidiary of Daifuku North America, is a provider of intelligent material handling systems. They design, manufacture, integrate and install a full spectrum of intralogistics solutions, offering both Wynright-branded and third-party equipment to meet client needs. Wynright was acquired in 2013 by Daifuku Webb.
In September, the company announced plans to expand its North American manufacturing capabilities with what it says will be a state-of-the-art manufacturing complex and office, built on a 44-acre site in the Northwind Crossings business park in Hobart adjacent to I-65. The new 320,400-square-foot facility will consolidate two manufacturing operations, creating almost 600 new jobs in Indiana by the end of 2021, according to a statement from the company.
Wynright hopes the new site will be operational by January 2020. But this may be just the beginning.
"We look forward and expect business to double in the next five years," said Kevin Ambrose, president and CEO of Wynright Corp.
But why Northwest Indiana? Ambrose said the decision is rooted in a few factors. He said the firm already had facilities in the Region, so it made sense to scale.
"It's important to reward (employees') loyalty by minimizing disruption but also being able to grow," he said.
The proximity to Chicago and its airport, he added, is also a selling point from an international business standpoint.
"We provide unique solutions that are all people based," he said.
Regarding its plans for growth in workforce, Ambrose knows not all jobs are created equally. He said those new jobs will represent multiple sectors. He said positions will run the gamut from assembly and welding jobs to more white-collar positions in engineering and project management.
He said the state's training incentive programs have been attractive as they look to skill up the workforce to support growth.
Click here to read more from the Dec-Jan-2019 issue of Northwest Indiana Business Magazine.