Businesses, organizations share latest news
about new hires, promotions, accolades
Accounting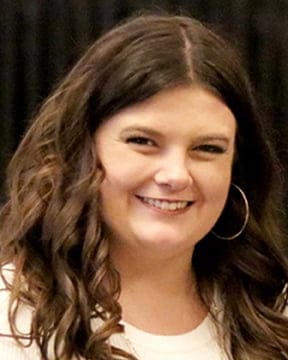 Allison Raymond, firm manager at Michigan City-based CLH, CPAs & Consultants, passed her certified public accountancy exam and is a licensed CPA in the state of Indiana.
Antonio DeCrescenzo and Sarah Skaggs are new staff accountants at Munster-based McMahon & Associates.
Banking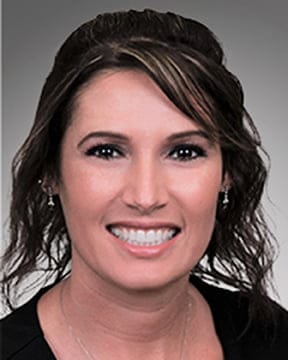 David Kwait is the senior vice president, general counsel, corporate secretary and chief risk officer at Finward Bancorp and Peoples Bank. Kwait has worked for the bank since 2011.
Craig Dwight, who retired as CEO of Horizon Bank on June 1, received a Sagamore of the Wabash Award. Dwight has led Michigan City-based Horizon Bank since 1998 and will continue as chairman of the boards of both Horizon Bank and parent company Horizon Bancorp Inc. Jim Parpart was promoted to vice president, retail operations director. Parpart began his Horizon career in 2011 as a branch manager of the Elkhart office. Jill Brotan was promoted to community lender. She started at the bank as a customer service representative in 2017. Scott Freeman was named vice president, wealth adviser in the corporate office. Melissa Henson is the new assistant vice president branch manager of the Valparaiso Lincolnway location of Horizon Bank. Kevin Ahern and Brian Maass were appointed independent directors on the bank's board. Ahern is the co-founder and managing partner of Brush Creek Partners, a private equity investment firm. Maass most recently served as executive vice president and chief financial officer for TCF Financial Corp.
Kandis Tubb, a senior specialist in the compliance department, was promoted to an officer for 1st Source Bank.
KeyBank promoted Seth Keirns to market president in Northern Indiana. He was hired in December 2022 as the market president in Fort Wayne.
Nancy Engelmann was appointed to the new role of chief human resources officer at South Bend-based Teachers Credit Union, which changed its name to Everwise in June.
Tira Clement, a financial adviser for American Financial Services, the wealth management division of Schererville-based American Community Bank, earned the Certified Plan Fiduciary Advisor designation.
Anthony Contrucci was named president of Merrillville-based First Bancshares Inc., Centier Bank's holding company. Jessica Watts was hired as a vice president, public funds officer, at the downtown Chesterton branch of Centier Bank after 26 years in the banking industry.
Construction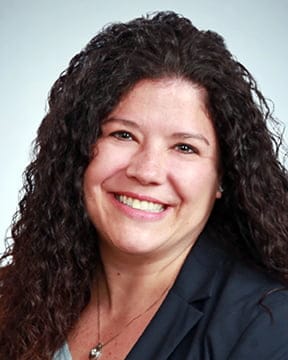 Matt Davis will step down as president of Wightman in April 2024. He will continue his 29-year career at the Benton Harbor, Michigan-based company in a new role. Steve Carlisle, who has been with Wightman for 26 years, will succeed him. Jeff Bradford, who has been with Wightman for 36 years and is the regional manager of the Benton Harbor survey team, was nominated to senior associate. Brad DeVries, senior civil engineer; Alex Deneau, senior field technician within the engineering group; Aaron Smith, senior project manager in the survey department; and Bryan Styburski, construction services manager, were nominated to become senior associates. Brandon Hebard, licensed architect; Steve Gamba, survey project manager; Kyle Owen, civil engineer associate; and Nate Weinberg, field service technician, achieved associate status. Nicollette Cardwell, the firm's director of marketing, was credentialed as a Certified Professional Services Marketer by the Society for Marketing Professional Services. Stefany Holland was promoted from commercial market sector specialist to commercial market sector leader.
Economic development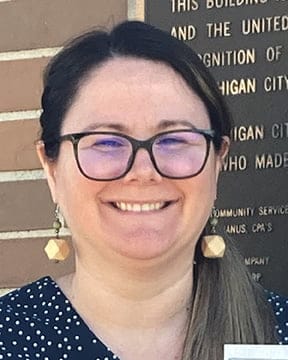 The Michigan City Chamber of Commerce named Pia Parrott the Ambassador of the Quarter for the first quarter of 2023. Parrott is an assistant vice president and branch manager for Centier Bank.
The Regional Development Co.'s office manager Carla Lundgren retired April 28. She was with the Valparaiso-based RDC for 11 years. Aaron Allshouse was hired as a portfolio manager. He served two years on the organization's Independent Loan Review Committee.
Eight entrepreneurs graduated from the sixth HustleSBE cohort, a bootcamp sponsored by the South Bend — Elkhart Regional Partnership: Kathy Burnette, Brain Lair, South Bend; Diana Castillo, Saca Los Tacos, Goshen; Jamie Dietrich, Blue Adaptation, South Bend; TaeLor Lake, Trophy Details, South Bend; Gil Michel, Michiana Social, South Bend; Elizabeth O'Leary, Undercover Popular, South Bend; Sasha Rivera, Sky Spa, Goshen; and Jasmine Wall, The Imagination Spot, Goshen.
Education
Purdue University Northwest named three alumni to its second PNW Alumni Hall of Fame class: Robert Johnson III, president and CEO of Cimcor Inc. in Merrillville; Stewart McMillan, founder of the Multi Agency Academic Cooperative Foundation in Valparaiso; and Alfredo Sori, who retired from Omaha, Nebraska-based Kiewit Corp. Bruce Berdanier is Purdue University Northwest's new dean of the College of Engineering and Sciences. He also will oversee several research centers, including the Center for Innovation through Visualization and Simulation, the Integrative Physiology and Health Sciences Center, the Center for Crime and Forensics, the Water Institute, the Energy Efficiency and Reliability Center, and the Center for High Energy Physics. PNW's Big Sell competition winners include: Jannice Newson, $10,000, for Lillian Augusta, a plant-based hair extension company; Luis Alvear, $3,000, for AtoB, a software platform for finding carpooling opportunities; and Courtney Stern, $1,000, Park Watch, an app that allows drivers to share on-street parking spots.
University of Notre Dame historian Darren Dochuk and theologian David Lantigua are the new co-directors of the Cushwa Center for the Study of American Catholicism. Kathleen Sprows Cummings, an American studies and history professor, stepped down from the position in June. Kate Garry was appointed executive director of academic communications and will serve on the cabinet of Provost John McGreevy.
Two Ivy Tech Community College Lake County faculty members earned the President's Award for Excellence in Instruction: Dr. Dawn Bancsi, a pediatric and neurorehabilitation therapist, and Christine Weatherby, an English department adjunct faculty member.
Vicki Román-Lagunas, Indiana University Northwest's executive vice chancellor for academic affairs, participated in the 2023 Millennium Leadership Initiative program. The Honorable Robert Rucker earned an honorary degree during the university's 57th annual commencement. Rucker served as the 105th justice of the Indiana Supreme Court and is an IU Northwest alumnus. He was appointed to the Indiana Supreme Court in 1999 and served until his retirement in 2017.
Mike Raisor, as part of the MGT Consulting team, is the new manager of the Gary Community School Corp. He replaces Paige McNulty.
Finance
Several Northwest and North Central Indiana financial advisers were listed on Forbes' 2023 Best-in-State Wealth Advisors rankings, including:
No. 21: Matthew Kahn, Merrill Lynch Wealth Management, South Bend
No. 37: Jim Ruthrauff, Merrill Lynch Wealth Management, South Bend
No. 44: Thomas Olson, Baird, Mishawaka
No. 47: Stockton Schultz, UBS Wealth Management, Mishawaka
No. 48: Edward Patzer, The Patzer Group Wealth Management, Mishawaka
No. 57: Vicki Ispas, Wells Fargo Advisors, Merrillville
No. 74: Mark De St. Jean, Raymond James & Associates, Valparaiso
No. 77: Leo Priemer, Edward Jones, South Bend
No. 81: Elizabeth Borger, Stifel, Elkhart
No. 84: Ryan Drake, Edward Jones, Goshen
No. 85: Grant Gingerich, Merrill Lynch Wealth Management, Merrillville
No. 90: Dan Wilburn, LPL / R.B. Smith, Valparaiso
No. 96: Kevin Ribordy, Merrill Lynch Wealth Management, Merrillville
No. 101: Jason Topp, Ameriprise Financial Services, Merrillville
Franchising
U.S. Army National Guard veteran Nicholas Novak opened a Biggby Coffee, 9151 Wicker Ave. in St. John. Catherine and Mario Sullivan, and Rick and America Echeverria opened a Biggby Coffee at 8359 Indianapolis Blvd. in Highland.
Marissa and Wes Barnes opened a Parlor Doughnuts at 255 Morthland Drive in Jasper. Another is coming soon to 8130 Calumet Ave. in Munster.
Government
John Seibert retired as Valparaiso's parks director after more than 34 years of service to the city. Kevin Nuppnau, who has been with Valpo Parks since 2018, replaced him.
James Olszewski, of Lowell, was reappointed to the Indiana State Police Board until June 30, 2027. He is a retired Lake County deputy prosecutor.
Jennifer Gappa, of Knox, was reappointed to the State Board of Health Facility Administrators until June 30, 2027. She is a senior vice president of human resources with Miller's Merry Manor.
Wes Bennett, commissioner of the Indiana Department of Local Government Finance, was appointed the newest commissioner of the Indiana Utility Regulatory Commission. Bennett fills the vacancy left by Stefanie Krevda.
Dr. Lindsay Weaver will replace Dr. Kristina Box as the Indiana Department of Health commissioner.
Kevin Spicer, who originally was from Schererville, is U.S. Rep. Frank Mrvan's new chief of staff in Mrvan's Washington, D.C., office. Brett Bierman, of Crown Point, will move from outreach coordinator to district director in the Merrillville office.
Richard Paulk replaced David Adams as the commissioner of the Indiana Department of Workforce Development.
Health care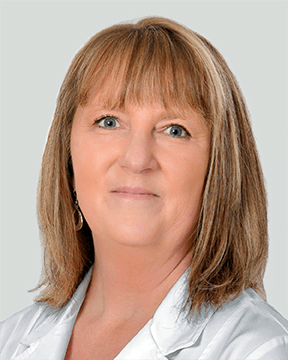 Northwest Medical Group welcomed Jennifer Aversano, a family nurse practitioner with a special interest in cancer care, to the practice of Drs. Tareq Braik and Mary Klein at Northwest Health — Hematology & Oncology in Valparaiso. Northwest Health — Porter honored ICU nurse Sierra Sweeney with a DAISY award for exceptional nursing, and Paul Brandfass, a nursing assistant, was the recipient of the PETALS award for outstanding support professionals.
Franciscan Physician Network Oncology and Hematology Specialists welcomed Dr. Arshad Husain to Rensselaer. Family medicine nurse practitioner Tawanda LeFlore joined the Franciscan Physician Network in St. John. Franciscan Physician Network OB/GYN Sharmilee Thota was chosen the recipient of the 2023 Franciscan Health Michigan City St. Luke Award.
Our Best Life Companies is expanding into Indiana with dental practices at 14911 State Route 23 in Granger and 514 E. Ireland Road in South Bend, and another on the way in Goshen.
Wisconsin-based Caravel Autism Health opened a location at 10419 Calumet Ave. in Munster.
Longtime CEO Beth Wrobel will retire from Valparaiso-based HealthLinc at the end of the year.
Information technology
Kevin Bush takes on the chief revenue officer role at Elkhart-based Surf Internet. He has 25 years of experience in the sales industry, including 10 years at Time Warner Cable and two at WOW! Internet, Cable & Phone. Michael McDaniel is the new vice president of customer operations, offering 30 years of telecommunications leadership experience at companies such as MCI WorldCom for eight years and Windstream for 14 years.
Law
Tolbert & Tolbert in Gary welcomed four new team members: Jasmine Cauley, legal assistant; Keeli Kubiszewski, bookkeeper; Linda Rachau-Tomaszewski, paralegal; and Ni'Avia Wilson, law clerk.
Manufacturing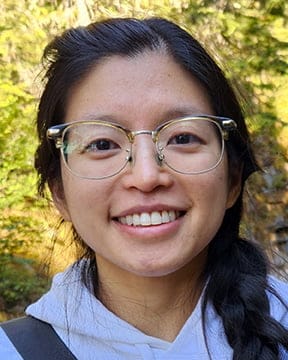 Michigan-City based Vanair Manufacturing appointed Stephen Adik to its board of directors. Adik has more than 40 years of experience in management and operations, including with companies Lehigh Valley Railroad, Chicago and North Western Railroad, Chesapeake and Ohio Railway/Baltimore and Ohio Railroad, NiSource and American Natural Resources Co.
Nonprofit
Dr. Kristy Yu was appointed clinic associate veterinarian at Munster-based Humane Indiana. She will provide veterinary care at the clinic in Munster and oversee the treatment of injured, sick or orphaned wildlife at the Wildlife Rehabilitation and Education Center in Valparaiso. Yu was recruited from Nevada.
Valparaiso resident Emily Yiannias is the next executive director of the La Porte County Symphony Orchestra. Jared Coller, who was the band director of Rensselaer middle and high schools, is the new education manager.
Real estate
Natalie Carpenter was promoted to branch vice president for Coldwell Banker Realty's Indiana offices, including daily operations of the Northwest Indiana offices in Crown Point, Schererville and Valparaiso.
Small business
Jerry Lain and Adam Minix opened Elite Truck and Auto, 0680 N. U.S. 35 in Knox. The two remodeled the former Miller's Auto Finance location.
Bill Wakal is building Wakal Machining LLC in the Knox Industrial Park at 205 Kloeckner Drive. He plans to open the shop in September.
Utilities
Merrillville-based NIPSCO hired Orville Cocking to lead its gas operations team as senior vice president. Cocking most recently worked for Orange & Rockland Utilities in New York as vice president of operations.
News
South Bend-based Teachers Credit Union changed its name to Everwise Credit Union to better reflect its range of customers.
Goodwill Industries of Michiana opened The Academy at the Goodwill Bendix Campus, 2721 Kenwood Ave., South Bend.
Indianapolis-based The Skillman Corp. transitioned ownership to an Employee Stock Ownership Plan for its 100-plus workers. It has an office at 8006 Aetna St. in Merrillville.
Range USA opened a fifth Indiana store at 655 W. University Drive in Mishawaka.
Michigan-based Wightman moved its South Bend office to a larger building at 1402 Mishawaka Ave.
Michigan-based DexKo Global Inc. acquired Horizon Plastics & Engineering Inc. in Osceola.
Verbio North America Holdings Corp. plans to invest $230 million into South Bend Ethanol's expansion.
Chipotle opened a new location at 2831 E. 80th Ave. in Hobart. It includes a drive-thru lane for pickup.
The first Indiana Kong Dog opened in the Southlake Mall's food court in Merrillville.
Send press releases and notices about new hires, promotions, awards and business openings and closings to Northwest Indiana Business Magazine by emailing news@nwindianabusiness.com
Read more stories from the current issue of Northwest Indiana Business Magazine.