Learn about people, companies making difference in their community
Agriculture
Mitch Frazier recently was named CEO of AgriNovus Indiana the organization that oversees the advancement of the agbioscience sector in the state. Frazier most recently served as CEO of regional John Deere retailer Reynolds Farm Equipment in Atlanta, north of Indianapolis. He succeeds Beth Bechdol, who was appointed in December as deputy director general of the Food and Agriculture Organization of the United Nations in Rome.
Banking
Dale Clapp recently was named region president for First Merchants Corp.'s lakeshore region. He has 35 years of banking experience and most recently served as senior vice president and regional chief sales officer for the bank's lakeshore region. Clapp served in the role after Citizens Bank merged with First Merchants in 2013. Clapp succeeds Daryl Pomranke who will focus on First Merchant's business development efforts in La Porte County.
Cincinnati-based Fifth Third Bank recently announced Mark Hoppe, who has served as Fifth Third's Chicago regional president since July 2019, will succeed Mitchell Feiger as chairman and CEO of Fifth Third Bank Chicago. Feiger retired May 29. The bank's Chicago market also includes its operations in Northwest Indiana.
Kevin Fautz, a 15-year veteran of financial service management and sales, recently was named branch manager for Teachers Credit Union's South Bend location at 1930 Ireland Road.
Economic Development
The Economic Development Corp. Michigan City, Indiana, recently appointed new members to its board of directors. New members serving automatic terms include Michigan City Mayor Duane Parry and board-appointed City Council liaison Angie Nelson Deuitch. New members appointed by Parry include: John Hendricks, NIPSCO; John Beutner, Captain Ed's; and Katie Eaton, Michigan City Chamber of Commerce.
David Near, founding partner of Pisces Foods L.P. and managing partner of Ramen Tatsuya Holdings LLC, and Todd Smith, restaurant industry veteran and former president and chief marketing officer of Sonic Corp., were appointed to Potbelly Corp.'s board of directors. The sandwich shop operator has locations around Northwest Indiana.
Donald Fesko, president and CEO of Community Foundation of Northwest Indiana Inc., parent company of Community Healthcare System, was reappointed to the Northwest Indiana Regional Development Authority Board by Gov. Eric Holcomb.
Education
Randall Minas of Crown Point and director of investments at Stifel, was appointed to the Indiana State University Board of Trustees by Gov. Eric Holcomb.
Purdue University Northwest recently named Yohlunda Mosley vice chancellor of enrollment management and student affairs and Catalina Rodriguez interim assistant vice chancellor for educational opportunity programs.
Mark Berends, professor of sociology and director of the Center for Research on Educational Opportunity at the University of Notre Dame, has been named an associate vice president for research at the college.
Nora Besansky, the O'Hara Professor in the Department of Biological Sciences at the University of Notre Dame, was elected to membership in the National Academy of Sciences.
Energy
Mike Hooper is the new senior vice president and president of NIPSCO. The Merrillville-based subsidiary of NiSource said Hooper will take over for Violet Sistovaris, who served in the role since 2015 and will move into an expanded role at NiSource.
Finance
Greg Hammer, president and CEO of Hammer Financial Group in Schererville, completed an advanced course on time-sensitive opportunities via the Setting Every Community Up for Retirement Enhancement and Coronavirus Aid, Relief, and Economic Security acts.
Government
Indiana Commissioner of Labor Rick Ruble retired from the post July 24.
Kay Nelson, director of environmental affairs at the Northwest Indiana Forum, was appointed to the Great Lakes Advisory Board, an EPA advisory committee.
Health care
Sean Fischer was named new chief financial officer for La Porte Hospital and Starke Hospital. He most recently served as vice president of finance and central Illinois division controller for the Hospital Sisters Health System in Springfield, Illinois.
Franciscan Health recently hired the following medical staff:
Angela Vittorio-Wilson, family nurse practitioner at Franciscan Physician Network St. John Health Center;
Drs. Kelly Rychter and Jelica Maze, nurse practitioner Catherine Lara; and physician assistant Eileen Stulgis joined Franciscan Physician Network Cardiology in Crown Point.
Manufacturing
Charlie Takeuchi recently was named new president and CEO of Sullair in Michigan City. Takeuchi succeeds Jack Carlson who retired March 31.
News
The U.S. Department of Transportation on May 29 announced the West Lake Corridor Project will receive $100 million in federal dollars through the Federal Transit Administration's Capital Investment Grant Program. It potentially could be viewed as an advance on the requested $355 million in federal money sought for the project. The project involves construction of a new 8-mile rail line extending from Hammond on the north to Dyer in the south, including four new stations. The award for the West Lake rail project was part of $177.5 million in federal dollars Indiana is receiving through the program this year.
Bristol-based Barletta Boat Co. projects its $7 million expansion project may create up to 250 new jobs in the next few years. The Indiana Economic Development Corp. said the Elkhart County-based maker of pontoon boats will invest $7 million to construct and equip a new facility on its 37-acre campus next to its 110,000-square-foot production facility at 51687 County Road 133. The new 144,600-square-foot building gives the company additional production space to meet growing demand in North America. Barletta broke ground in July and expects the new site to be operational by January.
The new La Porte Hospital has set Oct. 24 as its move-in date. Representatives said the new site at 1313 State St. will be completed by September and ready to begin transferring patient care services.
Gov. Eric Holcomb in late spring asked the State Budget Agency to reduce appropriations to state agencies by 15% for its 2020 fiscal year because of the sharp drop in April's reported state revenues. The move is in preparation for a continued decline in state revenues because of the economic impact of COVID-19. The state announced May 8 that April tax collections fell $964.2 million or 43.9% when compared to tax collections in April 2019.
Collaboration between Beacon Health System in South Bend and Franciscan Health has led to the new $21.6 million Franciscan Beacon Hospital in La Porte. Representatives for Beacon Health and Franciscan Health were joined by community leaders June 12 to dedicate the new 92,500-square-foot facility at 1010 W. State Road 2. The site features 31,819 square feet of new construction, a 24-hour, 10-bed emergency department, eight inpatient beds for overnight care with nursing station, laboratory services, an on-staff pharmacist, physical therapy, telehealth connectivity, and imaging and diagnostic equipment.
South Bend-based Teachers Credit Union announced June 9 that it completed its purchase of New Buffalo Savings Bank, which initially was announced in May 2019. New Buffalo Savings Bank had $111 million in assets and operated Michigan branches in New Buffalo, Sawyer and Three Oaks, which now operate as TCU locations.
Rensselaer-based American Melt Blown & Filtration, a maker of filtration equipment and accessories is launching a startup company to produce N95 masks and other medical-grade supplies to aid in the global COVID-19 pandemic response effort. The new company will be called Indiana Face Mask and is expected to employ 14 people. Indiana Face Mask is being launched by Fred Geyer and his wife, Stephanie, and their son Clayton. The Geyers plan to renovate a vacant 25,360-square-foot building in Rensselaer into a federally approved, personal protective equipment production facility. The building is expected to be operational by fall and will be able to produce 17 million face masks annually when at full capacity.
The South Bend Clinic and Allied Physicians of Michiana are combining operations. In February, the South Bend Clinic, Allied Physicians of Michiana and South Bend Orthopaedics finalized an agreement to purchase a majority stake in Unity Medical and Surgical Hospital in Mishawaka from Medical Facilities Corp. of Toronto, Canada.
Click here to read more from the August-September 2020 issue of Northwest Indiana Business Magazine.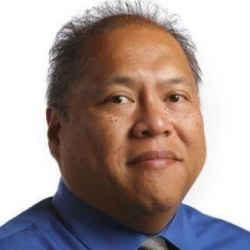 Latest posts by Larry Avila
(see all)