Logistics industry from ports to transporters searches for cleaner energy options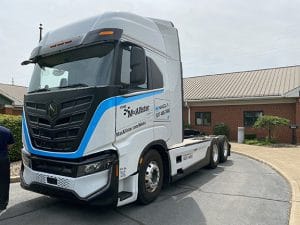 For some business industry leaders, alternative fuels not only make operational sense they are the right thing to do to improve air quality and meet the clean energy goals of the future.
Joe Deprizio, site manager for Bulk Equipment Corp. at the Ports of Indiana-Burns Harbor, said his company continues to seek ways to reduce its carbon footprint and lessen its impact on the Region's air quality.
"This is the air that we breathe, that our kids are breathing," he said. "This isn't just a checking the box type of thing."
Deprizio said the concept is something he truly believes in, and he isn't alone.
Joe Sanders, executive vice president of Ozinga Indiana, said his company has been on the leading edge of alternative fuels the past decade in a move initially driven by instable fuel costs.
Average diesel costs moved from peaks and valleys of $4.70 a gallon in July 2008 to $2.09 in May 2009. In July 2010, the price was $3.20, and then it climbed to $4.06 in April 2011, according to the U.S. Energy Information Administration. That volatility continued with prices dipping to as low as $1.99 in February 2016, then soaring to $5.75 in June.
"We made a business decision to find a stable and solid product that was domestic," Sanders said. Compressed natural gas fit the bill.
Making the switch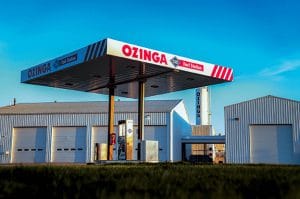 CNG surged in popularity about the time Ozinga began looking at alternative fuel options several years ago. The company has been acquiring CNG vehicles and building out the infrastructure necessary to keep them fueled and operational.
Jeff Bonnema¸ vice president of fleet management for Ozinga, said the company is committed to making a positive impact on the environment, and alternative fuel vehicles as well as equipment make that a possibility.
"Having alternative fuel equipment does make a difference," Bonnema said.
Bonnema said Ozinga began looking at alternative fuel when costs began spiking more than a decade ago. The company realized it could cut expenses in half by converting to CNG.
At the time, the company received a few grants to begin the transition.
"We went from a polluting truck to a nonpolluting truck," Bonnema said.
Not all alternative fuels work in every application. Bonnema said the company had to find the right fuel to power heavy equipment effectively and efficiently.
He said the company is keeping an eye on electric possibilities, but the technology is not there yet for an electric ready-mix truck. Work is underway on a hybrid gas-and-electric truck that might prove viable down the road, Bonnema said.
While ready-mix trucks might not be ready for electric power, many of the company's class one to three vehicles are electric, with electric charging stations that are open to the public. Bonnema said its CNG filling stations also are open to the public.
Operationally, there is no difference between diesel and CNG. Bonnema said the drivers like it.
Contractors do as well, he said. Often trucks are brought inside warehouses or other enclosed spaces. Unlike diesel-fueled trucks, CNG has no emissions, so workers and drivers avoid exhaust fumes.
"A natural-gas truck doesn't need particulate filters," Bonnema said. "It's already a clean, American-made fossil fuel."
Ozinga also has been buying renewable natural gas from a landfill in Texas to further its goals. Methane is extracted from the waste and put back into the pipeline.
Ozinga has been placing the CNG equipment in its heavier markets where 20 or more trucks are located. About a quarter of Ozinga's fleet has converted to CNG. In Indiana, the Gary fleet is 100 percent CNG.
Transitioning the South Bend fleet to 100 percent CNG should be complete within the next year or two, Bonnema said.
"We are committed to both financially and passionately," he said.
Becoming the norm
Carl Lisek, executive director of Drive Clean Indiana (formerly South Shore Clean Cities), said volatile fuel prices get people talking more about alternative fuel sources, but the industry movement to transition to greener fuel sources has been gaining momentum for a decade.
"When gas is $5 a gallon and diesel is $6, our phones tend to light up very quickly," Lisek said.
Lisek said, when the agency first started promoting the use of alternative fuels more than a decade ago, they had to work to convince skeptics that alternative fuel would work for them or their businesses.
Today, there are so many success stories not just in Northwest Indiana that Indiana businesses are seeking out ways to reduce their carbon footprint, he said.
"Some very well-established businesses are moving toward a more sustainable future," Lisek said. "It's not just about saving money; they are concerned about the environment."
Drive Clean Indiana collaborates with its commercial partners to provide a fleet analysis that looks at the total cost of ownership with different fuel alternatives to help those partners find the fuel that will work both economically and operationally for their purposes.
Lisek said there is no single "perfect fuel" option for everyone.
"We are giving them the tools to make a decision," he said.
Drive Clean has been overwhelmed by the different companies, small to medium and large businesses, pursuing their options.
"What we are seeing is a lot of diversity," Lisek said.
Lisek said the agency does not want to be a "green washer," promoting alternative fuels that simply will not work for the applications they are intended. Businesses want to know how they will fuel the equipment, whether they can get parts when things break, whether mechanics will be trained to fix them, and whether first responders will be properly trained to respond to some type of accident.
Infrastructure in the U.S. is not quite there yet, Lisek said.
Clean diesel and electric were popular among some early industry adopters looking to move rail cars through their yards, he said.
Traditional rail car movers were old locomotive engines that produced high amounts of exhaust, he said. The old engines in most cases had to remain on 24/7, 365 days/year.
"It's very ineffective from a cost perspective and air quality," Lisek said. Electric rail car pullers and clean diesel have helped make that process fuel efficient and cost effective. Electric cranes are emerging that can offer similar benefits as the rail car pullers.
"What we are starting to see is folks are overcoming the barriers," he said. "They are listening and looking at some of the white papers."
A majority of the projects Drive Clean has helped facilitate have been funded in part through grant dollars. Passage of the Inflation Reduction Act, which sets aside funding for grants for alternative fuel, will further help spur the market.
Lisek said some of the federal tax credits in the new bill will provide additional opportunities for businesses.
A lot of people look at some of the technology and think it is cost prohibitive, he said. When looking at the total cost of ownership, some of the incentives that have become available help move people toward cleaner fuels.
Lisek expects some of the work done in the past decade will educate corporations about how alternative fuel might help their business and the environment.
Lisek said switching to alternative fuel can be expensive. Tax incentives and grants open the door by lowering the initial outlay by corporations.
"We are trying to help our industry partners achieve their goals," he said. "It has to make operational sense."
At Bulk Equipment Corp. the Burns Harbor port, moving toward alternative fuel vehicles made sense operationally. The change also helps the company realize its environmental goals while allowing it to help its client partners do the same.
Deprizio said the company has been around since Bethlehem Steel was built in the 1960s, and works in partnership with contractors providing equipment. As a contractor and supplier of equipment, he said the company has tried to unite other contractors at the port with the vision of shared resources.
"This is the wave of the future," he said. As the Konecranes dealer for lift equipment and forklifts and container hanging equipment, his firm seeks options that work operationally while reducing emissions.
Vehicles at the port are not the type that would drive on the highway, Deprizio said. The heavy equipment must be able to maneuver over uneven ground and move heavy-duty loads.
"We do have an all-electric forklift that goes up to 18 tons," he said. "While 18 tons may be nothing to sneeze at, the next step will be cranes with adequate power for the 70-, -80-, 90- and 100-ton loads."
The need to green up operations and manage fuel costs are finding their way into company goals, regardless of size. Deprizio said Bulk Equipment wants to be at the forefront and will do what it can to support businesses in reaching their goals.
Bulk Equipment has been transitioning its fleet over the years.
"What we do provide is solutions for customers that are also in line with the goals of the port and the state of Indiana," Deprizio said.
Transition underway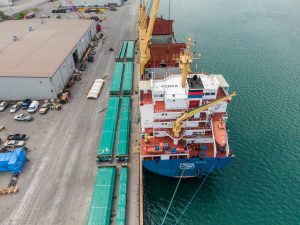 Andrea Hermer, chief operating officer for the Ports of Indiana, said the port received a grant in 2021 to look at energy sustainability and what might work at the port. It wants to work with its partners to achieve a more environmentally friendly operation.
"It really was helpful to get our arms around some of this," Hermer said. "It really started getting conversations, concepts and ideas going."
A recent event hosted at the port was designed to show port tenants what type of equipment is available and how it might work in their operation, she said.
This type of demonstration also helps the port check and see where its operators and businesses are in the process of transitioning to alternative fuels so it can provide the infrastructure necessary to support tenants' alternative-fuel vehicles.
"We want this to be a sustainable path," she said. The process will be gradual, but as companies switch out a few vehicles a year, the transition will grow.
Alternative fuels, including electric and CNG, offer some consistently stable rates so businesses can better plan their operational costs, Hermer said.
"From an operations standpoint, it starts to make more sense," she said.
The port is investing in the infrastructure needed to help its tenants move to alternative fuels. Construction is set to begin soon on a truck marshaling yard and a small solar grid to supply electricity to it.
Additional investments in charging stations and fueling options are on the horizon, Hermer said.
"The key is to try to get this to be part of the way we do business," she said.
It might cost more initially, but moving forward incrementally will make a difference.
"If different businesses replace one here or two here as part of their fleet and equipment budgets, it won't take us long to build kind of that critical mass," Hermer said. "The impact to our environment will be significant."
Click here to read more from the October-November 2022 issue of Northwest Indiana Business Magazine.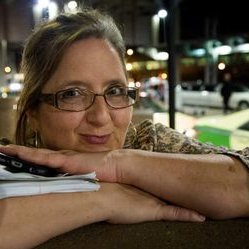 Latest posts by Carrie Napoleon
(see all)