Federal program may yield economic boost for Indiana's rural farming communities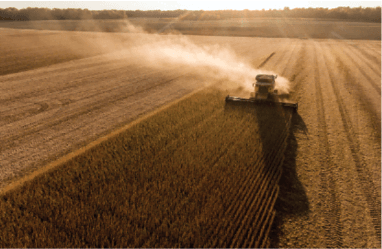 The sector contributes an estimated $31.2 billion to Indiana's economy, according to the state. And the Hoosier state is the eighth-largest agricultural exporter in the nation, exporting just over $4.6 billion in 2017.
The value of unprocessed agricultural commodities sold was $11.1 billion in 2017. Officials say there is room for growth, and it starts with a boost from the federal government.
Enter a $34,930 grant from the U.S. Economic Development Administration, designed to assist six Northwest Indiana counties in creating a strategy to leverage the Region's agricultural assets through the Rural Economic Development Model.
Bruce Kettler, director of the Indiana State Department of Agriculture, is optimistic about the program's impact.
"What we're trying to do is pull together all of the people that would be necessary for business growth," he said. "For instance, maybe a business currently in Indiana wants to expand, or (we may) get involved in the recruitment of companies that want to come to Indiana."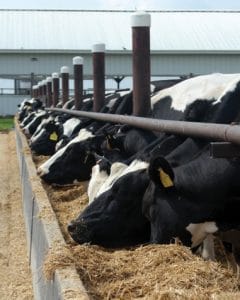 Long-term goals
Last fall, the Kankakee-Iroquois Regional Planning Commission was awarded the federal grant, which will fund the implementation of the REDM: a first-of-its-kind process developed in Indiana to assist rural communities in creating new economic development opportunities for Indiana's farmers.
Specifically, the funding will enable Benton, Jasper, Newton, Pulaski, Starke and White counties to study the agricultural output in their regions. They are charged with identifying opportunities for creating new markets, applications or processing facilities that would enhance the local value of the agricultural output.
The goal is to create new markets and income for local farmers, generate more local jobs connected to agriculture, and capture a greater source of revenue for the communities in those counties.
This work is not done in a vacuum — the Rural Economic Development Model was created as a collaboration between the Indiana Economic Development Association, Indiana State Department of Agriculture and the Purdue Center for Regional Development with support from the Indiana Farm Bureau, Indiana Corn Marketing Council, Indiana Soybean Alliance and the Indiana Office of Community and Rural Affairs.
The model encourages stakeholders to identify the assets and untapped potential that might be lying dormant or under-utilized in their region.
Kettler cited a recent example in North Central Indiana. That area has a strong manufacturing base, but there's more there than meets the eye.
Upon a closer examination, however, there's a significant number of "agricultural assets" there too, he said.
"We need to make sure we spend time developing and focus on what we have here already, to help us inform what we want to be," Kettler said. "That's the idea behind this Rural Economic Development Model."
According to Kettler, another important facet of the grant is that each region has the agency to decide how to best quantify or qualify success.
"What you really want to do is determine what it takes to enhance the value of local production," he said. "And in the case of agriculture, that's probably the production of certain types of crop or livestock."
Kettler said it may also involve bringing in new businesses that can help further growth.
"It kind of boils down to what success looks like in any of these regions within the state of Indiana," he said.
Indiana to the world

Although not directly tied to the U.S. EDA grant, the Indiana Grown program is also a venue to bolster the state's agribusiness scene.
According to Regan Herr, Indiana State Department of Agriculture communications director, Indiana Grown's 1,800-plus members create, grow or make a wide variety of items to sell.
"Some are large agribusinesses, like Red Gold, some are small one-person (shop) artisans who make soap, spin yarn or raise pasture meats," she said. "Each member is able to contribute to their local economy by selling their goods or buying their inputs locally."

Stephen Eastridge, director of the Jasper County Economic Development Organization, is leading agriculture sector growth efforts for Benton, Jasper, Newton, Pulaski, Starke and White counties.
Jasper County is the largest-producing agricultural county in Indiana, boasting commodities such as corn, soybean, beef, cattle, milk production and hogs.
"We have 130,000 acres of farmland in just corn," Eastridge said. "In Jasper County, we have 91,000 acres in soybeans."
At any given time, there may be between 38,000 and 40,000 cattle in Jasper County as well as 32,000 hogs, he said.
"When we think about Indiana being this agricultural powerhouse in the Midwest, you have to account for that," Eastridge said.
Eastridge believes the federal grant represents opportunity.
As an economic development professional, he is concerned with how the community can best leverage its agricultural assets when so much of today's economic development conversation is focused on manufacturing as the future.
"But the reality, I think, a lot of economic development professionals are seeing today is that (growing manufacturing) doesn't necessarily make sense for our smaller rural communities," he said. "We don't have the population, or the skill sets or education levels to keep up with the growth we're seeing in manufacturing (in) Indiana today."
If resources are diverted to strengthen manufacturing, it might leave Indiana's rural areas behind, Eastridge said.
He said an ag strategy might be the missing piece to create economic opportunities for the state's rural areas.
Seeking opportunities
To that end, Eastridge said stakeholders must pivot and start thinking about agriculture and food processing agribusiness as a form of manufacturing while taking advantage of the Region's and state's strengths.
"We're trying to marry the strengths that we have in agriculture and manufacturing together to be more sustainable and resilient for the long run," he said.
For example, that might mean making connections with people and organizations to see this goal to fruition. Where does our milk go when it leaves our Region, he asked? Where does our corn go?
"We need to start finding the opportunities to start the conversations with companies that currently exist in our county or Region, and the companies that exist outside (it) and begin to develop relationships so that we could attract those businesses to our Region," Eastridge said. "And that's really what the grant is about. It's about creating that plan."
Eastridge said he and the coalition of counties he's working with, have 14 months from the receipt of the award to have the plan in paper form. Once a strategy is in place, the next phase is implementation.
From there, Eastridge hopes to sort out a few unknowns sooner rather than later.
"There'll be dollars on the back end for things related to workforce training for specific industries that we might call out in the strategy," he said. "Eventually, we're going to need money to do the plan."
He hopes by November, he will have a plan and be collaborating with partners at both the state and local levels.
"Our hope is that different private partners might be interested in seeing this move forward and getting their help and financial backing to move this strategy forward as an entire Region," Eastridge said.
Paradigm shift
Connie Neininger, an economic development consultant assisting Eastridge and his team with the planning, said the paradigm needs to shift when it comes to emphasizing manufacturing as the way forward.

"As we started talking about rural development, we realized that our conversations in economic development are always about manufacturing," she said. "We started looking at food processing as a different form of agriculture, of economic development and a different form of manufacturing."
One specific vulnerability is that Indiana exports many of its agricultural products out of state.
"From an economic development standpoint, the more dollars we can keep in our communities, the better it is," she said. "We want those economic development dollars to circulate."
One means to that end is to add more value to the raw products produced here before they are shipped elsewhere.
"That's going to help our communities thrive," Neininger said.
She said the U.S. EDA grant provided the means to analyze those assets and help Eastridge and his coalition better understand what's missing from the mix so they can fill in gaps.
For instance, they heard from one company in Indiana that uses a lot of corn.
"So, we took a step back and thought 'here's an opportunity'," she said. "If we can help connect them to the growers to grow the type of corn they need, it's going to help our farmers, our landowners, our companies, our employers, our transportation, etc."
Neininger said it will help across the board.
"And plus, we think it will help eliminate some of this supply chain disruption that we have seen in the past couple of years with the pandemic," she said.
Neininger said it doesn't take much to move the needle to effect positive change.
"If we can just bring in a small percentage of the raw material that is being shipped from outside of the state, that could add millions and millions of dollars into these rural communities," she said.
Click here to read more from the February-March 2022 issue of Northwest Indiana Business Magazine.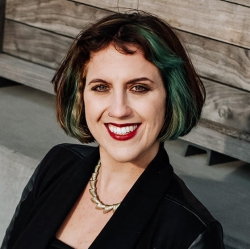 Latest posts by Lauren Caggiano
(see all)