Ken Iwama leads Indiana University Northwest through crisis, now looks forward to growing Region presence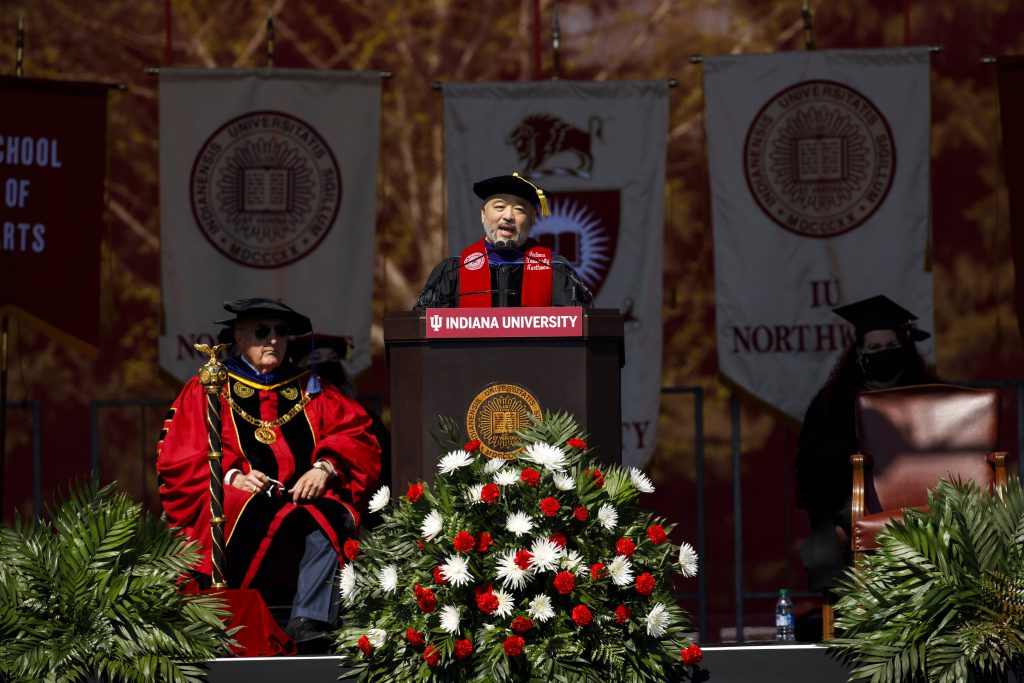 "It was Aug. 1, 2020, when I began my time on campus as we were all working together to plan for what was next in the COVID-19 pandemic," said Iwama, who is the seventh chancellor at IUN. "By the time we arrived to the end of my first school year here at IUN, despite a time of conflict and side-taking in other places, we experienced none of that here on campus."
He said humanity is alive and well.
"When I saw faculty, staff and students together with our community for our end -of-the-year commencement, it was a great way for me to mark my first year here in Northwest Indiana," Iwama said. "I always remember that moment."
Before IUN, Iwama was founding vice president for the division of economic development, continuing studies and government relations for the College of Staten Island of the City University of New York. He also served as chief of staff and deputy for two College of Staten Island presidents. Before working at that college, he was general counsel for the state-operated school district of Jersey City.
Iwama holds a Bachelor of Arts degree in English from the University of New Hampshire, a Master of Arts in labor and employment relations from the Rutgers University School of Management and Labor Relations, and a law degree from Seton Hall Law School.
Iwama said among the words heard often during the first year of his term as chancellor were "pivot" and "unprecedented," references which became common for many around the world in 2020 and 2021.
"We are forever changed living through this pandemic, and it's been a time for myself and people everywhere to re-assess and take a step back as we adapt," Iwama said.
The crisis taught everyone the importance being flexible, Iwama said.

"Being able to return to in-person learning in our campus has always been key as something that is core to our education experience and our values to give every student our investment of time and attention," he said.
Dave Ryan, executive director of the Lakeshore Chamber of Commerce and a member of the IU Northwest Board of Advisors, describes Iwama as a proven leader and welcome new identity for Northwest Indiana.
"The Region is very fortunate to have had strong, visionary leaders at Indiana University Northwest throughout its history, with chancellors Bruce Bergland and William Lowe leading the way since 1999," Ryan said.
"As one of the most diverse, urban and industrialized areas of the state, IU Northwest strives to enhance the quality of life in NW Indiana, and on Aug. 1, 2020, university leaders chose Ken Iwama as the new chancellor of IU Northwest, in the midst of a pandemic."
Ryan said Iwama is "a strong advocate of diversity, inclusion and collaboration," with a "proven record" from his tenure in New York at the College of Staten Island.
"Chancellor Iwama's experience in New York, coupled with his unbridled enthusiasm and ability to work with community leaders, bode well for not only his students but also for his new faculty members, and the entire region served by IU Northwest," Ryan said.
Ryan said the IUN advisory board appreciates the fresh perspective and bold vision Iwama brings to the campus, particularly his focus on the economic development of the Region as an anchor institution.
"We have all enjoyed working together with Chancellor Iwama during his first year in office," Ryan said.
Among top priorities for Iwama is to grow enrollment, as he describes, "at a time of shifting demographics," by working closely with area high schools for an early approach and partnership for promoting advanced education.
Iwama and his wife of 30 years, Joanne, live along Miller Beach in Ogden Dunes and agree they love their new landscape and life in Northwest Indiana.
"Our sons Patrick and Marcus and our daughter Midori all grew up when we lived along the Jersey Shore," Iwama said. "We also lived along the beach then, and you could look to the left and see New York City."
The view now when he looks to the left is Chicago.
"It's a much quieter and relaxed pace here, and we are loving exploring all of the small towns and communities of Northwest Indiana," he said.
Click here to read more from the October-November 2021 issue of Northwest Indiana Business Magazine.

Latest posts by Philip Potempa
(see all)