Entrepreneur Chelsea Whittington focuses on educating clients, next generation of marketers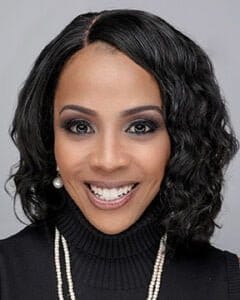 Chelsea Whittington is truly a woman on the rise. And she has the Society of Innovators and the Leadership Institute at Purdue University Northwest to back her up.
She earned a spot on their 2023 Women on the Rise list, which includes 21 leaders, innovators and entrepreneurs. Whittington excels in all three categories.
She has worked in communications for almost 28 years and has taught courses related to it at Indiana University Northwest as an adjunct instructor since 2004.
"I love teaching," she said.
But teaching communications courses is not enough, so she is growing course offerings at her business C Whitt, a marketing firm in Gary.
"I want to give organizations and individuals the tools they need to build their brands," Whittington said. "I also want to continue to expand my career in academia."
Classes she offers now include branding with live videos, email marketing and a Canva tutorial, according to her website.
In 2019, Whittington took C Whitt full time and introduced a newsletter, C Whitt Sauce. She started the business in 2015. Now she is working to expand her business' public speaking opportunities, social media and other workshops, and on making her company's offerings available online.
She also wants to take on larger long-term projects, by acquiring state certifications for her company as a minority-owned and women-owned business. And she wants her three-person team to grow, become stronger and more full time, she said.
With a potential client, she begins by offering a complimentary consultation.
"Meet people where they are, and work within their budgets," she said. "People must respect you for your experience."
She tells potential clients, "I'm going to produce; are you ready to be successful?"
She says the quality of the work should determine the pay.
"Don't nickel and dime yourself, and don't undersell yourself," she said. "Consider their (company's) budget magnitude and the timeline of their project. Charge per product, not per hour."
Karen Freeman-Wilson, president and chief executive officer for the Chicago Urban League and former mayor of Gary, has known Whittington since she was a high school honors student at West Side High School.
"I would describe Chelsea as a woman of faith who loves her family and community and is always willing to support others," Freeman-Wilson said. "She has a great sense of humor and is fiercely loyal."
Whittington worked as the director of communications in the administration of former mayor Freeman-Wilson from 2012 to 2015.
"It has been a joy to work with Chelsea in work and volunteer settings," Freeman-Wilson said in an email.
They have worked together for the city of Gary, Chicago Urban League, the Young Women's Christian Association (YWCA) and the Sojourner Truth House in Gary.
"I am especially proud of her commitment and success as a small businessperson," Freeman-Wilson said. "She has not only worked to grow her business but takes joy in promoting and growing the businesses of others."
In May 2013, Whittington was voted Most Influential Woman of the Year in the marketing and media category by the Northwest Indiana Influential Women Association.
She also worked in various communications management and special events roles since 1994 at organizations, including the Chicago Urban League, U.S. Cellular Corp., Johnson Publishing Co., the Gary Community School Corp. and Lake Area United Way in Hammond.
Whittington graduated from Purdue University in Hammond with a master's degree in organizational communication in May 1996; and a bachelor's degree in broadcast journalism from Howard University in Washington, D.C., in May 1994.
She also was an adjunct instructor in business communications at Indiana Wesleyan University in Marion from 2017 to 2021 and has been an adjunct instructor at Indiana University Northwest in Gary since May 2004. Subjects she teaches include social media, event planning, public speaking, public relations, introduction to computers, and email and the internet.
For those just starting out, she said to "be wise with your money early. As early as you can in your life, make wise choices." She said that placing a priority on being debt-free and saving "makes my dream more reachable every day."
Whittington is driven by her need to help other businesses thrive and receive support and give back to her community.
"I wanted security. I grew up in entrepreneurship," she said. As a spouse, teacher and worker in her community and church, she said, "I'm a normal, everyday American."
Click here to read more from the April-May 2023 issue of Northwest Indiana Business Magazine.