Region has plenty of resources to help people find connections with new professions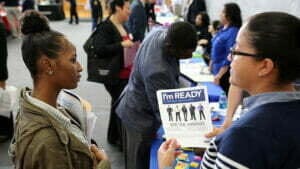 Most experts agree the pandemic fueled the Great Resignation when millions of Americans chose to leave their jobs and reassess long-term interests in a profession.
Some people were driven by a desire for a better work-life balance or a renewed focus on improving the world around them. Others, though, switched to fields they were passionate about, or in some instances, some were laid off.
Experts say one effect of the pandemic was to take a job change further and to reevaluate choices, deciding to switch not only a job but to completely change careers.
Joelynn Stephen, interim director of the Career Center at Purdue University Northwest, said the pandemic played a large role in causing people to reassess what they want their lives to look like.
"Work-life balance can become a new priority, to be with family, be more social," she said. "I think it's a really positive thing."
After living through the pandemic, some people have a new desire for a different type of schedule that includes working from home, Stephen said.
"There's support from employers, where you're trusted to do your job from home," she said.
Crisis aftermath
Partly because of fear of contracting the coronavirus, some employees still are reluctant to return to full-time in-person work.
"Of 5,858 working adults, 64% of workers reported feeling uncomfortable returning to the office, and 57% reported choosing to work from home due to concern over exposure to (coronavirus)," said a Pew Research Center survey.
The Harvard Business Review also reported offering a hybrid or remote work option could make the difference between an employee staying in a position or leaving.
"In a survey of (more than) 10,000 Americans conducted in the summer of 2021, 36% of workers said that, if not given a hybrid or remote option, they would search for an alternative, and 6% reported being willing to quit outright, even without a new position in hand," according to the survey.
Health care is among the fields where employees tended to make changes.
"I think COVID changed things a lot," Stephen said. Some left health care jobs for more administrative positions, rather than staying on the floor.
"There's been a lot of pressure during the last several years," she said. "People grew and gave what they could, and it's time for a different path."
During the past few years, health care works changed their professional goals.
In addition to improving a work-life balance, "there's a desire for social justice, more of a focus on that and making the world better," Stephen said.
Meaningful work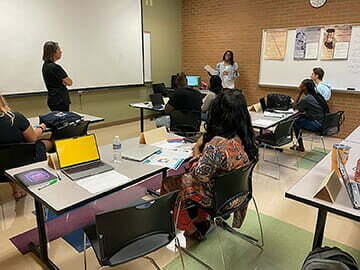 Kevin Comerford, director of professional development at the Construction Advancement Foundation, said from his perspective, people are motivated by rewarding work.
"Pay is always a motivating factor, but it's not the only factor," he said. "People want satisfying work, and they don't want to feel like a cog in a machine."
People want to make a difference in their communities, too.
"I think the pandemic led us to ask big questions about what matters and what is worth doing, and I think you see a lot of folks rethinking their careers," Comerford said.
DeeDee White, executive director of the Ivy+ Career Link at the Lake County campus of Ivy Tech Community College, said the main reason people are switching careers is not only for better work-life balance but more flexible schedules.
"The shift seems to be a result of the pandemic, and salary is no longer the main driver in career changes, but it is a close second," White said.
White said she has observed increased interest in nursing, entrepreneurship, information technology but also in welding and machine tools.
Aaron Pigors, interim director of the office of marketing and communications and director of instructional media and web services for Indiana University Northwest, said more people are working independently while favoring remote work, as well as jobs that can be done on their preferred schedule.
"A self-guided work schedule can open one's time to pursue their personal passions, return to school, take care of their family, or do other things a rigid schedule may not allow for," he said.
Pigors said seeking more flexible work and independence and looking for work people are passionate about has led them to fast-growing fields, including cybersecurity, systems administration and web development.
"Careers in these fields are both rewarding and often can be performed remotely," he said. "Health care interest seems to be growing as well, possibly to give back as so many of our lives were impacted by the pandemic."
He said many other industries also are experiencing growth, including business/finance and creative fields such as graphic design.
The right path
For those seeking a career change, Ivy Tech's White suggests they get more training or further their education.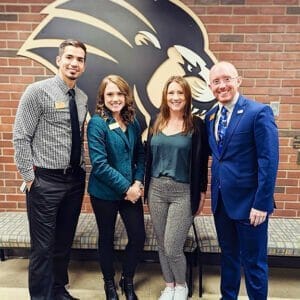 "If unsure of what you'd like to do, I would encourage a career assessment to gauge your interests," White said. "If a new career requires more schooling, begin to build your network as you're taking classes and make sure your new career aligns with your priorities outside of work."
Stephen at Purdue Northwest said self-awareness is imperative.
"The more you are honest about yourself, you can be more authentic to what you want to do," she said. "People want the position to reflect more who they are."
When Stephen meets with alumni and PNW students, she appreciates the opportunities to help them get to know themselves and to discover careers that might work for them.
"The more you meet with students, it's really cool to see them get insight into themselves," she said. "It's so rewarding to see the lightbulb go off."
Stephen said there is an awareness piece, including what someone disliked or enjoyed from past jobs.
"It's helpful moving forward," she said. "There's an importance of reflecting on your strengths, because there's greater growth from people leaning into their strengths and making them even better, to help choose the best path for them."
White said Ivy Tech has a variety resources to help people define or redefine a career path.
"Through Ivy Tech's Career Link division, students can take advantage of career coaching to assist with career exploration that includes wage information and job availability in our area," she said. "In addition to traditional academic pathways, we have a number of short-term training programs that result in good-paying jobs in in-demand industry sectors."
Ivy Tech has access to several grants that might assist students with tuition, too, White said.
Stephen said job seekers as well as the public can attend PNW career fairs during the fall and spring semesters.
"We bring employers from different industries to campus," she said. Purdue also has an online career center with professional development information online.
Stephen said internships with various industries also are heavily promoted on campus.
"Employers are looking for that internship and hands-on experience," she said. "A lot of nonprofit work includes a sense of working with underserved populations of folks."
Stephen said may employers are realizing there's inequality, and they want to correct it.
"There's a diversity and inclusion mindset," she said. "They're realizing what they do and can make a difference no matter where they are."
Stephen has enjoyed working with job seekers through the career center.
"It's OK to pivot and change careers," she said. "We give affirmations and a source of support; we have a person-centered office there to support them with non-judgmental support."
Stephen and other career center staff recognize the work they do can change someone's life.
Pigors said IUN is well-suited for career changers.
"IU Northwest has so many ways to help people change careers," he said. "We accept students who have some college credits but did not finish, who want to return to college to complete their degree, or even shift to a new area of study without totally starting over."
IUN also offers many online courses and some fully remote degree programs that favor schedules of working adults, Pigors said.
He said specific offerings include degree programs in many growing fields, including a variety of health care options in IUN's College of Health and Human Services.
"Our School of the Arts has programs in communications, graphic design, and the fine and performing arts," Pigors said.
For people in the workforce with limited time during the week, Pigors said, IUN has an AACSB-accredited School of Business and Economics with MBA programs, including weeknight and an accelerated premium weekend option geared toward working professionals.
"Don't be afraid to pursue your passion," he said. "It can be hard to take that first step, to make a commitment to quit your job, to return to school, or to apply to a job in a field that you have a lot of interest but not a lot of experience in."
He said, if people care about what they want to do, they should give it their all.
"Most importantly, believe in yourself and have confidence to try something new," Pigors said.
If that something new turns out to be teaching, then the Northwest Indiana Teachers Scholarship may be a next step. The program brings together resources from the Calumet College of St. Joseph, the Big Shoulders Fund Northwest Indiana and the Catholic Diocese of Gary, providing full-tuition scholarships for the Transition to Teaching program at Calumet College.
Successful applicants already have earned their bachelor's degrees.
As for finding the career that's right for you, Comerford with the Construction Advancement Foundation suggests: "choose a job you love, and you will never have to work a day in your life."
In other words, work should be a choice rather than a burden, Comerford said.
"That's not to say that there won't be hard days, but your chosen work should imply purpose and meaning," he said. "So, my advice is to find something that provides purpose and meaning, and the work will likely be fulfilling as well."
Click here to read more from the December-January 2023 issue of Northwest Indiana Business Magazine.