Educational partnerships essential to building effective internships for students and employers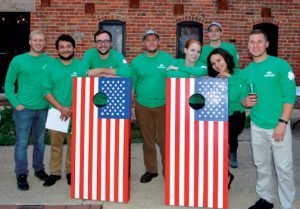 Real-world work experience not only looks good on a resume, it helps students get a head start on their careers.
This was the case for Chris Sales, who landed a program management internship at Sullair in Michigan City in summer 2018 while a student at Purdue University Northwest.
"I would host meetings, make presentations, gather data to be presented in front of management, and facilitate in all background exercises that made that program successful," Sales said. "(Sullair) grooms you to learn skill sets that will benefit you in the work world and put you in scenarios where you have to adapt and push through."
Sales said he took on real-world responsibilities, just like other full-time employees. And when the internship was over, he was offered a permanent position.
"Do not be afraid to ask questions, show you want to be there every day and work hard," said Sales, who now works as an applications engineer. "If you show a strong work ethic with the passion to learn and drive yourself to be better, it will not go unnoticed."
Kelly Molchan, who has been coordinating Sullair's internship program the past five years, said it's not unusual for Sullair to hire interns who excel. Molchan said to ensure a meaningful experience, Sullair follows guidelines before an intern is ever hired.
"At Sullair, when a manager requests an intern, they are required to have at least three projects outlined that they need to accomplish," Molchan said. "These are real-world issues that the interns are working on and will be providing solutions for; all the things they would expect of a regular full-time employee they expect of their interns."
Having a real need — and a tangible project outlined in advance — is important so the experience is worthwhile for students.
"You have to have a need for an intern," Molchan said. "It's an expense, a time commitment and a training commitment. (Managers) have to be able to take the student under their wing and give them guidance and instruction."
Resumes tell a story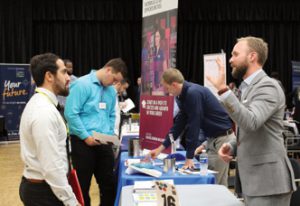 Molchan said having a solid resume is a necessary start to securing a job, and students should be prepared to show their strengths and personality throughout the document.
"Students need to pay particular attention to the resume that they submit," Molchan said. "If they only have fast food experience or something unrelated to the type of career they are seeking, they need to include hobbies: working on their car at home, volunteering, running or playing piano, anything that tells us what kind of things they are interested in gives us insight."
Students should attend college career fairs, volunteer, network in their community and get their resume out to as many potential employers as possible.
One way to do that is through IndianaINTERN.net, which matches interns with area employers in the Hoosier state.
According to Mike Slocum, executive director of Indiana INTERNnet, 2019 has been a record-breaking year for the organization with more than 15,000 students logging in to the site. Indiana INTERNnet filled more than 1,160 internships across the state in 2019, and almost 950 employers have posted more than 3,900 internship positions.
Slocum said internships have seen remarkable growth in the last few years for several reasons.
"Long-term sustained economic growth has made it more difficult for employers to find the talent they need, so more employers are being innovative in their talent acquisition strategy by starting or expanding internship programs," Slocum said. "Because most employers can't just post jobs for college graduates and have those all filled, they are doing what they can to meet students earlier in their careers."

Slocum said internships aren't limited to college students; high school students are looking at internships as a way to explore potential careers, and adults are more willing than ever to use internships to explore a career change or return to the job market in a high-demand, high-wage field.
"Internships are more important than ever for today's students, because students with strong work experiences will set themselves apart from those who do not have them," Slocum said. "It simply isn't enough anymore to earn a college degree or certificate; students must be able to demonstrate what they learned in the classroom via work experience."
According to the National Association of Colleges and Employers (NACE) Class of 2019 Student Survey, the job offer rate for the Class of 2019 was strongly tied to internship experience and the pay status of those internships.
The survey found more than half of all graduating seniors who applied for a full-time job — 53.2% — received at least one job offer. Within the group, 57.5% of students who had an internship and 43.7% of graduating seniors who did not have an internship received a job offer.
In addition, NACE's 2020 Job Outlook report indicated that when employers have equally qualified candidates, they choose the candidate with internship experience.
A pipeline for recruiting talent

Many employers use their internship programs as a pipeline for recruiting employees. For Craig Clemons, of Crown Point, a social services internship with Symphony of Chesterton led to a full-time position even before he graduated.
"The experiences I encountered during my internship taught me lessons that a textbook is incapable of teaching," said Clemons, who graduated from Ivy Tech Community College in December with an associate degree and will graduate in 2021 with a bachelor's degree from Indiana University. "No amount of classroom instruction could have adequately prepared me to discuss hospice care with families or in arranging the proper support systems for guests when they discharge to home from Symphony."
Clemons said, while classroom instruction is essential, there is no substitute for real-world experience. He is now working a full-time job as a social worker for Symphony of Crown Point.
"The staff at Symphony was exemplary in their professionalism and leadership skills," Clemons said. "They embraced me, were diligent in answering my questions and always treated me as an equal."
Slocum said that's a key component to a meaningful internship experience.
"They are intentionally structured by both the student and the employer to meet specific goals; they provide day-to-day support for employers with additional opportunities for students to lead projects that build employer capacity," Slocum said. "The return for both interns and employers is greater when a plan for the internship is in place."
A win-win situation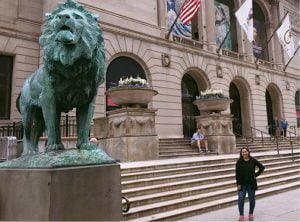 A summer internship in the human resources department at the Art Institute of Chicago proved to be a memorable one for Eliseth Barajas, a senior at Purdue University Northwest.
"I gained so much knowledge and hands-on experience from this internship," said Barajas, of Hammond. "Before starting I only knew what I had learned in my classes, and from this experience, I was able to dive into my field of study."
Barajas worked closely with the museum's talent acquisition team to learn the full cycle of the recruitment process. She said the internship experience has created other opportunities for her.
"The Art Institute of Chicago is a prestigious, world (renowned) organization, and having this experience has already had a big impact for my career," said Barajas, who plans to graduate in May. "Now, I'm a human resources intern for Albanese Confectionery."
Promoting internships
Abiodun Durojaye, director of career development and employer engagement at Ivy Tech Community College for Valparaiso, Michigan City and La Porte, said in today's competitive economy, internships are becoming more important than ever.
"Here at Ivy Tech Community College, we encourage our students to make placing in an internship a top priority," Durojaye said. "This makes students more competitive and also gives them access to the company they are interning for."
Matt Wells, executive director of career management and business partnerships for Purdue Northwest College of Business, shared the sentiment.
"Employers in nearly every industry place a high premium on candidates' ability to ramp up quickly and contribute, and a college graduate with the kind of hands-on experience in their chosen industry is a much more attractive prospect than one with a degree alone," Wells said.
"The trend only continues to accelerate here: for the past several years, internship experience has topped the list of the most important factors that affect employers' hiring decisions about recent graduates."
Joelynn Marconi, assistant director of career management and coordinator for Purdue University Northwest College of Business internship program, agreed.
"Internships are an absolutely critical piece in maximizing students' time in college," Marconi said. "In addition to making them more marketable, internship experiences also help refine students' goals and passions so that they leave school with a clearer focus and direction for life."
Colleges and universities throughout the Region work year-round to cultivate relationships with area businesses and their own alumni.
"We meet with employers and local chambers and build relationships and rapport throughout the year — not just when it's time for recruiting," said Sharese Dudley, director of career services for Indiana University Northwest.
"We also stay connected with our alumni and encourage our graduates to give back once they get in the professional world and can act as a resource for our students."
Durojaye stressed the need to develop community partnerships to build a pipeline.
"We hold workshops with our students showing them the value of internships and what companies in our community are looking for interns."
Dan Mallon, department chair of Ivy Tech Community College human services program, said an internship adds a valuable dimension to a student's education.
"Internships are an excellent way of preparing students for entering professional life," Mallon said. "In the classroom they learn about theory and strategies; the internship teaches them the techniques and applications of these principles.
Mallon said, as an educator, he is limited to the textbook and firsthand experiences he can share in the classroom. But during an internship, it's a different story.
"Interns are afforded the opportunity to observe their professional mentors in action," Mallon said.
"One of the best aspects of an internship is its ability to change a student's worldview. No longer is it an issue they may have been dealing with on a personal level or within their own family, but now they see how the same issue affects others and the greater community."
Click here to read more from the February/March 2020 issue of Northwest Indiana Business Magazine.