Nonprofits rely on companies to fill fundraising gaps, give employees time to volunteer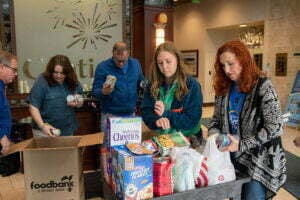 Philanthropy can play a major role in business, and there are companies for which that benevolence has deep roots.
Centier Bank is one of those companies. It was founded in 1895 to give back to the community, said Lauren Zurbriggen, philanthropic engagement manager at Centier.
Whiting didn't have a bank at the time, and Henry Schrage opened the Bank of Whiting, which later became Centier. Schrage was heavily involved in the growth of Whiting, and he was a community steward.
"It's part of the very fabric of the Schrage family, and then it really became an emphasis over the last several years," Zurbriggen said about Centier contributing to nonprofit organizations and other groups in the area.
According to Centier, the financial institution donated to more than 600 organizations in 2022. Centier also volunteered more than 20,000 hours last year at 560 organizations.
That is a lot of nonprofits, but just a drop in the bucket of the many organizations seeking donations and volunteers in the Region. The Indiana Nonprofit Database shows almost 6,500 nonprofit organizations in Lake County alone and more than 2,000 in Porter County.
Businesses have long collaborated with many of those entities to provide assistance in their missions. Some contributions reach into the millions of dollars. But nonprofit organizations and other entities that rely on donations say every dollar matters. Gifts don't need to be large to have a significant impact in the community.
While corporate giving can come in different ways, there are also a variety of reasons why businesses provide assistance.
"Businesses choose to give back to the community through financial donations or volunteering time often because it is the way that they were raised and is a part of their DNA," said Jokima Hiller, an assistant professor at the School of Business and Economics at Indiana University Northwest.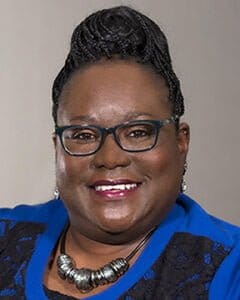 Hiller said even if a businessperson doesn't have a natural giving spirit, they understand that philanthropy can benefit a company. She referred to it as the double bottom line.
"The first bottom line are your financial profits, and the second, or double bottom line, are the benefits of social responsibility," Hiller said. "This includes making a positive impact on your community."
She said there are a variety of other reasons businesses support community organizations, and that includes brand recognition, increased customer loyalty, employee retention and exposure to different audiences.
Hiller said donating to area organizations can also help business because it can create a "multiplier effect" in which resources provided to a group could be spent at different businesses in a region.
"For example, donations made to a school by a business will allow educators to go out into multiple businesses in the community to purchase school supplies, office supplies, offer incentives such as gas cards to be used at local gas stations, restaurant coupons to be used at local restaurants, student awards and trophies, new technology," she said.
Financial assistance
One of the simplest methods businesses give back is through monetary donations.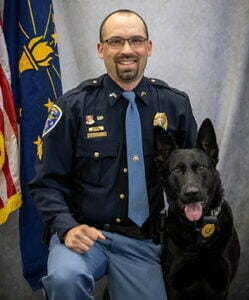 Griffith Police Chief Greg Mance said that's how the town formed its K-9 unit.
"Our canine team started in 2013, and it started from donations from the community, from residents to corporate neighbors like Centier, and it's continued to rely upon that to help it grow and expand and continue," Mance said.
The unit routinely approaches business owners when they see there are grants or other funding opportunities available. Mance said Griffith reached out to Centier about funding needed for a K-9 vehicle, and the department received a $5,000 gift from the bank in December.
Mance said one of Griffith's K-9 vehicles was high in mileage, and when a dog is in a car, the vehicle is left running to keep it temperature-controlled.
"Those vehicles get put through a lot," Mance said.
He said property tax money and budgets only go so far in municipalities, and "those shortfalls, those gaps are filled by great community neighbors like Centier Bank."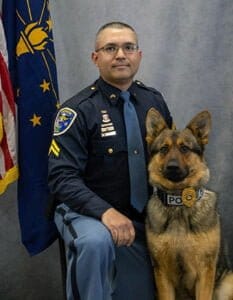 Police departments in Lake County routinely share canines when there's a need in another community, so the Griffith dogs often help in different municipalities.
"(Centier's) donation not only benefits Griffith but benefits the entire Region," Mance said.
Dakita Jones, Centier's community relations manager, said when the bank provides support to a nonprofit or other organization, it doesn't want to just give a check and walk away. Centier strives to stay engaged with the groups it supports and looks at other ways the bank can help. That can include volunteering at an event or providing financial education.
Jones said Centier has been closely involved with Love, Jessica, which is a local nonprofit organization that provides financial support to families who have experienced stillbirth or miscarriages.
When the group initially approached Centier for assistance, the bank was able to help financially. It also helped Love, Jessica establish a plan to approach other businesses to seek assistance.
"So, we've had a really great relationship with that specific organization, and it's just a great example of how we want to support an organization and work together wholly," Jones said.
Volunteers welcome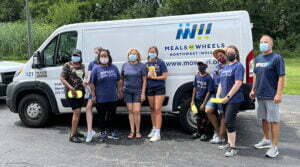 Local nonprofit organizations agree that financial support provided by businesses and individual donors is essential, but volunteering is equally important.
The Meals on Wheels of Northwest Indiana organization delivers more than 2,000 meals each day to homes, adult day centers, congregate sites and other locations to provide clients with nutrition that can help them age with dignity and maintain their independence. The Merrillville-based organization reaches Lake, Porter, Newton, Jasper, Pulaski and Starke counties.
Sandra Noe, executive director of Meals on Wheels of Northwest Indiana, said many businesses put together teams that receive extended lunch hours to help deliver food for Meals on Wheels.
"It takes a lot of volunteers to help us make that difference in the community, and yet, those donated services every year come pretty close to a half-a-million dollars when we calculate what we would have to pay a paid driver for what we're doing," Noe said. "That's huge."
She said there are many reasons the corporate teams are valuable. Noe said it can be hard for families to devote time to volunteering, especially when there are two working parents.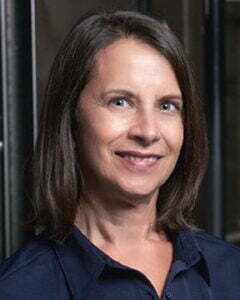 "So, if the company they work for gives them this time to go out and give back to the community, that's like a triple win," she said.
Noe said many businesses provide different forms of volunteer service and financial contributions to Meals on Wheels of Northwest Indiana. The International Brotherhood of Electrical Workers Local 697 based in Merrillville is among them.
"When we were kicking off our big end-of-the-year fundraiser, the apprentices came out and helped us set up our lights for our Light the Night-themed fundraiser," Noe said. "Here were guys who were taking a Saturday to come out and climb up on ladders to help us put our lights up so we could have this very visual display of the impact Meals on Wheels has on the community. It was wonderful."
The Light the Night campaign included Trees of Hope outside the Meals on Wheels campus in Merrillville. The display lit up more as the organization received donations through the campaign.
Joree Richards, the business manager at IBEW Local 697, said the union's members live throughout the Region, and they enjoy being good community partners.
"When we can, we pool our resources together for good causes to give back to our communities that we live in and we work in," Richards said.
Like other businesses that contribute to area organizations, there are a variety of ways the IBEW selects which places to donate time and funding.
Richards said IBEW members often come to leadership after hearing about a particular need, project or organization. He said many nonprofits also reach out to the union about possible assistance.
"When we're volunteering and giving back, it's a sense of pride to give back to our communities," Richards said. "That's what it means most to know that we are being a help and an assistance to the community."
Entities like the IBEW can be instrumental when volunteering at local organizations because they have equipment that can help nonprofits with specific projects.
Brian Fitzpatrick, the chief executive officer at Humane Indiana, said a recent experience with the Kankakee Valley Rural Electric Membership Corp. is an example of that.
"They brought out all of their equipment (last year), and they helped cut down trees and clear some of the forest in our wildlife rehabilitation center," Fitzpatrick said.
Two-way street
Humane Indiana has a shelter and clinic in Munster, a wildlife center in Valparaiso and its main office and shop in Highland.
Fitzpatrick made it clear that the volunteer services the organization receives are greatly appreciated.
"We exist only because of the volunteers because we could never afford to pay a staff" to handle all the work they provide, he said.
As much as Humane Indiana needs community support to function, the organization also focuses on ways to help others. That includes assisting area businesses. Fitzpatrick said Humane Indiana's store at 8149 Kennedy Ave. in Highland features a "shop local" area that has items from Northwest Indiana businesses.
"So, we're looking to also support other small businesses in the area, so we've got the local honey, and we've got the local jams and jellies and the soaps and the candles and the popcorn … all the stuff that's made here, we're selling to help support them," he said.
Fitzpatrick said Humane Indiana also handed out more than 15,000 pounds of pet food last year to area residents who likely would've given up their pets because they lost their jobs and couldn't afford to buy food for their animals.
"Wherever we see people in trouble, we see animals in trouble and vice versa, and the ways that we can help, I want to be able to help," Fitzpatrick said.
Click here to read more from the April-May 2023 issue of Northwest Indiana Business Magazine.