South Bend minor league team thrives as an affiliate of Chicago's North Siders.
by Ben Smith
The past is here, beyond the shimmering emerald grass, beyond the walkway that runs behind center field, beyond the scoreboard welcoming everyone, on this blue-sky evening, to Four Winds Field and Back to the Future Night.
But first, back to the past.
It's in a small enclosure behind the scoreboard, where field equipment and assorted other clutter rests in peace. Against one wall, nearly hidden, is a large round illustration of a yellow-green-and-silver bird. His given name is Swoop, and once upon a time he was the mascot of the Midwest League Single A baseball team known as the South Bend Silver Hawks.
The baseball team survives. But the color scheme is now a familiar red-white-and-blue, and the skyline is dominated by a giant inflatable bear–a bounce-house in the kids' Fun Zone beyond left-center that is master of all it surveys.
Which is, these days, the South Bend Cubs of the Midwest League.
Team owner Andrew Berlin swung the deal that made South Bend a Chicago Cubs affiliate last fall, and a neater fit can hardly be imagined. A Cubs town 100 or so miles by highway or rail from Wrigley Field is now a Cubs town squared–as evidenced by the locals who differentiate between one and the other by saying "Cubs" for their MWL team, and "Cubs-Cubs" for the parent club.
"It's absolutely amazing," says South Bend Cubs president Joe Hart. "I think obviously we had our excitement just because we were going to be part of the Cubs organization, and then the fact they're playing well … we're showing highlights on the video board of Cubs scores and you hear the crowd go crazy and cheer when they're winning. So it's kind of like the perfect storm coming together."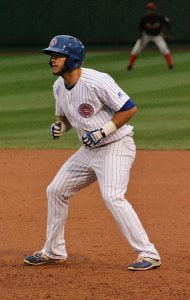 It would seem so. On one end, you've got a Cubs regime whose goal from the start was to rebuild the farm system, a process that's beginning to pay dividends as young stars such as Anthony Rizzo and Kris Bryant lift the Cubs from bottom feeders to contenders.
And on the other end?
In South Bend, you've got a Single A franchise that has been around almost 30 years. And it, too, has undergone a renaissance of its own with the transformation of Coveleski Stadium into Four Winds Field at Coveleski Stadium, one of several gleaming state-of-the-art facilities in the Midwest League.
A statue of South Bend Hall of Famer Stanley Coveleski in mid-pitch still greets visitors at the brick-and-wrought-iron north gate, but beyond that the place looks nothing like it once did after five years of renovations.
Beyond left field and left center, there's the Fun Zone and the Budweiser Picnic Garden and the Miller Lite Tiki Hut and the Cubs Den team store, housed in a former synagogue that's listed on the National Register of Historic Places. There's a splash pad and terraced lawn seating in the right-field corner. There's the Barefoot Wine Party Patio just beyond the 360 sign in right-center, and cheery beds of yellow daffodils and decorative grasses everywhere.
Four Winds has seating for 5,000 fans, and the Cubs are drawing right around 4,500 per game so far. Seven times, as of this night in mid-June, they've drawn crowds exceeding 7,000.
"We're thrilled to begin this partnership with Sound Bend," Theo Epstein, president of baseball operations for the Chicago Cubs, said on the MWL website last fall. "South Bend provides exactly what we were looking for both as a community and as a farm club."
The community and the farm club say the same about the Cubs.
"Exciting," says infielder David Bote from Longmont, Colo., who was drafted by the Cubs in 2012. "Just to be drafted in general, and then to be drafted by a team the caliber of the Cubs.
"The fan base and following is just ginormous. It's worldwide. Everywhere in the country you go, there's Cubs fans."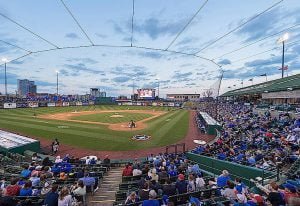 Fellow infielder Andrew Ely agrees. Drafted last year, the Cubs have always been on his radar. He grew up in Boise, Idaho, where until this summer the Cubs' short-season Class A affiliate played.
"The (Cubs) haven't won in a long time in terms of the World Series and at the highest level in the bigs, but it seems like there's fans everywhere," Ely says. "That's' something I've experienced in the first year and a half. Everywhere I go there's Cubs fans."
More so this summer than ever, given the parent club's rise in the National League Central standings. Whether it's that or the increased emphasis on the farm system, or a combination of both, everyone in the organization feels a certain electricity in the air these days.
"We just came back from Peoria, who's with the Cardinals, and you can still feel a little tension between Cubs and Cardinals even there," Bote says. "You get Cubs fans and Cardinals fans and they're cheering … it's a great atmosphere."
Ely agrees.
"It's more of a winning attitude," he says. "You see the higher club's doing well and you kind of don't want to be the one or two clubs that don't perform. So it's kind of a thing we're all competing off of that. "
No one senses it more than South Bend manager Jimmy Gonzalez, who's been in the organization for three years and manages a roster that includes players from the U.S., Canada, Cuba, Venezuela and the Dominican Republic.
"I think everyone on the planet knows the history of the Cubs and how they haven't won, and the excitement that winning brings," Gonzalez says. "We want to see our big club succeed. And I think it does filter down to these young guys.
"They see these guys winning, and it's a motivation for them. When they see these guys winning it's like, 'Wow, I want to go win there.' So I think it's good to see throughout the whole organization."
On this night in June, the winning doesn't happen. The Cubs are a young club even by Midwest League standards–their top prospect is 18-year-old infielder Gleyber Torrez–and on this night they'll lose 3-1 to the Dayton Dragons to drop to 27-35 on the season. Gonzalez, meanwhile, will get tossed arguing a play at the plate.
Comes with the territory in the Midwest League.
"This is a full season," Gonzalez said earlier. "You go to spring training, you break camp and you go to wherever you're going. Especially at this level, with these first-year guys, it can be tough on them. A lot of them are learning right now, not necessarily baseball things, but what it takes on a daily basis."
That apparently goes for everyone.
On this night, for instance, 4,746 fans show up at Four Winds. A Marty McFly look-a-like throws out the first pitch. And the team's two mascots make their usual appearance.
One is Stu, a bear. The other is Swoop himself, who–like so much else here–has undergone his own transformation.
He now wears a Cubs cap and a Cubs jersey.