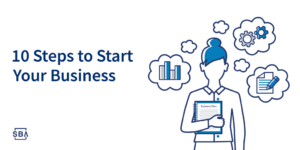 Statistics show that owning your own business is the second-best way to grow wealth behind owning your own home. Ready to change your life and become an entrepreneur? The U.S. Small Business Administration (SBA) can help! Starting a business involves planning, making key financial decisions and completing a series of legal activities.
Here are 10 steps to help you get started:
Ready to learn more? Check out the Small Business Administration website for in-depth tips, learning, resources and tools. Need help one-on-one? Our SBA resource partner network provides free or low-cost personal counseling and training in your area for the life of your small business. Simply type your zip code in at Get local assistance and set up your first appointment today. Good luck!
This month's "Did You Know?" tip was contributed by the U.S. Small Business Administration.