It's fall in Indiana! The colorful leaves are falling now, but soon crisp, white snow will usher in the holiday season. Whether you get in the holiday spirit by canvassing the stores for the perfect gift for everyone on your list or prefer the convenience of online shopping, here are some great gift ideas that will give you a head start on all your holiday shopping. You might even find a few ideas to put on your own wish list! — By Shari Held
For Him
Ringo's Golf Center (ringosgolf.com)
Located in Crown Point, Ringo's has a great selection of all things golf-related–the top golf club lines are TaylorMade, Ping and Titleist. Be sure to pick up some ProV1 golf balls as stocking stuffers.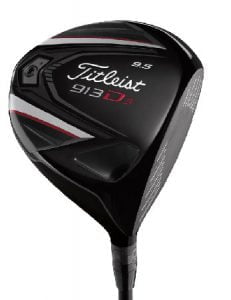 We recommend: He'll appreciate a new putter, wedge or driver but to be on the safe side, give him a Ringo's gift certificate.
You'll find autographed baseball, football, hockey, tennis and collegiate sports memorabilia. Offers free shipping on select items–ground shipping is only $4.99 on orders of $50 or more–and "Deals of the Day."
We recommend: A signed tennis ball in a domed display case or an autographed football helmet would look great in his office.
A night out on the town in Chicago is always welcome gift. He'll love tickets to a Broadway show such as "The Phantom of the Opera," which opens in January at the Cadillac Palace Theatre or "Alton Brown Live," which opens in February at the Ford Oriental Theatre. Be sure to take advantage of holiday offerings offered by hotels while you're there.
We recommend: The Conrad Chicago. Its "Just Chilling" package includes two American Breakfast vouchers to The Terrace Restaurant, two sleep amenities from the Sleep Menu, two Chillcation cocktails from the Terrace Bar, a 25 percent discount off food and beverages and two Chillcation mugs, plus other perks.
For a night out closer to home, there's no place better than The Morris Performing Arts Center (morriscenter.org) in South Bend. "Home for the Holidays" performed by the South Bend Symphony Orchestra (Dec. 21-22) and featuring soprano Juliette Petrus and the Home for the Holidays Festival Choir will get you in the holiday mood. The Nutcracker (Dec. 14-15), featuring the Southold Dance Theater, is another favorite classic.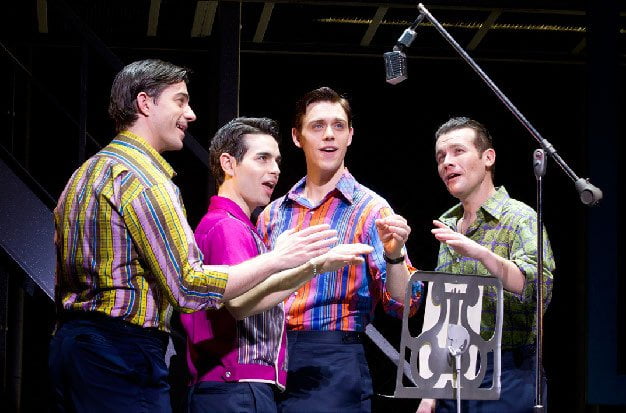 We recommend: A dinner package with tickets for the Broadway Blockbuster, Jersey Boys (Nov. 26-Dec 8). You'll reap the benefits of unharried parking, preferred seating and a tasty buffet dinner at the Morris Bistro.
John Cicco's Menswear (johnciccosmenswear.com)
Check out the Merrillville store's "Made in the USA" lines this year featuring Hart Schaffner & Marx suits, Barbara Blank ties, Stetson Dobbs dress hats and others. Purple, lavender, orange combined with black or brown and earth tones are popular this year.
We recommend: A flip side, reversible half-zip sweater by Tommy Bahama paired with a sports shirt with contracting collar and cuffs.
Martin Binder Jeweler (martinbinders.com)
Located in Valparaiso, this family-owned store has been in business since 1940. Binder's carries a variety of men-pleasing items, including an impressive selection of men's watches.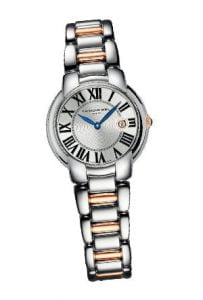 We recommend: The new Rolex Oyster Perpetual GMT-Master II. This watch, which was first introduced in 1959, is made of 904L steel. It features a rotatable bezel insert made from two-color ceramic Cerachrom, which represents day and night. The insert is scratch-proof and highly corrosion resistant, and boasts a diamond-polished surface of exceptional luster.
Wild Birds Unlimited (valparaiso.wbu.com)
Located in Valparaiso, Wild Birds Unlimited has everything to keep a bird-lover happy all year round. You'll find a big selection of birdhouses and feeders. A basic pole system for feeders starts at $69.99 and he can use his manly talents to go from there–1,000 combinations are possible.
We recommend: Eagle Optics binoculars ($49.99 and up) will make it easy for him to identify birds and make it more enjoyable.
For Her
Martin Binder Jeweler (martinbinders.com)
The two biggest jewelry trends for the season are pendant earrings and large crosses inspired by period crosses. Dangly pendant earrings have a chandelier-shape decorated with stones and intricate metal detailing. Made from sterling silver or yellow gold with gemstone accents, these statement crosses can be worn as pendants, earrings or over-size rings.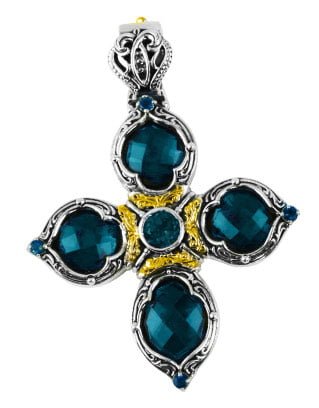 We recommend: Get her something from the Konstantino designer line, which offers oversized to dainty unique creations handmade in Greece. The collections are inspired by art, architecture and mythology and feature sterling silver and 18-karat yellow gold with accent stones.
State of Mind Salon & Spa (stateofmindspa.com)
Located in Crown Point, this award-winner is one of the 200 fastest-growing spas in the nation according to Salon Today. Shoppers can create their own instant gift certificates on the site.
We recommend: A customizable Renewal or Retreat Spa Package.
Inn at Aberdeen (innataberdeen.com)
Give her a cozy weekend get-a-way at the Inn at Aberdeen in Valparaiso. The historic inn dates back to the mid-1800s and boasts a Queen Anne decor. During the holidays beautifully decorated trees and greenery make it magically festive. Opt for the Dinner & Romance or Day of Luxury to make it extra special.
We recommend: Enjoy a weekend getaway during the holidays to wind down or make reservations for the Valentine Wine Tasting event on Saturday, February 15. Each of the six courses is perfectly paired with wine. Rooms include a Jacuzzi for two, fireplace, flowers and candy.
Copper Butterfly Fine Arts & Gallery
The Copper Butterfly in Crown Point features one-of-a-kind items for the home and office. You'll find unusual antique accents, lamps, serving trays, jewelry, birch bark wreaths, tote bags and accessories as well as higher-end antique pieces.
We recommend: Browsing until something catches your eye. Several artisan lines are represented alongside works by local artists.
Tiffany's Tearoom & Bakery Cafe
Tiffany's in Crown Point offers crepes, quiche, gourmet salads and French onion soup in an eclectic shabby chic decor.
We recommend: High Tea. Enjoy scones with Devonshire cream, cheese & crackers, finger sandwiches and pastries served on a three-tier stand and unlimited tea. $20 per person/24-hour advance reservation.
Classic, well-dressed female executives shop at area boutiques. At Fashion Affair Hair Salon & Boutique in Merrillville you'll find everything from sportswear to evening wear and labels such as Elliott Lauren, Joseph Ribcoff and Tadashi formalwear.
We recommend: An Ivy & Blu dress can take her from day to evening in style.
She'll also appreciate something fashionable from Elizabeth Fashions in Schererville or Judee's (judees.com) in LaPorte. At Elizabeth Fashions Frank Lyman (casual and dressy), JSS Knitwear (timeless suits and dresses) and Zelda of Paris (professional suits) are three of the most popular brands. At Judee's, Joseph Ribcoff, Frank Lyman, Comfy USA and Pure Handknit are best sellers.
We recommend: Lifestyle clothing from Comfy USA or Pure Handknit and a Brighton handbag from Judee's. From Elizabeth Fashions, a JSS Knitwear suit ($700-$1,100) will take her to the boardroom or on a business trip in style and comfort.
For Employees
Show your appreciation for your employees by getting them something for the holidays. Nothing beats a holiday bonus this time of year, but gift cards to favorite restaurants such as Lucrezia (lucreziacafe.com) in Crown Point or Gamba Ristorante (gambaristorante.com) in Merrillville or retail stores such as Barnes & Noble, Amazon.com and Best Buy are always welcome. Weekend hotel packages for nearby cities such as Chicago or Indianapolis and fitness center memberships also rate high scores with employees. Other options include tickets to a favorite sporting event or concert or gift baskets filled with delectable food items or personal care products.
We recommend: Gift cards. What they sacrifice in originality, they make up for in practicality. A gift card for Lighthouse Place Premium Outlets in Michigan City can be used at any of its 120 outlet stores. Or get a Simon Gift card at University Park Mall in Mishawaka which can be used anywhere American Express is accepted in the U.S.
Food Gifts
Fair Oaks Farms (fofarms.com)
Cheese lovers will appreciate hand-crafted cheeses made from the milk of cows that are antibiotic- and hormone-free. Call 877-273-1814 or order custom holiday or corporate gifts–they ship anywhere in the world!
We recommend: The Champion Collection includes three one-pound packages of the farm's top award-winning cheeses in a decorative hatbox.
DeBrand Fine Chocolates (debrand.com)
You can't go wrong with the popular Classic or Truffle collections but an edible chocolate art box filled with chocolates is extra special. $9.95 gets delivery anywhere in the continental U.S. If you're undecided, you can send a personalized e-gift card that's instantly delivered.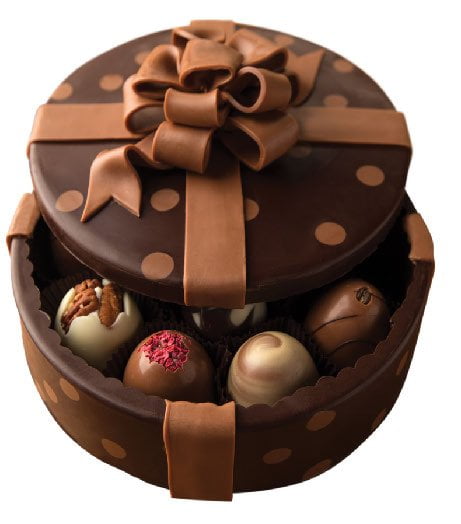 We recommend: The Chocolate of the Month (3, 6 or 12 months) is a great gift that will keep you in their thoughts throughout the year.
GT South's Barbecue Sauce, Hollyhock Hill Lettuce Dressing, Crazy Charlie's Salsa, Dillman Farms Preserves and Hickory Smoked Hams straight from the farm–all that and more is available online.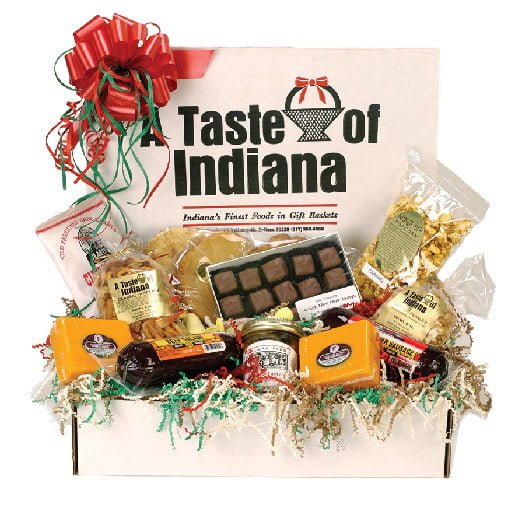 We recommend: A U-Pick Basket ($48 to $75) lets you select the items you want from a list of delectable Indiana treats.
Simply Amazing Market
Flavored gourmet popcorn and homemade fudge in a variety of flavors are the staples of the market, operated by Opportunity Enterprises, a Valparaiso-based not-for-profit organization that provides jobs for disabled individuals.
We recommend: A gift basket of assorted gourmet popcorn–Butter Caramel, Chicago Mix or Gourmet Cheddar are big crowd-pleasers–fudge and candy and nuts from Albanese Candy in Merrillville.
Good to Go by Lucrezia (goodtogobylucrezia.com)
Lucrezia's gourmet market and wine shop in Chesterton carries infused extra virgin olive oil and balsamic vinegar, olives, salami, cheese, Italian pasta and other gourmet goodies. Pick up a platter of sandwiches or dinner to go from Lucrezia (sold by the pound).
We recommend: A gift basket of savory goodies. Create your own or have them do it for you. (FYI: No online wine purchases goodtogobylucrezia.com.)
The South Bend Chocolate Company (sbchocolate.com)
You can't go wrong with packs of holiday treats such as the Twelve Cookies of Christmas, Christmas Cookie Crunch or Christmas Oreos. There's also a selection of holiday gift boxes to choose from.
We recommend: A gift basket with an assortment of chocolate treats from turtles to the popular double-dipped peanuts.
Holiday Entertaining
Balagio Ristorante & Banquets (balagio-restaurant.com)
Located in Homewood, Ill., Balagio features a large variety of traditional and original fresh pastas plus seafood, meat and chicken entrees. The restaurant can serve up to 200 people from its family style menu in its banquet room or cater events for up to 1,000 people.
We recommend: Dig into these popular dishes–Meat Lasagna, Baked Eggplant Marinara or Country Style Rigatoni, one of Balagio's Signature Tossed Pasta dishes.
Lighthouse Restaurant (cedarlakelighthouse.com)
Located on Cedar Lake, the Lighthouse features steaks, fresh seafood, pastas and homemade soups in a spectacular setting. For the undecided, add-on side items are plentiful. The second floor, which can accommodate events for 25 to 250 guests, is open for both lunch and dinner and the downstairs restaurant, which seats 250, can be rented for parties.
We recommend: Steaks, the restaurant's signature dish, are served on a sizzling 500-degree plate and can be served blackened, Cajun-style or with a variety of toppings.
Teibel's Family Restaurant (teibels.com)
This family restaurant in Schererville dates to 1929 and specializes in home-cooked favorites. The private banquet rooms can accommodate parties from 40 to 400, and the restaurant also caters office parties (20+ people) in the Northwest area.
We recommend: The signature fried chicken, homemade rolls and coleslaw are not to be missed. The lake perch is also popular.
Strongbow (strongbowinn.com)
This full-service, casually elegant restaurant and banquet centre, located in Valparaiso, started as a small turkey sandwich stand in the 1930s. You won't want to miss the Wednesday night or Sunday brunch buffets. Banquets can be buffet-style or plated and served, and Strongbow also offers off-site catering for corporate events.
We recommend: The Strongbow Turkey Dinner complete with old-fashioned trimmings, Strongbow (Turkey) Schnitzel or Duck-Bacon Wrapped Scallops.
Don Quijote (donquijotevalpo.com)
This Valparaiso restaurant, which is celebrating its 29th year in business with the original owners, serves family-style, authentic Iberian cuisine in a setting reminiscent of Old Spain. The menu features more than 25 kinds of tapas and four kinds of paella. The banquet room is perfect for small gatherings of up to 30. The restaurant also caters larger events.
We recommend: The roast suckling pig is popular during the holidays, and makes a beautiful presentation, but any of the house specialties are crowd-pleasers.