Wellness programs benefit workers and employers alike.
by Rick A. Richards
It's hard to find any disagreement with the idea that proper exercise and the right diet can do wonders, and it's a formula Northwest Indiana companies are embracing for their workers.
A growing number of companies are finding that encouraging workers to stay fit can help lower their insurance costs and it makes their workers happier. That's a trend noted prominently in a 2010 study by Dr. Meredith Rosenthal of Harvard University.
Rosenthal's study shows that 63 percent of all companies have some sort of fitness or wellness program for their workers. And to encourage workers to take advantage of those programs, the study shows companies offer a variety of incentives worth an average of $430.
That's exactly what the Franciscan Alliance has discovered, says Sister Aline Schultz, corporate vice president. "The healthier employees are, the more it reduces expenses. It helps you manage chronic conditions better and it makes employees feel they're doing the best they can," says Schultz.
The Franciscan Alliance has created a program used by employees at all 14 of its hospitals. Schultz says most of the health care facilities it operates have an in-house gym and for those that don't, options are available to use nearby gyms.
"We're a firm believer in a healthy mind, body and spirit," says Schultz. "Staying fit is an integral part of that."
Along with the physical workouts, Schultz says employees receive newsletters and information about nutrition and dietary classes, blood pressure screening and other health-related education classes.
"We have a population who are smokers and obese," admits Schultz. To reach them and encourage them to take part in fitness and wellness programs, the Franciscan Alliance offers incentives that can reduce the monthly out-of-pocket cost for insurance coverage by as much as $60. Employees who meet the thresholds for controlling blood pressure, blood sugar, cholesterol and other benchmarks can save as much as $720 a year.
Carlos Celis helps employees at Franciscan Alliance meet those goals. Celis is in charge of fitness program for five Northwest Indiana hospitals.
"The goal is to get people moving," says Celis, who received his degree in exercise fitness at Purdue University.
One program going on right now at Franciscan Alliance is a 10,000 steps program. All employees, regardless of their physical condition, are encouraged to walk 10,000 steps each quarter. Employees receive a pedometer to count their steps as a way to encourage them to walk more. Celis says 200 employees are participating in the program.
Over the past two years, Celis says Franciscan Alliance offered 63 different programs like that to employees and more than 5,000 people took part. They logged more than 64,000 miles and lost a combined total of 600 pounds.
"I think it's definitely getting more people interested," says Celis.
Gary Miller, the owner of Prompt Ambulance in Highland, has made employee fitness a big part of his corporate philosophy. That comes from a belief that healthy employees are better employees, but also because of an obesity crisis in the country.
"This is a very physical job and I hate to see any of my workers get hurt while on the job," says Miller.
"When I worked an ambulance 25 or 30 years ago, it was rare to get a call for someone who weighed more than 275 pounds. Today, it's a daily occurrence." Some calls have been for people 300 or 400 pounds or more.
Prompt Ambulance has six major bases and provides ambulance service in an area extending from Lake County east to South Bend and south to Lafayette."We've had to buy five special bariatric ambulances with automatic stretchers and wenches," says Miller.
"We've noticed that our population is getting larger. We've had to change our lifestyle here because of that."
Along with that, Miller says his company is responding to more calls involving diabetes, a symptom of obesity.
"We've partnered with a couple of gyms in the area where our employees can go. If they go regularly, we reimburse them for their fees," says Miller. "We also give discounts on insurance premiums. But there's only so much I can do. The employees have to be motivated to take advantage of the opportunity."
Of his 200 employees, Miller says half are members of the Omni Fitness Center in Schererville. In the company's regular newsletter, Miller emphasizes the importance of wellness and fitness by including healthy recipes.
Tami Janda is the wellness coordinator for Centier Bank, which has its own fitness gym. "We've seen that when employees are healthier it lowers the cost of insurance, and they're happier, too."
Janda has been with Centier for 15 years and says the bank was one of the region's pioneers when it came to emphasizing employee fitness and wellness. "It takes time to build a program," she says. "It starts with proper screening. What are we going to do with the data? What are the employees going to do with the data?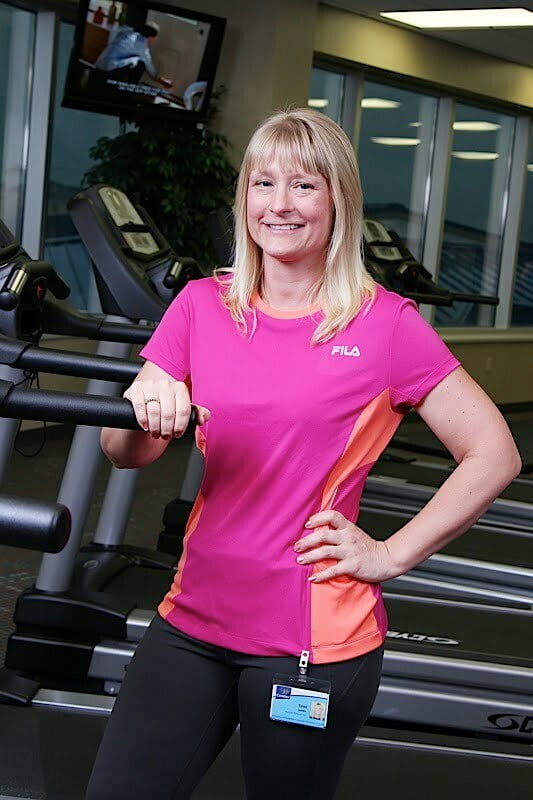 "There are so many wellness services that are available, the first focus needs to be engagement. You have to get people engaged first."
At Centier's corporate office in Merrillville, employees, their spouses and significant others can take advantage of the onsite gym, says Janda. "We can design programs for each individual. We have trainers who go over your goals to set up something specifically for you."
Janda says the program also includes education classes on nutrition and services ranging from reflexology to massage therapy. Any costs associated with the program can be included as a payroll deduction.
"We have learned through trial and error that there has to be a monetary commitment from the employees. They have to feel like they're invested in the program in order to take full advantage of it," says Janda.
Over the years, Janda says Centier has seen its insurance costs decline. "There have been a couple of spikes with a bad year or two, but the trend has been going down."
Currently, Centier is focusing on weight loss and obesity. "Weight management programs are important right now."
One benefit of the program, says Janda, is low employee turnover. "Over the last two years, our turnover rate was only 7 percent. "Productivity is part of the reason the bank does this."
At Horseshoe Casino in Hammond, the approach leans more toward education, says Dawn Reynolds Pettit, regional vice president of human resources.
"We have a wellness nurse on staff," says Pettit. "She meets with each employee and their spouse and provides biometric screening and a wellness guide. She hosts brownbag seminars at lunch and also deals with mental wellness."
While Horseshoe does not have an onsite gym, Pettit says the company provides discounted membership to area gymnasiums.
"For the past three years we've done what we call the Big Meltdown. It's a 12-week program where employees lose weight. We emphasize healthy meals. Diet and exercise go hand in hand. The winning team gets discounted insurance rates and a Wii Fit. Education is a huge part of what we do."
During the spring and summer, Horseshoe Casino hosts a farmer's market where fresh fruit and produce is sold. Pettit says the nurse holds education classes at the market and explains how the items being sold can be included as part of a healthy diet.
"The bottom line is that employees aren't very educated about wellness," says Pettit. "We think if we educate them it can drive down the cost of insurance. That's why we do screenings.
"And with the screenings, we've been able to do early detection of cancer and it's literally saved a person's life. You can't put a price on something like that," says Pettit. "When folks feel better about themselves, they're happier and when they're happier, they perform better on the job."