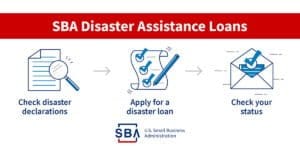 The U.S. Small Business Administration is here for the life of small businesses — rain, shine, wind, tornado, flood and all the rest of the springtime weather lovelies that hit our great state of Indiana.
In times of declared disaster, like the severe storms and tornadoes that touched down throughout the state March 31 and April 1, the SBA offers disaster assistance in the form of low-interest loans to businesses, nonprofit organizations, homeowners and renters, as well as working capital to eligible small businesses and nonprofits.
Here's what you need to know and how to apply:
1. Make sure you are located in an area where the SBA has issued a disaster declaration.
Regarding the March 31 through April 1 storms, find out if your area is covered here: Search Declarations (sba.gov). Select your state and county from the drop down menus or look under the Presidential, SBA Agency, and Agency Rural Declared Disasters section for disasters declared in your area.
2. Begin the application process.
There is no need to wait for insurance claims to settle or to receive FEMA grants or contractor estimates before applying. You are under no obligation to accept the loan if approved.
Then apply for an SBA disaster loan at disasterloanassistance.sba.gov. You also can apply in person at a local disaster center, or by calling our SBA disaster customer service center at 800-659-2955 to request an application by mail. Please note — if you are deaf, hard of hearing or have a speech disability, please dial 7-1-1 to access telecommunications relay services.
3. Work with your assigned SBA case manager to complete the process and receive funds.
The SBA strives to make loan determinations within two to three weeks after receiving complete application packages, which need to include credit and income information. An SBA case manager will work with you to answer questions and help you meet all loan conditions.
After receipt of signed loan documents, an initial disbursement will be made within five business days. Your case manager will schedule disbursement of any remaining loan amount. After closing, loans may be increased up to 20% due to changing circumstances, such as unexpected repair costs or if you receive additional insurance proceeds for the same purposes.
For more information on the SBA Disaster Loan Program, check eligibility and to apply, go to disaster assistance (sba.gov). To check the status of your SBA disaster loan, login to your account at SBA Connect. If you have questions, contact the SBA Office of Disaster Recovery & Resilience at disastercustomerservice@sba.gov or call 800-659-2955.
This month's "Did You Know?" tip was contributed by the U.S. Small Business Administration.