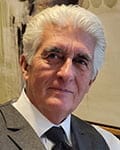 After 41 years, Larry Hitz is saying goodbye to the office where he built his real estate business.
But, he said, it was time to downsize.
"We don't have the same need for space as we used to," Hitz said.
The broker/owner found just the right spot for Berkshire Hathaway HomeServices Executive Group in downtown Valparaiso.
"It's just a really nice location to be downtown," Hitz said. "It's alive. You get this feeling of energy down there."
He plans to take advantage of the vibrant downtown that features boutiques, restaurants and arts scene. The company is counting on these amenities to enhance its client experience and build a stronger sense of community.
The new space in the Centier Bank building at 150 Lincolnway is 3,200 square feet, less than half the size of the space at 2612 Calumet Ave.
Hitz said he bought that building and renovated the former Hudson Insurance Co. location around 1998. But he sold it to lease the space downtown.
The company expects the new location will make it more convenient for clients to visit the brokerage, including more parking. But, Hitz said, agents can do most of their work from their phones, so the need for office space has dwindled.
Hitz said he is looking forward to working close to Central Park Plaza.
"We can walk and meet people at coffee shops and restuarants," he said. "Everything is right there. … always opportunity to network."
Hitz also said that the new location is only a block from the first townhomes he helped bring to town in 2015. Now he is helping market the Calkins' Hill townhomes, which are within walking distance from downtown.
Hitz, who started his real estate firm in 1977, said he became a Berkshire Hathaway HomeServices franchisee in 2014, the first in Indiana. His agents help clients buy and sell homes in Northwest Indiana and Illinois.
Caption: Berkshire Hathaway HomeServices Executive Group moved to downtown Valparaiso at 150 Lincolnway. (Provided by Berkshire Hathaway HomeServices Executive Group)