Construction on an 8,400-square-foot warehouse at Pulse Technology's new Merrillville location is expected to wrap up in September.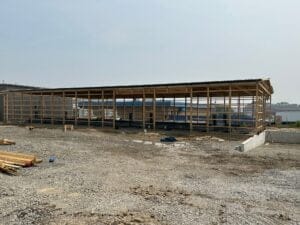 CEO Chip Miceli said he "is pleased with how the building is working out." The company moved from rented space in Chesterton to the 13,500-square-foot building at 3801 E. Lincoln Ave., Merrillville, in January.
Miceli said the technology and office supply company outgrew the space at 312 Roberts Road, which was home to McShane's before mergers with Des Plaines Office Equipment and Kramer & Leonard resulted in Pulse Technology.
"As we have introduced the other services that our company offers to the Indiana market, including managed print and managed network, we needed more warehouse, storage and office capabilities," Miceli said in a press release. "This move also affords us the opportunity to custom build a first-class showroom."
The Merrillville building had been vacant for a few years.
"It's a high-visibility location, and the design will be uniquely suited to our needs," Miceli said. "We have enjoyed our time in Chesterton, and we are looking forward to becoming part of the Merrillville community and continuing to serve the needs of our customers throughout northern Indiana."
Pulse Technology opened the new location while the warehouse construction was still in the beginning stages. The roof is next to be installed. The warehouse will include 8,400 square feet of space to store furniture, copiers, printers and other office supplies.
The rest of the almost 27,000 square feet of space includes a showroom with eight offices, a conference room, collaboration space and a break room.
Pulse Technology project designers Jolee Allerdin and Lindsay Kornau played a big part in the new space. They oversaw the layout and design.
"We have designed a cohesive environment for the space, grouping the equipment by manufacturers, giving it a real showroom look and feel," Allerdin said.
They worked with Griffith-based Region Contractors to turn the once-fitness center into Pulse Technology's Indiana headquarters. About 45 employees work in Indiana. Miceli said three new sales executives recently were hired to work in the Merrillville location.
The company also is expanding into its third state by opening an office in Brookfield, Wisconsin, a suburb of Milwaukee. The  location at 245 S. Executive Drive is scheduled to open Aug. 1.
Pulse Technology's history dates back to 1921. The name is a rebranding of several Region companies, including McShane's and Kramer Leonard. The company also has locations in Schaumburg, Rockford and Chicago, Illinois.
Caption: Construction on an 8,400-square-foot warehouse at Pulse Technology's new Merrillville location is expected to wrap up by September. (Provided by Pulse Technology)