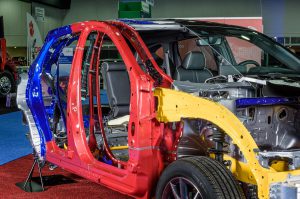 With industry experts forecasting U.S. vehicle sales to reach close to 17 million units in 2019, ArcelorMittal, a major supplier of automotive steel, has reason to be optimistic for the new year.
The company said the outlook for the automotive market in North America remains strong in 2019, though it is anticipating some drop in sales and production.
The National Automobile Dealers Association forecasts domestic sales of cars and light trucks to be about 16.8 million in 2019, which it says is a 1.1 percent decline from 2018.
U.S. vehicle sales totaled 17.2 million in 2018, according to sales data from Morgan & Co. Inc. U.S. vehicle sales have exceeded 17 million for four consecutive years, according to NADA.
Continued strong performance for the U.S. automotive industry is good news for Northwest Indiana, a domestic steelmaking hub, according to Region economic experts.
"The U.S. automobile and auto parts manufacturing market has actually been growing at an average rate of 6.8 percent annually since the end of the recession," said Anthony Sindone, clinical assistant professor of finance and economic development for Purdue University Northwest.
He said that, at the end of 2017, the total output for domestic automobile and parts manufacturing was more than $700 billion. ArcelorMittal is well positioned to share in that growth, Sindone said.
"We know that the car of tomorrow will be significantly different than the car of today," Sindone said. "It looks like ArcelorMittal has invested in new technology that will serve the emerging   changes in the auto industry."
Peter Leblanc, chief marketing officer for ArcelorMittal, said, as automakers continue to work toward lightweighting objectives, steel has held strong as the primary material in vehicles of today.
He said steel accounts for about 65 percent of a vehicle's curb weight, compared to 68 percent in 2000 and 75 percent in the 1990s. Less steel use in vehicles primarily is because of the innovation of steel and the evolution of ArcelorMittal's approach to deliver value to its customers, Leblanc said.
Micah Pollak, assistant professor of economics at Indiana University Northwest, said the U.S. automotive industry is one of the larger buyers of American-made steel. He said domestic steel sales have benefited from tariffs on imported steel that took effect last year.
Pollak said tariffs on steel imports may help domestic steel sales in the near term, but over time, higher material costs could lead to increased prices on new vehicles, which could slow sales.
"This hasn't been the case so far, as the U.S. automobile industry has been doing well; however, the higher steel prices may not have been fully passed on to the consumer yet," Pollak said.
Pollak said, if new vehicle prices increase but the economy remains strong and wages continue rising, it may have no impact on either car or truck sales.
"If vehicle sales remain strong, then we can expect demand for American-made steel to grow," he said.
Pollak said the impact of rising domestic steel sales is evident by recent investments made by ArcelorMittal and U.S. Steel in their Region operations as both companies have experienced increased demand for products and higher profits.
Pollak said greater steel sales is a plus for the Region, but steel production requires less labor than it did 20 years ago.
"In 2015, Indiana produced 34 percent more steel than it did in 1991 and did so with 33 percent fewer workers," he said. "This trend, due to automation, productivity and new technology, is likely to continue in the future with greater steel production not necessarily translating into many more jobs."
Therefore, ArcelorMittal has focused on delivering value to its customers by investing in operations and research efforts as well as delivering new products and implementing co-engineering efforts.
A recent collaboration between ArcelorMittal and Honda resulted in developing the world's first outer and inner door ring system for Honda's 2019 Acura RDX.
The door ring system balances strength and performance, ArcelorMittal said. It also removes weight from the vehicle.
The innovation enhances the RDX's performance and supports Honda's safety objectives, ArcelorMittal said. The door ring solution helped the RDX earn a five-star rating for the narrow-offset crash test.
"R&D activities help us to realize ArcelorMittal's ambitions in technological innovation," said Bala Krishnan, director of automotive product applications for ArcelorMittal. "They support our sustainability goals, and they ensure our continued growth and relevance."
It also improves the company's competitiveness, Krishnan said.
In the last five years, ArcelorMittal spent almost $2.5 billion on its North American operations and global research and development efforts to support its automotive business. This has included investments at the company's Burns Harbor facility and Indiana Harbor site in East Chicago.
ArcelorMittal operates 16 global research and development locations around the world. Seven focus on automotive applications and processes, including three in North America: East Chicago; Southfield, Mich.; and Hamilton, Ontario.