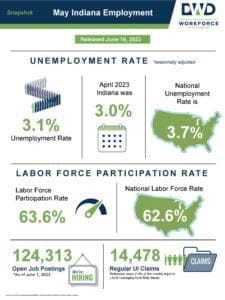 Unemployment increased in all but two of Northwest and North Central Indiana counties, according to the Indiana Department of Workforce Development's May report. Lake County's unemployment rate rose slightly, making it the county with the second highest rate in the state.
Starke and Pulaski counties both saw a small uptick in employment; however, Pulaski County was the only Region county with a lower unemployment rate (3.2%) than the state's non-seasonally adjusted average of 3.5%.
The state's seasonally adjusted rate of 3.1% outpaced the national rate for May at 3.7%.
Elkhart County has lost the greatest percentage of workers in the last year (May 2022 to May 2023) at 6.3% or 7,482 jobs, according to the Indiana Business Research Center. St. Joseph County lost 2,204 jobs or 1.7% of its workforce.
Industries in Indiana that had increases in jobs include:
Professional and business services (+2,100)
Private educational and health services (+1,100)
Financial activities (+300)
As of June 1, 124,313 job postings were open in the state, and 14,478 unemployment insurance claims were filed in May.