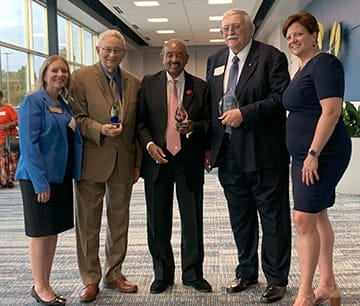 The Legacy Foundation honored its first Heart of Lake County Awards, which were given out Aug. 29.
The nonprofit bestowed three honors: an Excellence in Nonprofit Board Leadership Award, Community Spirit Award and Gold Key Society Induction.
Calvin Bellamy is the first recipient of the Excellence in Nonprofit Board Leadership Award.
"It was a great honor to be recognized by Legacy Foundation for my involvement with local nonprofit organizations," Bellamy said in a press release. "Nonprofits add so much to the quality of life in our Northwest Indiana communities. I felt one way I could make a difference was by serving on the boards of several local nonprofits, assisting them to function in the best manner possible to accomplish their stated mission."
The Community Spirit Award went to State Rep. Vernon Smith (D-14), and the Gold Key Award to accountant Verne Seehausen.
Bellamy is the Lakeshore Public Media treasurer and finance committee chair. He plans to donate his $1,000 award to the organization.
"Our local public television and radio stations are an invaluable source for quality entertainment, meaningful education and vital information," Bellamy said. "The station gives Northwest Indiana a voice throughout the Chicagoland area."
Larry Brechner, Lakeshore Public Media's board chair, said Bellamy's leadership has made a difference at the nonprofit.
"As a long-serving board member, he brought his significant talents in banking and the law by guiding the organization through the many trials it faced over its 30-plus year history," Brechner said. "Cal has lent his momentous status in Northwest Indiana by always advocating for the mission of Lakeshore Public Media to shakers and movers of the Region."
The Community Spirit and Excellence in Nonprofit Board Leadership awards were chosen by nominations from the public.
The Legacy Foundation has been the community foundation in Lake County since 1992.
Caption: Calvin Bellamy receives the Excellence in Non-Profit Board Leadership Award from Legacy Foundation President Kelly Anoe and chair Carey Yukich on Aug. 29. With his $1,000 award, Bellamy will support Lakeshore Public Media. (Provided by Lakeshore Public Media)