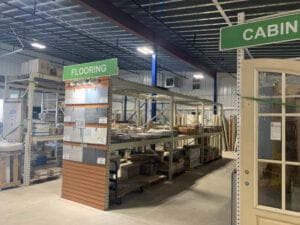 Michigan City-based Tonn and Blank Construction helped Habitat for Humanity of Northwest Indiana expand their Griffith ReStore facility at 6114 W. Ridge Road in Gary.
Tonn and Blank's Community Giveback Program helps nonprofits with capital building projects, renovations and additions. For Habitat for Humanity, Tonn and Blank produced renderings of how to expand the nonprofit's building by 3,500 square feet. The company then led prefabricated construction in their off-site facility.
The extra space will be used to display and store more furniture and household items ready for resale. Proceeds from the store's sales go toward building new homes for families in Lake County.
Caption: Officials celebrate a grand opening May 31 of the 3,500-square-foot expansion of the Griffith Restore in Gary. (Provided by Tonn and Blank)