The energy in the room of eager entrepreneurs seemed a little magical. The group had gathered for an afternoon of learning at Indiana University Northwest in Gary. The lesson of the day was how to start and grow their businesses.
They were part of the Start UP Business Success Program, which is a collaboration between IUN's Small Business Academy and the city of Gary.
The city is using American Rescue Plan Act funds to offer the program's entrepreneurs a chance at grants to make their dreams a reality. The courses were taught by faculty at the School of Business and Economics through the Business Academy.
"Mayor (Jerome) Prince and the Gary Common Council particularly wanted to assist the small businesses in our city that were adversely impacted by the COVID-19 pandemic," said Arlene Colvin, director of community development for the city of Gary, in an email. "It was our task to develop a program that we hoped would kick-start our local economy since so many businesses are still feeling the negative economic impacts from the pandemic, while providing training and business opportunities for start-up businesses that will hopefully grow our business tax base."
About 140 startups were eligible for the funding.
"The goal, help these local startups, which will in turn help to stimulate the local economy," said Emily Banas, public relations specialist at IUN, in an email.
Some of the applicants were invited to the five-week business "bootcamp" at IUN before earning the grant. Almost 50 agreed to the challenge, including:
Elyssa Lampton — EDL Designs, an epoxy countertops and flooring company
J'Kia Tatum — Transparent Progression, offering life coaching
Emmani Ellis — No Limit Living LLC, real estate development and woman empowerment
Tieanna Walker — Walker P&E Services, youth empowerment and life skills development for foster care youth
"Participants were given a variety of perspectives through which they were encouraged to view their business," said Jana Szostek, director of the Center for Professional Development and the Small Business Academy at IUN. "This allowed them to consider aspects of their business that they had not considered before."
Szostek said helping the group understand possible competitors was one of those lessons.
"Many of the participants gained tremendous insight into their own idea by seeing what others are already doing," Szostek said.
Three-hour weekly sessions included speakers who offered expertise on starting a business in Indiana, including customer development, financial management and risks.
Dawanna Parks, of Manor Management, was one of them. She spoke about how to apply for financing and a couple of tricks to starting a business. She is a member of the Real Estate Investment Association, which is based in Chicago.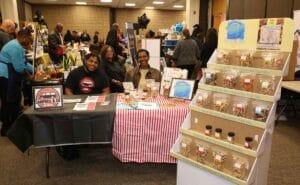 "When I realized how great the group was I joined as a vendor," Parks said in an email. "They have a ton of resources and tools to prepare you for the Gary market."
She said Gary is on a path to growth, so it makes sense to buy now as development is just getting underway.
Participants agreed with her. The mantra of the day was: "Gary is coming back!"
Partners of the program want it to continue to help make that sentiment truth.
Voters also are eager for change by replacing two incumbent mayors in the last four years. State Sen. Eddie Melton will take over the reins of City Hall this January.
"We consider this program to have been a great success and worthy of continuation as our city moves forward under a new administration," Colvin said.
Szostek is optimistic this class of entrepreneurs will find success. They showcased their business pitches during a vendor showcase Oct. 25.
"I expect this session's participants to continue to refine their business plans, to work to bring their dream to life, and to become valued members of the Region's business community," she said. "Some of them may choose not to pursue business after having gone through this program and gaining a better sense of the reality of business ownership, but I believe even those people will have a stronger voice to support local businesses."
She also said she learned a few things, including gaps in technology skills and access.
"There are countless people interested in business ownership who don't know where to begin," Szostek said. "We have a broad range of business readiness to deal with, and a cookie-cutter approach will not work."
She hopes programs like this one will help potential business people contribute to the local economy.
"We are very proud of the work they accomplished," Szostek said.
Caption: Participants in the Start UP Business Success Program shared their business products and services during a vendor showcase on Oct. 25 at IUN's Library Conference Center. (Provided by IUN)